Although awards season has films like Call Me by Your Name and Battle of the Sexes fresh on our brains, the string of upcoming film festivals has us looking forward to a whole new lineup of queer titles. This week, cinephiles from all over the world descend upon Park City, Utah for the iconic Sundance Film Festival. With some of our favorites coming out of the festival every year, this week's lineup is sure to provide some quality viewing.
Some of our favorite filmmakers like Desiree Akhavan, Sam Levinson, and Charles Rogers debut some original queer storylines with queer actors like Hari Nef, Kristen Stewart, and Rupert Everett serving incredible performances. Documentaries about punk icons and queer heroes also make the list, providing insight to communities and subcultures that made us.
Changing the landscape of Hollywood's queer representation, these features, documentaries, and shorts are necessary viewing in 2018.
The Miseducation of Cameron Post
From writer/director Desiree Akhavan comes a unique teen film starring Chloë Grace Moretz and Sasha Lane. During prom night in 1993, Cameron (Moretz) is caught in the back seat of a car with another girl. She's immediately shipped off to a conversion therapy center where she's subject to unnecessary discipline, "de-gaying methods, and Christian rock. But her new environment also provides an unlikely queer community where she's able to connect with kids like herself.
Quiet Heroes
On June 5, 1981, Dr. Kristen Ries arrived in Salt Lake City. It was the same day the Center for Disease Control released a report on the virus that would come to be known as AIDS. As the disease and homosexuality remained feared among America at the time, Ries and her eventual life partner, physician assistant Maggie Snyder became the only medical professionals in Utah willing to treat HIV/AIDS patients.
Assassination Nation
Odessa Young stars as Lily, a high school senior in the small town of Salem. Living in the digital era, in which every aspect of their lives is online, she and her squad are taken off-guard when someone decides to post every revealing detail of everyone in Salem. What results is a murderous rampage, with Lily and her crew at the center. Written and directed by Sam Levinson, Assassination Nation also stars Hari Nef, Suki Waterhouse, Bill Skarsgård, Bella Thorne, Maude Apatow, and Noah Galvin.
Lizzie
Lizzie Borden took an axe you know the rest. Or do you? Although the life of the young murderer has long been the subject of much media fascination, writer Bryce Kass and director Craig William Macneill bring a new perspective to her legacy. This psychological thriller follows the intimate bond between Borden (Chloë Sevigny) and her live-in maid, Bridget Sullivan (Kristen Stewart). Treated as a hermit by her family, this new blossoming relationship becomes her only solace before her inevitable breaking point.
Westwood: Punk, Icon, Activist
This designer has long been the fashion industry's punk older sister that we desperately want to be like. But Vivienne Westwood is much more than a designer. In this documentary by Lorna Tucker, Westwood lifts the veil on her creative process, the rise of her global brand since the 1970s, and her continuing fight to save the environment.
A Kid Like Jake
Jim Parsons and Claire Danes star as Alex and Greg, a couple of devoted parents who find themselves faced with the strenuous task of applying to private elementary schools in New York for their son, Jake. In an attempt to find what makes Jake unique, they're faced with his love of dresses, fairy tales, and princesses. Although they never had a problem with this part of his personality before, the new phase in their son's life puts their support to the test.
The Happy Prince
Rupert Everett expresses his devotion to Oscar Wilde's work in this biopic of the gay literary icon. Written and directed by Everett, he also stars as Wilde in the final three years of his life. Following his imprisonment for indecency, the movie tells the seldom-told story of his life, post-hard labor. Traveling Europe under disguise, more love, betrayal, and inspiration await him. Everett shines in the role he was born to play.
Bad Reputation
Filmmaker Kevin Kerslake uses interviews and archival footage of punk icon Joan Jett and friends to tell the story of the rock star's early years in the punk scene. Before hits like "I Love Rock 'n' Roll" and "Bad Reputation" put her on the map, she put in her work to build a music genius that would inspire so many generations of bands later.
Believer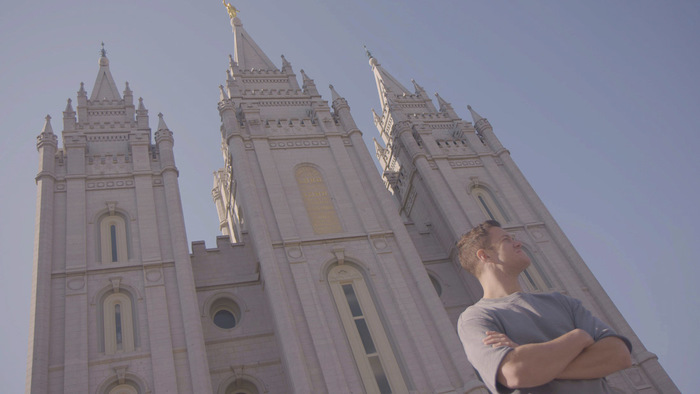 Don Argott follows a year in the life of Imagine Dragons' Dan Reynolds as he and Tyler Glenn helm LoveLoud, a music and spoken-word festival with the goal of starting a dialogue between the Mormon church and the LGBTQ community. Both raised Mormon, Glenn and Reynolds were inspired to make change in the church after seeing their stance on homosexuality, which is largely believed to be the cause of Utah's high teen suicide rates.
Men Don't Whisper
Jordan Firstman and Charles Rogers write, direct, and star in this short comedy. When gay couple Reese (Rogers) and Peyton (Firstman) find themselves emasculated at a sales conference, they decide to take drastic measures and do the most masculine thing that comes to mind sleeping with women. Cheri Oteri, Bridey Elliott, and Clare McNulty also star.
For a schedule and more info about the film festival, visit Sundance.