We're living in the era of the reboot. There's nothing Americans love more right now than revivals of some of their favorite titles. Whether you like it or not, it's all about nostalgia in films, television, and even musical theater.
From Kinky Boots to Heathers to School of Rock, some of our favorite films have made their way to Broadway. It's a pretty popular trend for the Great White Way. Mean Girls is only the most recent production we're excited to line up for at the TKTS booth. But we can't help but wonder what other iconic flicks could duke it out for a Tony.
54
Ryan Phillippe and Neve Campbell starred in this '70s period piece at the dawn of their careers. It captured an era of nightlife that New Yorkers still fondly recall. Put the story on a New York stage and you have an instant success. Broadway + Disco = Gold.


Bridesmaids
Not many ladies can match the comedic level of Kristen Wiig, but we can think of a few Tony winners who could try. With a funny female ensemble like this, we're thinking some hilarious songs and dance numbers are in order.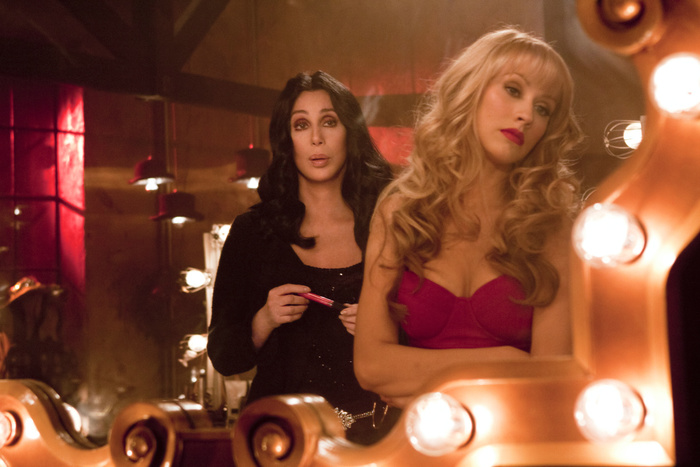 Burlesque
This movie is already a classic modern musical, especially considering they had the vocals of Christina Aguilera and Cher. Perhaps they'd return for the Broadway run? It was practically made to be translated to the stage.
Clueless
It's Beverly Hills meets Broadway. With all those hilarious one-liners, there are already at least 10 potential song titles. "Virgin Who Can't Drive" could win a Tony.
Coyote Ugly
It's another classic tale of a small-town girl moving to the big city with big dreams. Add some feisty bartenders dancing on a bar and a struggling singer/songwriter, and you have all the makings of a rock musical.
The First Wives Club
Nothing comes across live quite like an empowering storyline. This New York classic remains a quintessential tale of strong women. And it already has one of our favorite music numbers of any movie.
Glitter
It has all the colorful camp of the early 2000s with a young Mariah Carey as its protagonist. It's begging to become a Broadway musical. Good luck finding a young ingénue who can match Mimi's vocal chops.
How Stella Got Her Groove Back
Angela Bassett and Taye Diggs had some steamy chemistry in this vacation movie. Add some steamy music and lyrics, and you have "Summer Nights" with a slight age difference.
The Princess Diaries
With Julie Andrews, Anne Hathaway, and Mandy Moore, how was this movie not a musical? It has all it needs for a Broadway revival. Theatergoers love a princess story, especially if it comes with an ugly duckling/makeover subplot.
Witches of Eastwick
Another classic Cher film makes the list. Witches have a lot of potential for a stage production. It's like Hamlet, but set in the '80s with some iconic sex symbols. We could imagine a musical with only Stevie Nicks numbers to fit the earthy goddess vibe.