Netflix's BEEF is here and it's helping us all deal with those deep-seated feelings of rage. Starring Academy Award nominee Steven Yeun and Emmy Award nominee Ali Wong, BEEF focuses on the aftermath of a road rage incident between two strangers, Danny Cho (Yeun) and Amy Lau (Wong). Danny is a failing contractor with a chip on his shoulder who goes head-to-head with Amy, a self-made entrepreneur with a picturesque life. The stakes become higher and higher as their feud unravels their lives and relationships in this series that's equal parts darkly comedic and deeply moving.
To commemorate the release of the series, Netflix hosted the "Release Your Rage" event in New York. Attendees let out their anger through an assortment of mindfulness activities that mirrored the emotional journey of Yeun and Wong's characters in the series. Guests also revealed their most extreme rage moments in a BEEF confessional booth created by SharingBox.
But the main attraction was a conversation between The Hollywood Reporter's News Editor Abbey White (they/them) and internationally acclaimed author, poet, comedian, and public speaker ALOK (they/them). The two spoke about how rage can easily be ignited in unplanned interactions with strangers, whether or not anger can be justified, different mindfulness practices, like keeping track of a rage journal, deeply examining angry thoughts for indications of pain, and the beauty behind rage and how to translate it from "vitriol to vivacity".
"To be in New York is to constantly experience other people's displacement. Violence and rage says more about the person than the recipient and signals that a person is going through a pain that is too difficult to access," said ALOK at the "Release Your Rage" event. "Rage is a bodyguard for a deeper truth, which is pain and woundedness and sorrow, which our culture doesn't hold space for…Rage is beautiful when it's not weaponized against other bystanders. Rage is beautiful when it's actually directed at the people who are oppressing us."
Processing emotions and the world around them is something that ALOK does often within their work. A mixed-media artist whose work explores themes of trauma, belonging, and the human condition, ALOK has toured in over 40 countries and authored three works (Femme in Public, Beyond the Gender Binary, and Your Wound/My Garden. ALOK is also the creator of #DeGenderFashion, an initiative aimed at degendering the fashion and beauty industries. Also, they've been awarded a GLAAD Media Award, a Stonewall Foundation Visionary Award, and they've been honored as the inaugural LGBTQ Scholar in Residence at the University of Pennsylvania.
INTO stopped by Netflix's "Release Your Rage" event in New York and spoke with the event's special guest, ALOK, on what excited them most about the event, how they channel their rage, and how queer and trans people can do the same against anti-LGBTQ+ legislation.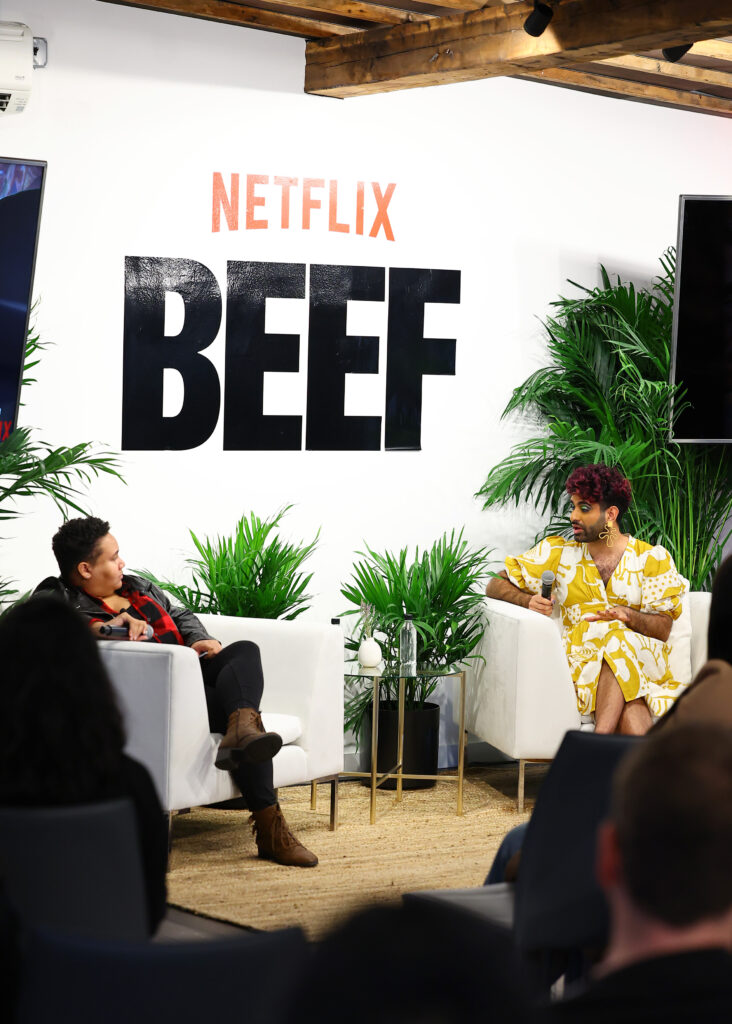 What excited you most about being a part of Netflix's "Release the Rage" event?
I genuinely thought [BEEF] is one of the best TV shows I've ever seen. When I watched it, I said, "This is exactly what the world needs, exactly at this moment in time, and I'm going to do everything I can to help promote this." I think, so often, people don't understand the power of media to change the world. I'm a big champion of projects that understand that there's a responsibility to create more complex and dynamic representations of communities of color. For so long, the industry has neglected us, erased us, flattened us and I think that this show feels like medicine because it allows us to actually go to an honest portrayal of how complicated and contradictory we actually are.
Is there a particular piece of work or artistic medium through which you can easily channel your rage?
Yeah, poetry and performance. Poetry has been such a healing ritual for me, being able to explore rage that I couldn't elsewhere. So, like my first book of poems (Femme in Public), I wrote poems to people who harassed me on the street, of the things that I wanted to say in the moment. But often you can't say things in the moment. So poetry actually allows me to still say it because my body needs it to be said and allow myself to feel the things that I couldn't feel when I was in danger.
Now, poetry aside, are there any other ways in which you navigate your anger?
I mentioned it today at the event, but journaling is really so important to me. I spend most of my creative energy on something that I'll never share with the world. The reason it's important to me is it allows me to synthesize what I actually feel about something, to revisit moments that I had and actually say, "What was I actually feeling?" Not when I was just on autopilot, but what does that actually mean for me? And so it allows me to process all of my emotions, not just rage.
Speaking of rage, there's rightfully plenty of it from LGBTQ+ folks due to multiple anti-LGBTQ+ laws appearing across the United States. How do you think queer and trans folks can channel their rage against these heinous bills that keep popping up?
I think it's a great question, because right now, we need to make sure we're not levying that rage on one another, but that we're finding ways to come together and actually come up against this legislation. I noticed that oftentimes we lose sight of who the people who are actually responsible for our oppression are. I want to use this as a moment to shout out an amazing podcast called The Anti-Trans Hate Machine by my friend Imara Jones, which does deep investigative journalism to actually see who are the power players that are funding these anti-LGBTQ laws. So when we have rage as a community, let's make sure that we're directing it at the actual culprits.♦
BEEF is available for streaming on Netflix now.