Israeli casting director-turned-filmmaker Limor Shmila was inspired by her own life for her debut film Montana, including the very first scene where an elderly man mysteriously disappears into the sea.
"Four years ago my grandfather died. He drowned in the sea and we were really close when I was a child. When I went to his funeral, the only thing I thought of is that I didn't have the chance to tell him about me," she says, referring to her being a lesbian. "I grew up in a very small primitive city and I knew I wanted to tell a love story between two women in my hometown."
Montana's protagonist Efi (Noa Biron) returns home to her small Israeli town for her grandfather's funeral, confronting a family full of secrets, but also harboring her own. Shmila shot in her grandfather's house as well as other personal locations that brought her a comfortable familiarity; they serve as backdrops to the infidelities and revelations that occur while Efi is back for the first time in several years. Those revelations include Efi's relationship with family friend, Karen.
"When I was casting the film the most important thing for me was Efi and Karen's connection and chemistry," Shmila says. Both are so palpable, viewers will wish the two women were able to find more moments alone together. They steal away for intimate moments when they can, despite Karen being a wife and mother. These rare instances are filled with passion and longing, despite Karen's reluctance and resistance. She craves Efi, but also wants to fulfill her dutiful role to her husband.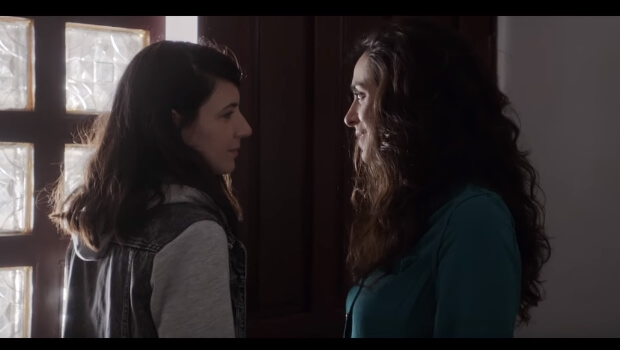 Still, she and Efi are ravenous for each other, and their scenes alone together are quick but hot, without cameras going too close into orifices or multiple shots of different Sapphic positions. The queer female gaze is at work here, but also at play.
"I knew that the sex scenes will be without nudity and very tight shots because I believe, as a creator, that you have to get your audience the ability to think and to be curious about what they are watching," Shmila says. "The actresses were so amazing. We all knew that a love story is a love story and they both were so into telling this love story and not put on the spot the lesbian issue…let[ting] the audience feel the way it should be when two people meet and let their emotions go out."
Their relationship, however, is further complicated by the fact that Efi's uncle seems to be grooming Karen's young daughter, much like he did with Efi when she was a girl. As the audience becomes more and more clear about why Efi is so against her uncle hanging around Karen's daughter, as well as her own need for him to stay away, his creepy insistence and careful, cunning intrusion interfere with Efi's present. Karen, however, isn't so quick to believe that Efi is telling the truth.
"Montana was written based on a question I used to ask as a child about boundaries in patriarchal relationships," Shmila says. "Those questions are so relevant today. It was really important to me that the main character won't be a victim. She knows exactly what she went through but she also knows that there's a child that needs her, so it was important to me that people will see that there are some other ways to get out of a tragic situation."
Montana premiered at TIFF this fall and has since been making the rounds at film festivals (it plays at Outfest this weekend), which Shmila says has been nothing short of validating.
"As a queer woman and then as a queer filmmaker, my stories will always be about strong powerful women," she says. "And to see the impact on the audiences–the fact that [visibility] makes them stronger fills my heart."