Annihilation hit theaters Friday and the film is a game-changer for so many reasons. First, it's a feminist sci-fi movie almost completely devoid of the male gaze, starring an all-female castthat just doesn't happen in this genre. Second, movies with all-female casts rarely ever depict one of the leads as queer.
But Annihilation is different. The alien thriller from Alex Garland (Ex-Machina) stars Natalie Portman as Lena, a soldier turned biologist who enters "the shimmer," an inexplicable force-field that's swallowing habitats whole, in an effort to end its destruction. Portman stars alongside a cast of powerful characters: Jennifer Jason Leigh as the fearless, bull-headed Dr. Ventress; Tessa Thompson as Josie, a meek physicist; and Gina Rodriguez as Anya, a pugnacious masculine-of-center lesbian. Despite the ever-present white-washing scandal, Annihilation provides representation in other much-needed areas, like Latinx queer women and butch lesbians, who are scantly seen on-screen.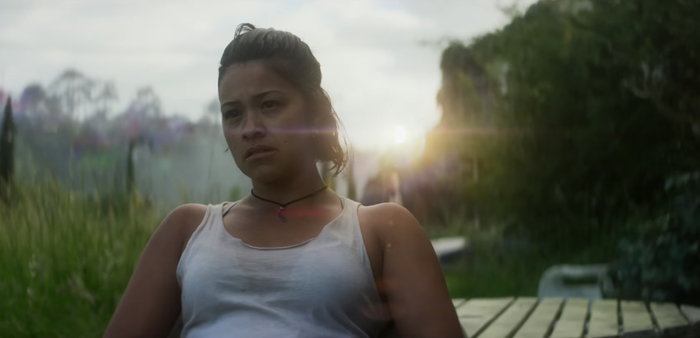 Anya's queerness is barely touched onwhich I think works, because it's not an integral piece of the storybut she does offer a pretty overt admission of such. When Lena is introduced to the other women she'll be joining on the mission, Anya prods at whether Lena's single or not, quipping that there's no harm in "rolling the dice" a few more times under the circumstances (they're about to embark on a suicide mission). Outside of that, we never hear much about Anya's personal life, outside of her being troubled. But the mere existence of her character is important: Not only is Anya is a Latinx, butch-leaning lesbian woman, she's also a main character with tons of screentime in a major studio film.
On TV, masc women are slowly gaining traction. Orange is the New Black contributed groundbreaking representation of butch lesbians with Big Boo (Lea DeLaria) on Netflix's flagship dramedy which was also home to the androgynous Poussey (Samira Wiley). There was Melora Hardin as Tammy, the soft-butch on Transparent, Lena Waithe's Denise on Master of None, and Sara Ramirez as the ever-dapper Kat on Madam Secretary. But on the silver screen, these kinds of women are nearly invisible.
There have been a few exceptions. In 1996, Gina Gershon played Corky in the Wachowski's Bound, which was a trailblazer for lesbian sex scenes and butch/femme characters. Dee Rees's Pariah (2011) followed an embattled young black lesbian, and subsequently put Rees on the map. And Rick Famuyiwa's Dope gifted us with Kiersey Clemons as the tomboyish Diggy. And perhaps most notably, Jenette Goldstein played the Latinx butch marine Jenette Vasquez opposite Sigourney Weaver in Aliens (1986), but her sexuality was never explicitly defined. (Still, she was largely assumed to be gay.)
So, positive portrayals of MOC queer women are out there, but they're embarrassingly few and far between.
To add insult to injury, butch lesbian characters often fall victim to harmful tropes, like the predatory lesbian. Ester Dean's andro-leaning character in Pitch Perfect, for example, was repeatedly used as the butt of the joke. Her character, Cynthia Rose, would repeatedly hit on the other girls, make crude comments, and generally make her female friends squirm. Lea DeLaria has played this version of a butch predator multiple times in both TV and film, most memorably in The First Wives Club.
Rodriguez's Anya doesn't behave this way, which is so refreshing.
"Yeah, she's a lesbian, that's what she likes," Rodriguez told EW. "Big deal. You don't have to wave a flag."
Perhaps it's because Rodriguez is Latinx and, herself, not 100 percent straight that she understands the task at hand, and the much-needed visibility that comes with playing a marginalized identity.
As Anya, Rodriguez bares a half-shave, military gear, and a certain masculine swagger, but she doesn't ooze toxic masculinity like badly written butch characters usually do. And for that alone, Annihilation is worth the watch.