The first thing you'll notice after landing in Sukhothai, a near $60, hourlong flight from Bangkok, is that the northern Thailand province's airport is a zoo.
Yes, after stepping onto the humid tarmac, you'll see zebras grazing beside white fences. As you board the trolley that takes you to the open air terminal, you'll find giraffes stretching their long legs in the warm Thai sun. Tortoises not far from baggage claim. Pied tamarins bickering as customers ask for a first class upgrade. Wallabies just a few hops from security.
I wasn't able to find out why this airport exhibited exotic animals while I was there, but after looking into it, the answer seems to be why not? The private airport (and free zoo for flyers) is owned by Bangkok Airways,  and the small collection of exotic animals on well kept, spacious grounds ornamented by 13th-century ruins, makes the airport one of the most unique I've come across in all of my travels.
This is how you're welcomed to Sukhothai, a gem off the beaten path, just beyond the reach of the typical traveler's radar. Located 256 miles north of Bangkok and 190 south of Chiang Mai, Sukhothai is a place of respite for the backpacker overwhelmed by busy and bustling capital and the tourist stricken islands of Thailand's southern arm that flexes into the country's famous turquoise seas.
The region's historic capital, also named Sukhothai, dates back to the 13th century and was the first province of independence from the Khmers. The historic city was the first capital of the Kingdom of Siam; Sukhothai aptly and poetically means "the dawn of happiness." Here, find freedom, sunshine, peace, and the first day of the rest of your life.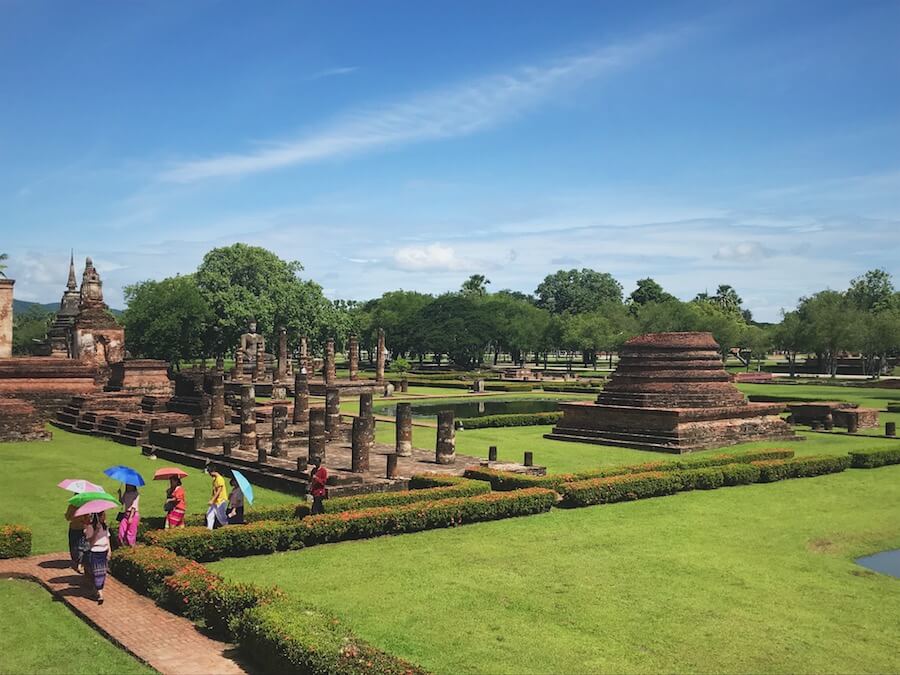 Among the gently sloped mountains giving way to peaceful pastoral flatlands, the area is well known for two historic parks: Sukhothai Historic Park and Si Satchanalai Historical Park.
At these expansive parks, the 800-year-old ruins of temples, relics, walls, and Buddhas sun themselves beside tranquil waterways, forests, and electric green lawns. Si Satchanalai is certainly the quieter of the two parks, as it rests 60 miles from the town center of New Sukhothai and, as a result, is visited primarily by locals. However, the layout of Sukhothai Historic Park still allows great solitude. During our day, we didn't see more than fifty tourists. The two parks are smaller, lesser visited Angkor Wats, but with a more attainable and personalized grandeur.
What makes them primarily unique, besides the solitude from the masses and the freedom of self-guided exploration, is the amount of space both parks claim, making their exploration by bike not only practical but charming.
It is not often we get to double up and experience two activities at once. Here, biking and sightseeing.
Here, hundreds of years of history and the blend of Khmer/Thai architecture, a stunning scenery of palm, ponds decorated by lotus, and miles of bike and walking paths to pedal, glide, and cruise. It is in places like Sukhothai that we remember the finest and simplest things in life: an afternoon at a park with nothing but a bicycle is happiness. Sukhothai is sublime.
The group I traveled with in Sukhothai spent our first afternoon at Si Satchanalai, before recharging and spending our second day at Sukhothai Historical Park.
That morning, a bright one full of songbirds and Thai iced coffees, we rented our bikes from K Shop for about 30 baht a day (nearly $1 USD). We came prepared for the hot day before us, a humid 80-degree bluebird stunner. We wore light, shoulder-covering linens. We slathered sunscreen and sipped coconut water. We chose our bikes from a fleet of beach cruisers, adjusted our seats, and were off to see the 193 preserved ruins of the park.
What made the experience particularly pleasant as we hopped from temple to pagoda to stupa to shrine was the ease of the biking. The ground was so flat and the trails were so smoothly paved that even those who struggled with biking re-fell in love with the activity.
It was a moment to remember and become reacquainted with the joy we first felt when we took our first ride without training wheels. The land at the park is as flat and spacious as the land you learned how to ride a bike on as a young'un: your neighborhood's car-free cul-de-sac, your elementary school's empty parking lot, the long, forbidden, smooth as butter driveway of next-door-neighbor.
Throughout the afternoon, we stopped at Wat Mahathat (the temple of the great relic), the park's biggest and most impressive structure, center-pieced by a calm, seated Buddha. Behind him, equidistant, were two more Buddhas, but these ones were standing. 
As we curved around the park into the heart of Traphang-Trakuan Lake to see another temple, Wat Si Sam, we came across something even more unexpected to me than standing Buddhas: a walking Buddha! Untroubled, this Buddha appeared to be floating across the grass with his left hand held out before him, which a scarlet-backed flowerpecker landed on, and roosted momentarily, before flying across the lake.
The afternoon by bike was one of the warmest of my recent trip to Thailand. Thailand proved its well-deserved nickname, the land of smiles. Towards the end of our afternoon, as I was gliding by another standing Buddha, I felt a cooling Thai breeze. As I passed him, I looked back.
It was as if this Buddha with his hand stretched out was balancing my training wheel-less bike, striding along beside me with his hands on my shoulders, pushing me forward, like a parent releasing their child onto open pavements. I was like a boy full of smiles peering over his shoulder, realizing he is no longer being balanced. I was cruising across the pathway a little bit closer into the present.
The Snugs
While in Sukhothai, be sure to stay at the Sriwilai, a gorgeous queer-friendly property only 10 minutes from the historical park. Besides the hotel's stunning views of rice fields filled with feeding egrets and rainbows and gentle mountains, the property sits beside one of the 800-year-old pagodas, adding a historic, timeless aesthetic contrasted to the modern, minimalistic design of the 4-star property's rooms. There is even a gorgeous infinity pool. Rooms from $91.