The Leslie Mann-led Blockers hits theaters Friday and critics have dubbed it the "female Superbad," but what's more outstanding is the movie's heartwarming LGBTQ storylinea rarity for major studio comedies. In the leading lesbian role is 21-year old Gideon Adlon. If the name sounds familiar, you're not wrongGideon is the eldest child of actress, performer and director Pamela Adlon, star of FX's Better Things. Gideon is just breaking into Hollywood, but is already taking on groundbreaking roles and deftly positioning herself amongst powerful women.
2017 brought us Rough Night, the Scarlett Johansson starrer featuring Ilana Glazer and Zoe Kravitz as queer protagonists. Though we've seen LGBTQ characters in major studio comedies before, Rough Night was the first of its kind to center queer characters whose personalities weren't solely based in their sexual ID, nor were they stereotyped or made to be the butt of the joke.
Blockers, directed by Pitch Perfect writer Kay Cannon, is following suit; the movie tackles coming out, self-discovery, sexual agency, and the fraught landscape of being closeted in high school. And for once, the studio comedy gets it right.
In the age of Love, Simon, many have been calling for a female-centric blockbuster rom-com with a lesbian protagonist. Blockers isn't necessarily that movie, I'd file it under the category of "I wish I had that movie growing up." Adlon plays Sam, a timid and questioning 17-year old who skeptically joins a sex pact with her two best friends, vowing to lose their virginity on prom nightit's a modern, feminist American Pie, but smarter. Sam wants in on the pact, but she's perturbed at the idea of having sex with a man.
Sam fills her last pre-prom days Photoshopping herself into fan art of Xena (yes, The Warrior Princess), unconvincingly proclaiming her attraction to a fedora-wearing theater boy, and crushing on the out lesbian girl in her school, who hilariously wears iridescent capes, bedazzled face jewelry, and attends a festival called "Lord-Con." Adlon's character had me squirmingit was like looking in a time capsule of my gayest moments. But the movie was deeply sweet, poignant, and timely, clad with nuanced discussions of sexuality and encouraging affirmations from Sam's dad (Ike Barinholtz), and her crush, who replies "It's different for everyone. I guess you'll never know until you try," when Sam asks how to know if you're "confused."
Plus, Blockers has a happy lesbian ending, the kind of feel-good rom-com theater we've seen heterosexual characters get ad nauseambut it's rare to see that for two women on film. Sam's storyline with her unicorn crush is completely devoid of complications with boyfriends or husbands, and the movie supplies her with the gift of acceptance; Her friends and family welcome her with open arms, without a blink of hesitation. Her coming out is simultaneously tear-jerking, yet no big deal.
Blockers is truly the first of its kind, as is Gideon's character. We spoke to Gideon about her role, female directors, and queer people who inspire her.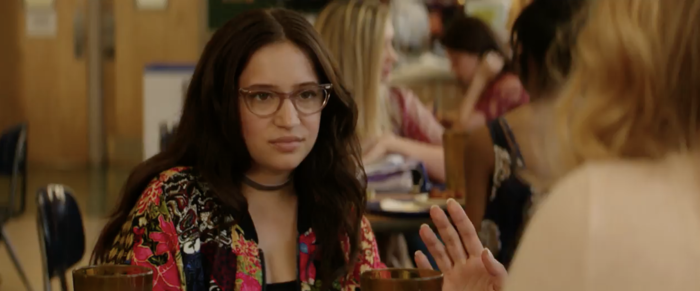 What's special about your character?

[Sam is] an observer. She's scared to lose her best friends. She's obviously very unsure about joining the sex pact, and then you realize that she just wants to be a part of it because she wants to share the experience with her best friends, and she's scared to lose them. But she's also nervous to show who she really is, because she's pretty sure that she's gay and that she wants to come out, but she's never given boys a shot. But she stands out because she's an observer. She's more reserved and nerdy, and fun.
Who or what did you draw inspiration from for Sam? Are their queer characters you learned from, or maybe queer people in your life you look up to?

I grew up really heavily in gay communities. My best friend in the whole world has two moms. My other best friend is a gay man and he came out when he was nine years old. All of my mom's closest friends are either drag queens or gay men or gay women. One of my other close friends is a gay guy who's still closeted from his family. He can't tell his family. So, I really drew inspiration from all of them.
But also, I feel like I'm very aware of the gay community and, you know, what my friend told me about being closeted, and what that's like, and being afraid to tell people, or being afraid of their judgment, and scared that they won't love you anymore. I've always been so shocked that that would even go through someone's mindbeing scared that their family or friends would reject them or not love them anymore just because they love a person of the same gender. It blows my mind.
I feel so grateful that I'm the one who gets to make this a normal thing. This is a big blockbuster comedy, like a sex comedy about young women making their own choices with their minds and their bodies, and young men being respectful and ok with it. And then being able to normalize a girl liking a girl, and showing that Sam is a girl that has a crush on another female, and she's just a high school teenager who has a crush and wants to kiss someone, and has real feelings for the first time for someone else who happens to be a female. I'm so happy that I'm able to show that story and that it's not a big dramatic storyline, it's just real life, and it shows that this happens. The storyline was put together in an amazing way and I couldn't be happier.
Is it important to you, in this day and age, to work with female directors?
Oh, hell yeah! Are you kidding me? There's only eight percent female directors in this industry, and that's worldwide. That's crazy. This movie would not be this movie without Kay Cannon as the director. She brought such great energy to the set, a very motherly feeling. I'm just so grateful that this is my first film, my first comedywith a female director, with three female leadsa movie that really isn't about the sex, it's about women making their own choices, and female empowerment. It's such an empowering fucking movie.
I have another film coming out in September in theaters, with Focus Features, that was also submitted to Cannes for the summer, and it's also a female director. So, the [only] two films that I've ever done have had female directors making their directorial debuts, so I'm very thankful.
In the time of Love, Simon and Call Me By Your Name, why do you think this movie and this role are important, specifically because it features a gay woman?
This movie's important right now. We filmed this before the #MeToo movement came to surface, before the Time's Up movement came to surface, and in a time when the LGBTQ community is still being discriminated against. There's still so much discrimination, and people still have so much hate for same-sex couples and same-sex marriage, like "It's not normal, it's disgusting, a woman should be with a man!" or "A man should be with a woman!" And that's just not how life works. Humans are humans, and humans are attracted to who they're attracted to. It's not sickness. It's not something you can change. It's just who you are.
I think that, in light of everything, this film is not just about that, it's also about female empowerment and women making their own choicesyoung women in high school making their own choicesnot letting men tell them what to do, not letting men tell them what they want but women telling men what they want, what the woman wants. And It's so important to normalize same-sex couples and to normalize same-sex loveyoung lovein a very casual way. It's just so important to me, and I couldn't be more thankful to be part of such an empowering movie, a movie that should've been made many, many years ago.
Blockers hits theaters this Friday.
in Your Inbox

Subscribe to get a twice-weekly dose of queer news, updates, and insights from the INTO team.