The Deadpool 2 trailer was released last week and out actress Brianna Hildebrand seems to have an even bigger role than in the first film.
Hildebrand played one of Deadpool's squad members in the inaugural Marvel offering. As the relatable and moody Negasonic Teenage Warhead, she appears to be featured more prominently in the new superhero sequel.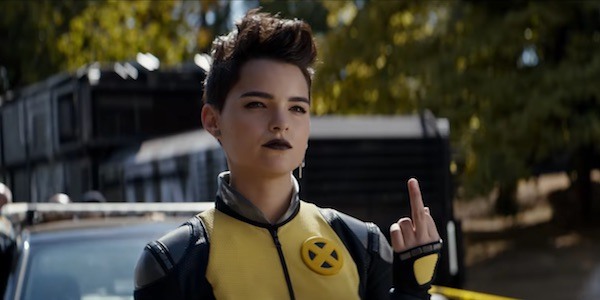 The 21-year-old actress has described herself as suffering from Resting Bitch Face, which is probably why she's able to nail all the gloom and doom of Negasonic.
"Negasonic kind of reminds me of myself in high school, so I really connect with her on that level," Hildebrand told PAPER. "I went through a goth phase in high school. I also went through a phase in my life when I was like 'I don't know who I am. Who do I like? Why does it matter?' You know? I'm really excited to play Negasonic. I draw a lot from journaling. I journal for Negasonic a lot and that helps me get into character a little bit."
Rumor has it that Negasonic will be getting a girlfriend in the new sequel, specifically, Yoki played by Shiori Kutsuna. According to the blog Manabyte, "Yoiki is in the movie a lot, pretty much whenever you see Negasonic, and they do have a big action scene late in the movie where the two go with Colossus after a famous X-Men villain.
Offscreen, Hildebrand (who is aa series regular on Fox's The Exorcist)has a girlfriend: Jonneke Grisham, who worked as the set dresser on Hildebrand's teen queer love story, First Girl I Loved.
Hildebrand is already inspiring younger fans with her out and proud messaging. Her advice is simply "do you."
"Because when you're younger it feels like everybody is watching you and everybody's opinion of you matters," Hildebrand told PAPER, "and I think the older everyone gets the less, they feel like that. But if you master it now, if you start living your life the way you want to now, it'll be so much easier for you and it'll feel so much more authentic and people will gravitate towards you for who you are and not who you're trying to be. So yeah, just do you."
And as far as her own queer superheroes go, it looks like Hildebrand stans Roxanne Gay, the Black queer Bad Feminist writer behind the World of Wakanda comics (which feature queer female characters).
"I'm obsessed with her," she says. "I almost got to see her at a convention a couple months ago and I was so sad that I didn't see her, but she's my first love."
Deadpool 2 hits theaters May 18th, and we can't wait to see Negasonic's slayage (and, hopefully, a girlfriend, too).
Photo by David Livingston/Getty Images