In a special TV edition of "But How Gay Is It?", we seek to answer the biggest questions you have about Ryan Murphy's newest project including, most crucially, our titular question.
Does the limited series have any queer characters? Are there stories involving same-sex lovers? Which gay icons star in the show?
We're bringing you all that and more.
What is The Assassination of Gianni Versace: American Crime Story?
To say that The People vs. O.J. Simpson: American Crime Story was a smash success for FX is an understatement.
The series won critical raves, audience interest, and a slew of awards for its stars, particularly for Sarah Paulson as O.J. Simpson prosecutor Marcia Clark. Unfortunately, following it up proved to be tricky; the original plan for season two, a story revolving around Hurricane Katrina and the governmental response, proved to be a non-starter.
The Katrina season got new source material, but will need major time for a retool; Versace, the originally planned season three, was pushed up.
Time will tell how creator Ryan Murphy eventually handles Katrina, but the Versace story is very much in line with Simpson: a deeply '90s narrative, with just enough celebrity element to make it salacious. Rather than focus on the titular assassination, however, Murphy and his team have crafted a fascinating character study of serial killer Andrew Cunanan, tracking his progress backward.
Gianni Versace is killed in episode one; we meet Cunanan's other victims in subsequent episodes. The final product is a story less about Gianni and Donatella Versace (despite what the Edgar Ramirez- and Penelope Cruz-heavy marketing might lead you to believe), and much more about how one infamous sociopath came to wreak such havoc.
Who's in it?
Darren Criss, of Glee fame, plays Andrew Cunanan. But don't let the lightness of his previous work fool you this is one of the greatest TV performances of the decade.
He plays Cunanan like an Instagay of the '90s: opportunistic, narcissistic, and a pathological liar. Every brazenly false declaration is played with just the right amount of overconfident flourish. His charisma is toxic, but it's hypnotizing. It's the kind of bravura performance you know will be showered with every award under the sun. Luckily, he'll deserve them all.
The other three main characters get much less time on-screen, but each makes their own, smaller impact.
Ramirez smartly plays Gianni Versace not as a demented or aloof genius, but as a kind man expressing his true self through excess. He gets tough moments, particularly in his relationship with sister Donatella, but wins out by leading with Gianni's heart.
Speaking of the iconic Donatella, Cruz digs in to her portrayal with full force. Her accent is spot-on, and her entrance is gasp-worthy. But she never loses the character in caricature, no matter how broad her brushstrokes. One late episode, in particular, focuses on her creative partnership with Gianni; it's some of the best work of Cruz's career.
Ricky Martin also stars as Gianni's lover, Antonio D'Amico, and acquits himself well in a handful of crucial scenes. But in a story that is all about Andrew Cunanan and only somewhat about the Versaces, there's not much room for the latter's own supporting cast.
Why should I watch it?
If my effusive praise for the performances alone hasn't been enough hint, let me make it plain: The Assassination of Gianni Versace: American Crime Story is masterful, perhaps Ryan Murphy's best work ever.
The showrunner has always been something of an emotional creator, changing large bits of characterization in Glee on the fly because of his changing whims (see: the show's sudden laser focus on Kurt starting in season two). He's also known well for his excesses of glamour, violence, and more, mostly on American Horror Story.
But Versace sees a more moderate Murphy, channeling all the extravagance into the Versace-led interludes and keeping Andrew's story plain, true, and incredibly captivating.
If the first few episodes don't hook you (which, they certainly hooked me), I'd recommend sticking around for episode four, "House by the Lake." It's a remarkably focused installment, exclusively about Andrew's relationship with one of his victims, architect David Madson (played by the striking and sublime Australian actor Cody Fern).
If the intimate, tense storytelling and filmmaking of that episode doesn't sell you, nothing will.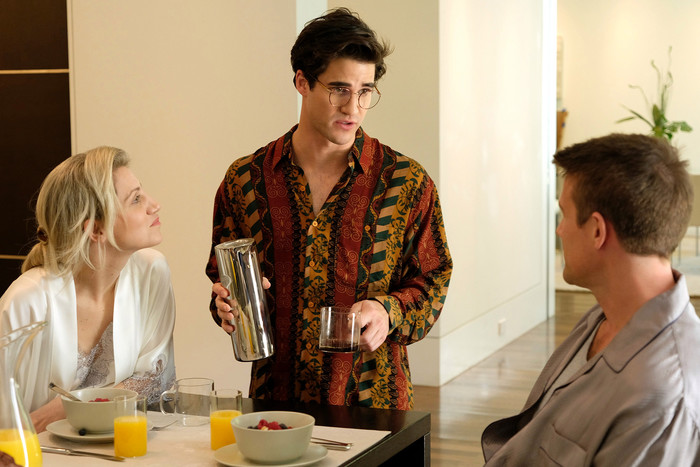 But how gay is it?
It breaks the goddamn Kinsey scale.
Ooh, because we see Darren Criss' butt?
I mean, it's way more than that.
Part of the reason why I wanted to do a But How Gay Is It? for this show in particular, when it's only been a column format for movie reviews before, was because it is incredibly gay. Murphy, the creator, is gay. The story is about gay men; more than that, it explores homophobia and gay shame in remarkably subtle, fascinating ways. In "House by the Lake," for example, Andrew takes David on a road trip unwillingly after killing their friend, Jeff Trail. Andrew keeps David from escaping by manipulating his fears about his family learning about his sexual proclivities. It's deeply disturbing and, for any gay man who has gone through a period of craving respect despite his sexuality, all too familiar.
The other reason why I wanted to, however, was because many of the films that have hit theaters recently have been decidedly not gay. It's not news to say TV is gayer or queerer; GLAAD has reported it several times over at this point.
But watching the screeners for Versace (critics received eight of the nine episodes ahead of airing) right after seeing the last of 2017's films drew such a sharp contrast for me. Said in the broadest strokes, TV right now is progressive, boundary-pushing, and risky. Movies, of which there are fewer, and are far more beholden to studios and franchises, just cannot keep up.
In other words, if we were asking 'But How Gay Is TV' versus 'But How Gay Is Film?', the former would win out almost every time. There are other merits to measure the two, of course but this column particularly cares about that one.
…so do we see Darren Criss' butt in this?
[sigh] Yes, you do.
That's really all I wanted to know.
I know.
It sounds like a good show, though.
It really is!
The Assassination of Gianni Versace: American Crime Story premieres on FX tomorrow nightat 10 p.m. Eastern.
Images courtesy of FX.