We've come to the end of the film year, and as awards bodies ramp up to hand out their trophies, we're left to survey the dust. Or, since we're gay, the glitter.
It was a fairly gay film year, one that perhaps benefitted from low expectations. Without a Big Gay Movie like Call Me by Your Name, Carol, or Moonlight, more movies were able to surprise, either with a surprising amount of queerness, or for deftly using gay supporting characters to better flesh out their worlds. Along the way, there were some disappointments: Boy Erased wound up being more of a gay movie for straight people, and nothing Timothée Chalamet did this year could quite match the gay quotient of CMBYN.
To commemorate the year, I've assembled the top 10 gayest movies I covered this year in my But How Gay Is It? column. I've also included (lightly edited) answers to the titular question from each column; if you want to read each full review, they're linked to each movie title. Enjoy!
Honorable mentions: Ultimately, Ocean's 8 just wasn't gay enough, despite giving off all the right signals. We lament that we didn't get a queerer version — one in which Debbie Ocean and Lou Miller's past was a romantic one, and more true sexual sparks flew between Debbie and Tammy. Also, I didn't cover Disobedience for But How Gay Is It? — blame another, slightly bigger movie that came out that weekend — but it'd absolutely make the top 10 if I had.
10. Annihilation
But how gay is it? More gay than you'd think, in large part because Rodriguez's Anya is gay. She doesn't have a big romantic plot or anything — none of the other supporting characters do, and Lena's is only told in flashback. But her sexuality is explicitly mentioned, and that's not nothing.
9. Book Club
But how gay is it? There are no gay characters, but simply assembling a collection of gay icons like this is absolutely qualifies it as pretty gay. Plus, their stories will sound all too familiar: Diane Keaton meets a rich daddy who wants her to lie to her family and meet him at his fabulous home in the desert? Relatable to literally any twink who's found his way into an older man's pool in Palm Springs. Candice Bergen goes out on Bumble dates and hooks up with a man in the back of her car? Iconic! Jane Fonda struggles with finding love and prefers to just have one-night stands? Honestly, these women are doing gay dating culture better than we are.
8. Love, Simon
But how gay is it? It is a solid Gay. I was worried there would be a tinge of no-homo to all of it, a gay-but-not-that-gay vibe. And I was wrong about that. In addition to Simon and Blue, there's Ethan, an out-and-proud gay kid who routinely reads his classmates to filth. (At one point, he says a straight bully's outfit looks like he was "gangbanged by a T.J. Maxx," and I haven't stopped screaming about it since.) I wish the movie had more time for him, but he was a new character for the film as-is, so I appreciate how much of him we get.
This is a commercial teen movie, so you're not going to get the most impressive queer theory or experimental characters. It'd be unfair to expect that, frankly. But generally, I was impressed by how unafraid of its gayness the movie is. Is it a little white, a little homonormative, a little cheesy? For sure. But for the first big, studio film with a lead gay character, this is a solid first step.
7. The Miseducation of Cameron Post
But how gay is it? Obviously quite gay! And different shades of gay, too. You get a pretty diverse coalition of young queer people at the conversion therapy camp God's Promise. It's not exuberantly gay, but soberly and bracingly gay.
6. Colette
But how gay is it? Colette is somewhere on the bisexual scale, interested in women and having an affair with an American heiress, though obviously, considering that the film is period, she's not given an exact label for her sexuality. There's a lot of sex in the film, and credit where it's due, the vast majority of it has some element of queerness to it.
5. Blockers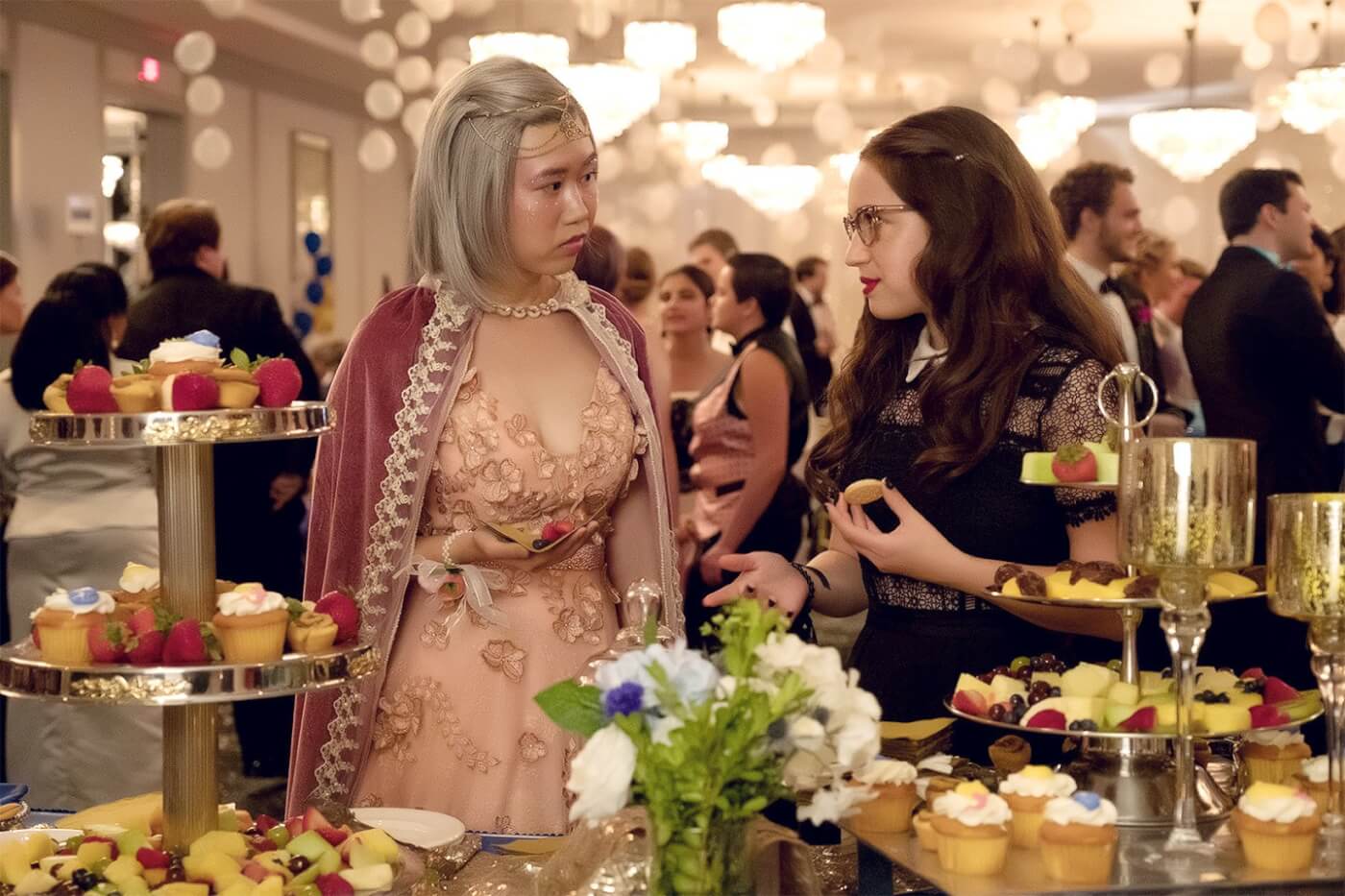 But how gay is it? Shockingly gay. While all three girls make a pact to have sex, one of their paths is blocked by a particularly difficult element: Hunter's daughter Sam is gay. She's still coming to terms with it a bit, but between her lack of interest in her date, Chad, and her crush on class quirky girl Angelica, it seems obvious. Particularly impressive in this is how Hunter takes it: He knows instinctively that his daughter is a lesbian, and not for one second does he judge her. When she does finally talk with him about it, it's an incredibly sweet, earnest scene.
4. Mamma Mia! Here We Go Again
But how gay is it? Just the absolute gayest. It's ABBA songs. It's Colin Firth as a gay dad. It's Hugh Skinner as baby Colin Firth comparing losing his virginity to a woman to "Waterloo." It's Christine Baranski saying all men are trash while pouring tea. It's horny legend Andy Garcia. It's motherfucking Cher. This is our gay fantasia on national themes, and we need it now more than ever.
But how gay is it? Emily is bisexual, admitting to a threesome with her husband's female TA in one of her first chats with Stephanie. We get plenty more shades of her flexible sexuality in other scenes, too, and another character shows a queer bent as well — though to go too far into them would be getting into spoilers. What's refreshing, though, is that the character's bisexuality isn't made into a nefarious detail about her. Scandalous, sure; Stephanie is shocked when she first hears. But what makes Emily shady is everything but her sexuality. It's a play on the harmful Depraved Bisexual trope that, in my opinion, works as a subversion.
But how gay is it? Oh, it's just about gayest thing you'll see this year. Lee Israel is a lesbian who embarks on a flirtation with one of her female buyers, and is still very much recovering from her breakup with a serious ex. Grant is also gay, and has a fling with a much younger man. Moreover, the film's sensibility is remarkably queer. It's got the kind of bitter warmth that feels way too familiar to me as a former gay New York resident. You know what I'm talking about: the camaraderie of reading your best friends, shading your nemeses, and doing it all over drinks at Julius. (New York's oldest gay bar prominently features in the film, acting as the setting for multiple scenes.)
I can't quite describe it; it's just a familiar, wonderful feeling. Can You Ever Forgive Me? has a great story, but its mood and setting are, to me, its greatest strengths.
But how gay is it? Oh my god, so gay. Gayer than a bunch of twinks on Fire Island. Gayer than a coterie of lesbians at the Dinah. Gayer than fucking Palm Springs. Some of that is content, yes; Abigail and Sarah are not just competing for Anne with personal favors, but also deeply intimate ones. Even gayer, however, are the movie's aesthetic and language. Nicholas Hoult's Harley is a bitchy queen with plenty of reads for all his female rivals, and the mascara to match. He obsesses over appearance and tells one of his party members that his men must be "pretty."
Meanwhile, Abigail and Sarah brutally drag each other with a viciousness only otherwise found at a drag bar on a Friday night. Reader, I was expecting this movie to be fun; I had no idea it would be, right next to Can You Ever Forgive Me?, the gayest movie of the year.