If you've ever been to a gay bar anywhere in the world, it's likely you've spent a sweaty, energetic night dancing tirelessly to Fischerspooner. The duo made up of musician Warren Fischer and vocalist-performance artist Casey Spooner – saw their brand of filthy, synth-driven electronica bleed into mainstream consciousness back in the early 2000s; since then they've sporadically released albums, the latest of which – Sir – took almost five years to create.
"I very specifically knew I wanted to create a record filled with queer narratives," says Spooner, who speaks to INTO over the phone after a long day of exploring Paris, his new home city. He sounds invigorated, optimistic, and passionate about the "aggressively gay" new record.
"I was in a very happy, long-term open relationship when we started writing; I was having lots of different emotional and sexual experiences, lots of different kinds of friendships," explains Spooner of the album's early creation process. "I felt like I had found a non-heteronormative 'happily ever after.'"
Driven by a desire to soundtrack these stories, the duo began working on a series of songs which were later thrown out when R.E.M.'s Michael Stipe, who was Spooner's first lover back in the 1980s and remained a friend, was enlisted as the album's executive producer.
"He came in to work on one last song – it was a very difficult piece of music, but he found a great way to attack it," recalls Spooner. "Then, he would come in every so often and give me notes; eventually, he started making big changes. He really wanted me to change my vocal style. He felt like I was too subdued and that I should be expressive, so he pushed me on a couple of songs and later proceeded to throw out half the record.
"He didn't want any credit either – he just saw it as doing a favor for a friend."
Eighteen months of work were then essentially scrapped; songs were rewritten, re-recorded, and started from scratch. Fresh faces were recruited, too, most notably wunderkind producer and Beyoncé collaborator BOOTS. Spooner credits the enigmatic talent with bringing a pop sensibility most evident on the synth-driven lead single "Have Fun Tonight," an ode to open relationships which unfolds around an earworm refrain: "We come sweetly together."
"I had been spending a lot of time on Fire Island and gaining an appreciation for more classic gay pop songs and those dance ballads where there's kind of an innate sadness," says Spooner of the track's sonic references. "I actually specifically wanted to write a queer version of Ariana Grande's "Into You" because I love that song so much; a fusion of that and Sylvester's 'I Need Somebody To Love Tonight.'"
The track lingers on the topic of queer sex, one which recurs throughout the album. "I really just felt like I was living through a sexual revolution of sorts," says Spooner, referring to the ways in which apps, new technology, and scientific breakthroughs have all worked to partially destigmatize queer sex. "There was the dawn of PrEP too – all these things were happening, and people were having more access to information about sex, pornography, and ways to communicate."
Sex is written heavily across the album cover too, which sees the artist reclined with his tongue suggestively outstretched. Incidentally, Spooner's own aesthetic now mirrors that of the iconic sexy, muscle-bound hunks whose hyper-masculinity was always tinged with a lick of queerness – think Tom of Finland goes to Fire Island. This was accidental – he had been cast in a play which required the mustache and the chiseled Adonis body – but fit perfectly into the visual world he was looking to create for the album, one which specifically nods to a "golden age of homosexuality."
Visuals are particularly important to performance artist Spooner, whose aim is to film a video for every song on the album. "I always have very specific visual ideas," he explains, discussing a recently-lensed video for "Oh Rio" which fuses the homoerotic photography of Alair Gomes with Dirk Bogarde's famous "melting" scene in The Death of Venice.
A series of other music videos are currently in the works, as is an upcoming exhibition in Aachen, Germany, which will display five years of photoshoots taken while Sir was being written and recorded.
"I just love creating images," he says, stating his ongoing love for the art world and his ongoing feelings of being an outsider in the music industry. "I really just turn to the distribution and marketing system once I've created enough work; I never really felt like I 'found my place' in the music industry. The art world is where I feel the most free, comfortable, and intellectually stimulated."
In this sense, music is just another medium, but it's one which Fischerspooner has continuously embraced and used to push boundaries. There's something inherently political about creating such a sex-positive album, especially in the context of a world increasingly viewing non-normative identities – particularly those of trans people and QPoC – through a lens of hostility.
This is not lost on Spooner. In fact, he cites "political noise, anxiety, stress – just the general horror of America right now" as a key catalyst for his spontaneous relocation from New York to Paris. "I was meant to be here for two days but skipped my flight because I didn't want to spend winter in New York. I felt safe. It's very difficult to be an American in America right now; it actually started to dawn on me that I could probably be a better American with a clearer perspective and a clearer focus on the facts if I stayed outside of the country."
Although the move was entirely accidental, Spooner landed on his feet: Europe quickly fell in love with him and his distinctive style, particularly the fashion industry. "I actually met Violet Chachki in Milan. We had never met before, but we really hit it off. Suddenly we were being invited to everything, getting dressed by designers, and doing fittings; this whole 'fashion thing' just took off in the last month."
He says that an added perk of travel comes in the form of sexual adventures; like many of us, Spooner regularly uses dating apps to facilitate new connections both intimate and creative.
One track – the pulsing, mid-tempo "TopBrazil" – tells the story of a particularly shitty hookup in Italy. The previous night had been spent with "a beautiful, amazing Roman college student We had this fantastic, super versatile, flip-fucking fantasy night! But then I wanted to do it again: I was greedy, thirsty, hungry, so I went to meet this guy whose name was 'TopBrazil,' and it was a disaster! You've got that crazy, compulsive need to get off, so you end up having an awkward, not ideal sexual experience with someone just because you put yourself in a stupid situation."
Despite this misstep, Spooner describes dating apps as one of many tools at our disposal to "make a great queer liberation." In context, this soundbite comes just after a thoughtful critique on assimilation: "You're raised to want acceptance, to want families, companionship; something more than just sex, drugs, and a hot body. But there's not a lot of guidance for us, and I think that's because we lost a generation to AIDs. There weren't a lot of older men showing me how to have an open relationship or how to have a family because they all died."
He continues by highlighting that heterosexuality is inherently flawed and that instead of trying to emulate "straight" values, we should be working to try and build our own queer families. "Don't get me wrong, I want the civil rights but I don't want the morality of it. I want the same protections, the same power, but I don't need the social acceptance that comes with that dead American dream."
This message of queer liberation permeates an album custom-built for the one place Spooner – and countless LGBTQ people worldwide – has always felt safe: the dance floor.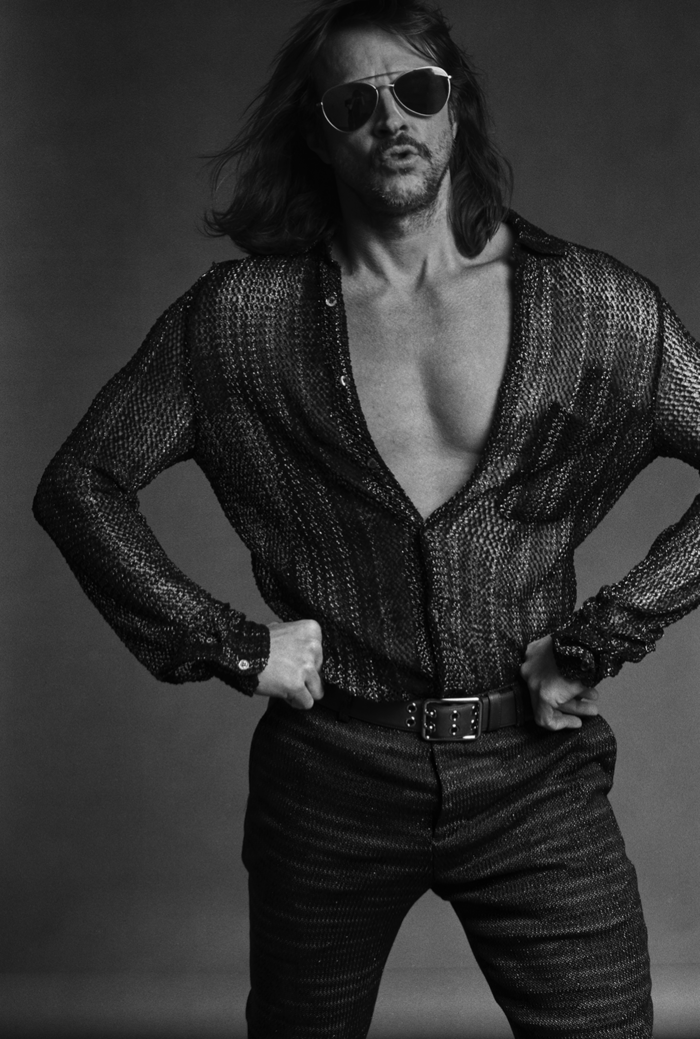 Soundscapes range from dark, industrial synths to bright, bouncy pop tracks rooted in euphoric melodies; Spooner's emotive vocals dip and soar, often complemented by guest singers including Holly Miranda and Chairlift's Caroline Polachek. The accompanying visuals – at least the ones we've seen so far – are equally queer and often brilliantly filthy: expect various subversions of hyper-masculinity and a lot of men in jockstraps, some of which Spooner recruits online.
Not only is Sir a queer mission statement, it's also been a handy tool to make his online cruising easier.
"All of a sudden these hot guys are sliding into my DMs," Spooner laughs as the conversation comes to a close. "One was asking me what I do because I was saying: 'I love my job today!' So I responded: 'I'm a sexual warrior for the queer liberation front.' I like that. I think that's a pretty good job title – don't you?!"