Last week, Solo: A Star Wars Story co-writer Jonathan Kasdan turned heads when he confirmed that one of the film's leads, Lando Calrissian, was pansexual. Now, Donald Glover, the actor who plays Lando, is chiming in.
In a Solo Town Hall that will air on SiriusXM's Entertainment Weekly Radio this week, Glover joked, "How can you not be pansexual in space?" The actor and musician was joined by co-stars Emilia Clarke and Alden Ehrenreich, who heard about Lando's sexuality for the first time when Glover was asked about it. However, until Kasdan and Glover commented on Calrissian's sexual identity, there were almost no indications of such, as his sexuality is not mentioned in the film. For that reason, some critics are frustrated at the franchise's refusal to explicitly define characters as LGBTQ in Star Wars.
When The Huffington Post asked Kasdan if the character in question was pansexual, he replied, "I would say yes," explaining, "There's a fluidity to Donald and Billy Dee's [portrayal of Lando's] sexuality. I mean, I would have loved to have gotten a more explicitly LGBT character into this movie. I think it's time, certainly, for that, and I love the fluidity ― sort of the spectrum of sexuality that Donald appeals to and that droids are a part of. He doesn't make any hard and fast rules. I think it's fun. I don't know where it will go."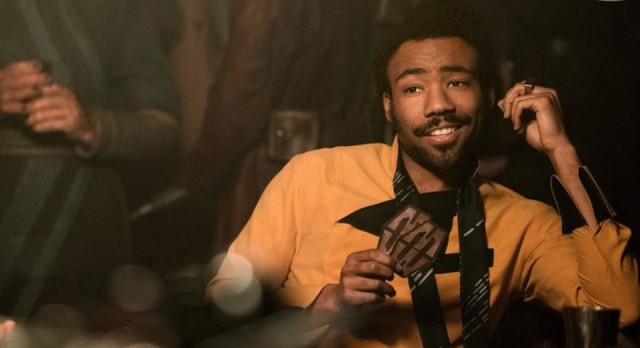 It's alleviating to hear such explicit declarations from Kasdan, but it's easy to see why both fans and critics alike are disappointed, as this isn't the first time a Star Wars filmmaker has teased an LGBTQ character, without actually defining the character as queer in the movie. In 2015, J.J. Abrams said of The Force Awakens, "When I talk about inclusivity it's not excluding gay characters. It's about inclusivity." He added, "So of course. I would love it. To me, the fun of Star Wars is the glory of possibility. So it seems insanely narrow-minded and counterintuitive to say that there wouldn't be a homosexual character in that world."
Yet, Solo is the third movie in the franchise to be released since The Force Awakens, and there are still no out queer characters.
Regardless, Glover maintains that he was aware of Calrissian's pansexuality, and that conversations he had with the original Lando, Billy Dee Williams, aided in his understanding of such.
"One thing that Billy did say was, be charming," Glover reveals. "He's eclectic. He likes different things. He's somebody who goes around and tries everything, and I just didn't think about it that much. But I was like, he's a charming person so I feel like he doesn't have hard and fast boundaries about everything. But having somebody tell me that, I'm like, okay, cool, makes sense to me. Is it weird that I didn't think about it that much?"
The Town Hall will air in full this Thursday at 6 p.m. E.T. on Entertainment Weekly Radio (SiriusXM, channel 105).