Watched by as many as 200 million people globally, the Eurovision Song Contest is a super-campy annual extravaganza that's been called "the gay World Cup," "the gayest event in the world," and "the gay Christmas." It's hard to argue too much with any of these titlesthough surely "the gay Christmas" is just "Christmas." But at the same time, it's important to acknowledge that Eurovision is epically queer as well as gayer than Liz Taylor's chaise longue.
Having begun in 1956 as a relatively humble song contest featuring entrants from seven European countries, Eurovision has snowballed over the decades to become a glamorous pageant that rewards clever visuals and inventive performances as well as thrilling pop melodies. Some 43 nations are competing in this year's contest, including Australia, who joined the Eurovision club in 2016 despite being situated 14,000km from the continent that gives the contest its name. Actually, that probably tells us something about the Eurovision mentality: it doesn't really matter where you're from; if you can embrace the contest's spirit, you're in.
"It represents an international community for LGBTQ people who think beyond their locality. It's non-judgemental and all-inclusive," says Nicholas, a longtime Eurovision fan from the UK who's attended the main song contest as well as several of the national selection finals where individual nations pick a singer to represent them.
"I don't think that the extravaganza and the pop music are the only reasons for the contest's [LGBTQ] appeal," adds Milton from Portugal, who's loved Eurovision for around 15 years, and also attended the Grand Final. "Maybe it's because there's a more free and neutral atmosphere at Eurovision, where the LGBTQ community can participate in such a big event without being persecuted. But even if you're watching at home on the couch in your own country, you're seeing something on national TV that's really not so conventional."
Sometimes, these not so conventional sights are pure camp: Ukrainian drag queen Verka Serduchka finished second in 2007 after romping through a performance of her Euro-bop "Dancing Lasha Tumbai" dressed in a glittering silver outfit with a star-shaped headpiece. The UK sent bubblegum pop group Scooch to the 2007 contest dressed as dayglo flight attendants; their innuendo-laden tune "Flying the Flag (For You)" featured the heroically unsubtle double entendre: "Would you like something to suck on for landing, sir?" Can you imagine seeing that at the Grammys?
But sometimes, Eurovision gives a platform to a performer who wouldn't ordinarily gain mainstream attention. When Dana International snatched the 1998 contest for Israel with her dance-pop banger "Diva," it was a landmark moment for international trans acceptance. Her victory was surely the first time many young people all over Europe had seen a trans person owning her identity, smashing it on stage, and winning widespread approval.
The 2014 contest in Copenhagen also felt especially important. Russia's competitors, the Tolmachevy Sisters, were booed when they progressed from the semis to the Grand Final, largely because the audience disapproved of their nation's anti-gay laws. A few days later, Austrian drag queen Conchita Wurst won the contest with her gutsy power ballad "Rise Like a Phoenix." Her victory sent out a clear message to the worldnamely, that Eurovision stands for unequivocal LGBTQ acceptance.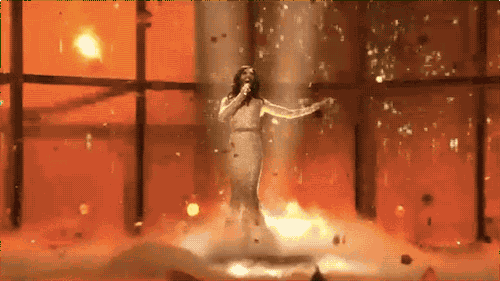 "I think Eurovision allows people to be respected and celebrated for who they are, no matter how they identify or how they dress or who they love," says Eurovision fan Samuel from the UK. "Eurovision has been branded as 'camp' for as long as I can remember, but for me, it all changed with Conchita. I realized that Eurovision really was a safe haven for the LGBTQ community. I was aware of Dana International beforehand, but Conchita was the first time that I, as a younger Eurovision fan, experienced real love and support for the LGBTQ community from within Eurovision first-hand. I think as a community we really relate to the contest because it's full of respect and love."
This year's Grand Final, airing live on Logo TV Saturday with suitably playful hosts Shangela and Ross Mathews, looks set to continue Eurovision's unique combination of glitz, politics, and infectious silliness. Israel's entrant Netta packs chicken-like dance moves and ludicrous vocal tics into her performance of "Toy," and she's among the favorites to win. Czech Republic's performance peaks with a shameless booty-shake; Cyprus's song sounds precision-tooled for dance floor death drops.
But Ireland's entry, romantic ballad "Together" performed by Ryan O'Shaughnessy, has a staging that includes two young male dancers performing an intimate contemporary dance; it's another overtly pro-queer moment to add to the Eurovision annalsand honestly, prepare to tear up when you watch it.
"As a human, I love that it's a safe space for people of all backgrounds to celebrate themselves and each other with no judgment," says Samuel. "Eurovision gives me the chance to be the most authentic version of myself for a few hours without worrying what others think."
Long may the song contest's completely organic brand of anything-goes acceptance continue.
Images via Getty and Eurovision