It's no secret that with fame comes change. Change as in fillers, stylists, trainers, and a lot of contouring. Now, people do grow up, and that causes your looks to change on their own, but let's be real…a lot of it is also from the help of a local Beverly Hills plastic surgeon. And it's not always good makeup and you watching what you eat. Because no, gurl…YOU DID NOT OVERDRAW THOSE LIPS. YOU GOT FILLERS. Let's see who else has morphed over the years, whether through the help of doctors or just being filthy rich.
Kylie Jenner
Ok, let's start with the obvious one. She went from Peppermint Patty to Jessica Rabbit in half of a year. And she tried saying she overdrew her lips with makeup…well then she must have found the horniest artist at Marvel Comics to draw that body. The wise Latin poet, Shakira, once said that "Hips don't lie," and she was right. Jenner's hips can't lie about the silicone valley that lies beneath. If we all had her money, we'd also all look like the Bratz aisle at Target.
Gwen Stefani
She was "Just a girl," but now she looks like a greeter for the Church of Scientology. "Hello…thank you for coming! Xenu will see you in a moment to have you sign your life over for a billion years…" If she ever denied having any sort of fillers or work I'd be like "Don't speak…oh dang, wait, you can't! That face is froze!"
Justin Bieber
It seems like most guys in Hollywood don't have too much plastic surgery, but they do have paychecks that rely on them being hot. And those paychecks also pay for the best trainers, personal chefs, unlimited supplies of Hydroxycut, and Tummy Tea for their Instagrams. So Bieber seems all natural, but he did go from looking like "My friend's lesbian sister" to "My friend's lesbian sister that finally went F to M."
Nicki Minaj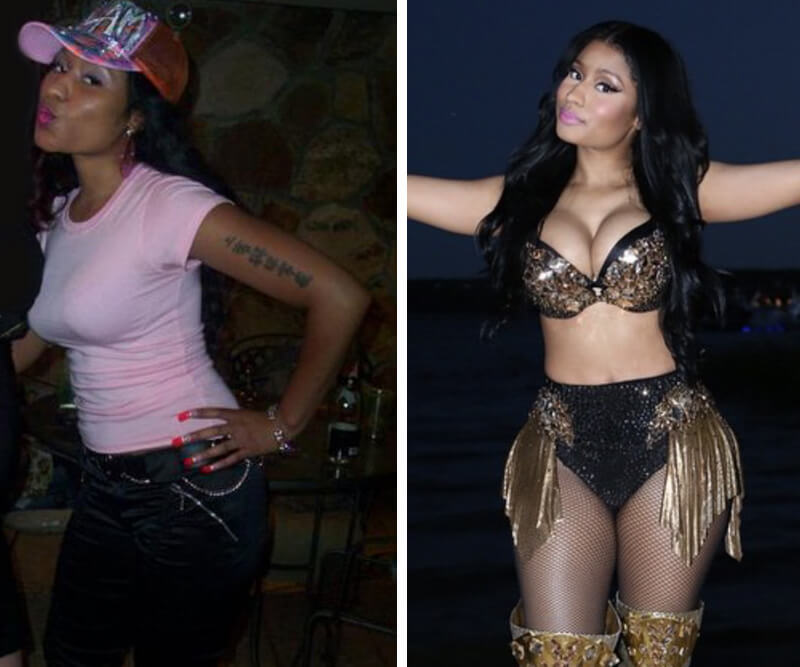 Girl bye. I'm thinking "Anaconda" was an autobiographical piece, no? "My Anaconda don't want none unless you got buns, hun." It's a classic tale of girl had little A so girl goes and gets some more A and becomes a bouncy castle.
Queen Bee A.K.A. Beyonce
Has she had work done? Let's say no, no, no, no, no…BUT what she did do was ditch that JCPenney prom dress, the 12-pack of butterfly clips from Claire's (I mean, she also ditched the other members of Destiny's Child obvi), and she got some STYLE.
Britney Spears
Britney Bitch went from the Limited Too to Fredericks of Kentwood. Sure, she's older on the right, but that does not explain what happened to her face. That smile makes me feel like she has prosthetic cheeks on. I think it's probably because she barely moves that mouth. I just hope Britney is at least using it for that fine model from the "Slumber Party" video she's seeing…or at least lip syncing to porn while she's on top of him.
Adele
She could have it ALLLL…and by the looks of it she did. But how can you deny how great this woman is? Whether you like her music or not, whether you like her makeover or not – at least the "Hello" singer has an entertaining personality. This looks like the hard work of a diet plan and an amazing makeup artist. And ditching that Roxxxy Andrews make-up smock for couture.
Aaron Taylor Johnson
Two words…ZAD DEE. At first glance, I'm sure you're wishing he was holding YOUR golden globes in his hand on the right rather than that statue…and then you're like, milk did a body good. And this is some good ol' natural results from actual puberty, a gym, and a barber. But I'm going to petition for him to have nude scenes in every movie he makes from now on.
Ariana Grande
All T? All Shade? This is not just real puberty. This is the work of Doctor Zizmor. She went from looking like my Italian cousin who shops at Hot Topic and dies her hair with Kool-Aid to a mini Kardashian in my pocket. I don't want to be too shady, but this is definitely a meatball to filet mignon scenario.
Zac Efron
To quote my favorite lyricist, Vanessa Williams, "You went and saved the best for last." And only best because that picture on the right is enough to have me inhale a bottle of Rush and draw a Zac Efron face on my hand. I'm sure there was no surgery by any means…but a subscription to ProActiv, a trainer, lots of gay porn to get out that pent out aggression, and some oil. More, please.