Minneapolis-based artist HOTTEA is one of the original yarn bombers.
A street artist who learned how to knit from his late grandmother, HOTTEA (nee Eric Rieger) has made a career out of large-scale brightly-hued yarn installations that have been commissioned by the Mall of America, Target, and Google, among other clients. Often depicting rainbow effects and touchable, tangible fibers extending from ceiling-height, HOTTEA has quietly been queering public spaces since the mid 2000s.
This week, he's bringing his work to Refinery29's 29Rooms pop-up in Los Angeles in collaboration with Perrier, the sparkling water brand who named HOTTEA Artist of the Year.
"The idea was to base it off the triangle, the number three and also odd numbers," he tells INTO of his concept. "Lately I've been having a lot of experiences or just moments with odd numbers it seems. I like to self-evaluate a lot so I was trying to figure out why I was having so many experiences with the number three and the triangle and I couldn't really figure it out. So the only way for me to respond to it was to start doing artwork about it."
HOTTEA hopes the neon thirst-quenching conversation-space, "Flavor Chambers," will inspire a lasting memory, which is his goal for all of his work.
"Typically I want people to look at my installs and remember the town or city they are in and the place they viewed it at," he says. "When they view it, I want them to get the sense that there's something more to this, and have them create a very strong visual sensory in their memory so that way, 10 years later, they might be going to the same area and think 'Oh hey this is where I experienced that installation,' and hopefully it's a happy memory and a positive one."
Working with corporate businesses and companies can sometimes call for huge compromise, HOTTEA says, but his experience with Perrier was one of the better ones.
"Sometimes [brands] don't recognize that they are working with artists and how sensitive some of us can be," he says. "Sometimes its difficult to work with their demands. But I can't complain too much either because they are the ones who are helping me fund other projects that I'm really passionate about so at the same time, I appreciate them reaching out to me or collaborating with me because these would be things I wouldn't be able to do."
Growing up a queer Latinx kid in a small Minnesota town ("where people would drive their four-wheelers to school and snow mobiles in the winter") has inspired certain elements of his work, specifically HOTTEA's penchant for posing naked with his installations as he's often wont to do. He says that as a child, he loved wearing a yellow Speedo and not just to one of his home state's 10,000 likes.
"I wore the Speedo everydayjust the Speedo, no shirt, nothing but that and it felt so comfortable and I felt really good wearing it," he says.
It wasn't until his parents signed him up for swimming lessons that he realized his choice of apparel was considered abnormal.
"I was having trouble coming out of the dressing room because everyone was wearing swimming trunks and I felt so embarrassed and kind of naked all of a sudden and I'd never felt that before," he says. "So over the years it got worse and I kept going deeper and deeper inside myself and hiding who I was. And as a kid, you are just being who you are."
As early as third grade, HOTTEA recalls his peers calling him "a feminine faggot."
"I didn't know what that was," he says, "and I don't know how they knew what that was in third grade."
His insecurities grew as his stepfather asked that he remove his Speedo to shower while the other boys washed off still wearing their trunks.
"He said the only way I would get clean is if I was fully naked," HOTTEA recalls, "and I didn't want to …. so doing that was very traumatic for me, just having all the other guys and boys seeing me take a shower naked."
From then on, he chose to cover himself, wearing long sleeves year-round.
"I didn't wear shorts ever. During gym class, I would run to the locker room after the bell rang and quickly dress and would be wearing long sleeves and everyone would make funny of me for wearing a sweatsuit basically during the summer. Sometimes people would try and rip my sleeves off so they could see my wrists and my forearms so I was very insecure about my body by the time I hit high school."
But leaving the small town he came from and going to school in Minneapolis led him to rediscover his love of his own skin, and just two years ago he says, he started wearing a Speedo again.
"I wore it in public to a swimming pool for the first time since I was five years old, and that felt amazing," he says. "And then I went the next step and started doing nude photographs with my artwork and it's been the most liberating feeling ever."
Despite his experiences in a small town, HOTTEA says he's inspired by rural areas.
"I think that led to my taste in men too, because I kind of like the husky ones," he says with a laugh.
"I think growing up in a small town really made me want to move out into the country now because I am finding myself not wanting to be a part of the city life any more," he continues. "It's just me finally finding myself and becoming more comfortable with who I am and not having to need so much stimulation all the time from the city."
While in Los Angeles for the 29Rooms popup, he plans on creating some isometric lining street art, which is how he began his career before exploring yarn-work.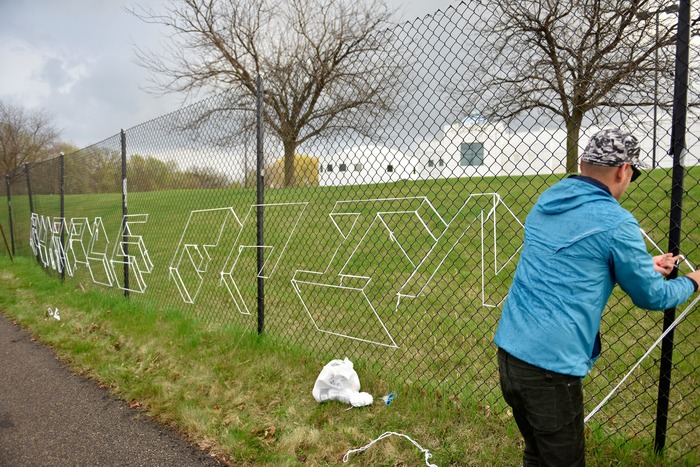 "It's the foundation I started on and I want to keep my roots where they are," he says.
Next up, HOTTEA will be taking his talents to the Super Bowl, where he's designing the official tailgate party.
"It's a great opportunity and the install is going to be based off the Northern Lights so I'm really happy about the concept and how it's gonna look."
Sneaking queer art into such a macho spaces such as the NFL seems like an intentional subversion of sorts, but HOTTEA says despite his affinity for rainbows, he doesn't see his work as LGBTQ-specific.
"I feel like being a gay man is a small part of who I am, and what's really important to me is for people to experience my work and to see it for what it is and not for my sexual orientation," he says. "Because, like a street artists, you aren't going to look at their work and be like 'Oh, heym this person is straight how should I think about this artwork now.' That doesn't really influence their artwork, so I want my work to really speak for itself.
"But, that being said," he continues, "I am very proud to be a gay man and who I am because for so long, growing up in a small town I couldn't really express that. So if it does come up in my artwork, I will definitely be proud of that fact or that idea."
Unfortunately, it doesn't seem like the Super Bowl Tailgate Party will lend itself well for a nude photo, but there will always be more opportunities as long as HOTTEA is striking a balance between designing work for others vs. work of his own, he's happy to have the chance to express himself.
"I don't think I am fully back to who I was when I was five, but I feel like I am 99.9 percent sure I'm there," he says. "It feels great and any opportunity I get to do that with my artwork I will do it."
29Rooms is happening this weekend and next at the Row DTLA in Los Angeles.
Images via Getty and Instagram