Janelle Monae has been on quite the journey this year. Since she released her bisexual lighting-clad hit "Make Me Feel" in February, her musicand videoshave been getting queerer and queerer. But this time, she's truly out-gayed herself.
The singer-songwriter released her brand-new music video "PYNK" today, and to answer your initial burning questions: Yes, she's talking about vaginas. Yes, it's visually stunning. Yes, Tessa Thompson is in it. The song marks the third release off her upcoming visual album Dirty Computer, following "Make Me Feel" and "Django Jane." With lyrics like "Pink where it's deepest inside, crazy, Pink beyond forest and thighs," the peeled-back pop song serves us everything we're looking for in a queer lady anthemmainly, lots of references to pussy. Here is every vaginal innuendo in Janelle's new video, "PYNK."
We open on a rose-tinted landscape and a pink space-age hovering Chevrolet, which leads us with bedroom eyes into the first innuendo: A shifty motel sign with an arrow that says "PYNK REST-INN." They're talking about vaginas!
OK, let's dive insorry.
Pink rock structures and pink Joshua Trees take us to a melting, dripping strawberry ice-pop, which our queer mom Janelle leers lustfully at. We see women sitting around the pool, one sipping a strawberry milkshake with a cherry on top, which is really a two-for special: Her milkshake brings all the girls to the yard, and she's got a taste for the cherry.
Monae is channeling some major pop legends here. Which leads us to the first major climax of the video, cause you know there's going to be more than one: Monae and her dancers are wearing Georgia O'Keefe-like vagina harem pants, lined with puffy, suggestive labia lip fabrica possible Reynolds Woodcock masterpiece (unconfirmed). Tessa Thompson pokes her head through Janelle's leg vagina as if crowning. She smirks and the singer runs her fingers down Thompson's face as in a masturbatory fashion.
A quick flash of a pink clam shell.
Some mild kicking and bopping in old-school cars takes us through the first chorus. Next, Tessa Thompson returns from her amniotic sack to crouch behind a group of women lying on their bellies with their butts in the airnot a vaginal innuendo, but pertinent information nonetheless.
Flash of a fluffy kitty.
Now, in a room that looks like a shrunken version of Regina George's master bedroom, we zoom in on Janelle's tighty whities, our second giant climax: Her underwear's stitching reads "SEX CELLS," and they have pubic hair bursting out the sides. Do you get it? She's talking about the reproductive system!
Another quick cut of spindly fingers petting a cat.
If you blink, you'll miss these as they are next to a book of clam photos. As the synths pulse in the background, we see women touching on each other, more captioned tighty whities (one reads "I GRAB BACK"), and a synchronized dance formation, which I'm going to boldly declare as another vaginal innuendothe 32-year old singer stands in the middle of a wink-wink-nudge-nudge shaped formation that strangely resembles the shape of the previously mentioned harem pants.
Close-up on pink bubblegum bubbles popping.
A possible allusion to hip hop's favorite vaginal idiom: Pussy-poppin'. Next, we're graced with a slew of suggestive poses in a row: Two women attached at the feet making a double-bicycle motion, a woman on her back opening and closing her legs, some thrusting ladies, and Janelle doing pushups over one of her thrusters. A lurid, high-energy, woman-only party scene takes us past the second chorus, bringing us to the most overt allusion yet: a glowing neon sign that reads "Pussy Power."
As we near the close of possibly the gayest music video in modern history, we're lead through a lightning round, or the final climax, if you will: A finger pushes through a pink donut hole.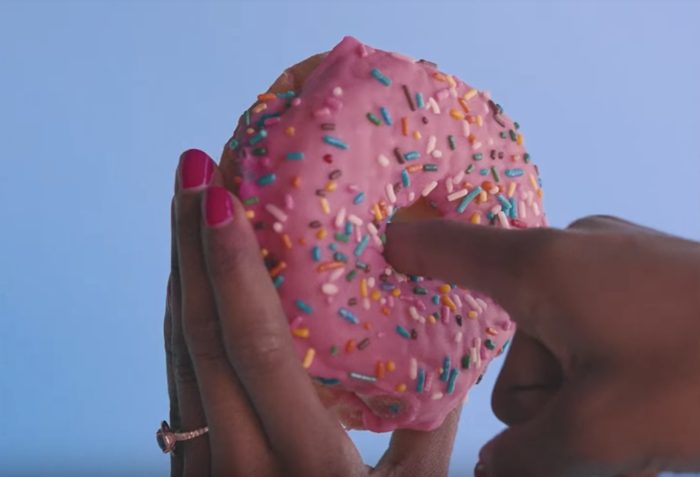 Tessa Thompson is birthed from her Phantom Threads one last time.
An ice cube on a sliced pink grapefruit.
Pink lipstick twisting upward through its tube.
A slap on a jiggly behind.
A belly rub.
Two women touching tongues.
Tessa and Janelle nearing closer.
The lyric "Pink like your fingers in my" dubbed over a score of middle fingers.
A flower being swept off a belly-button (yes, a de-flowering).
Bubbles in strawberry milk.
A pink bathing suit top being undone.
A woman spitting.
Tessa and Janelle moving closer!
"Pink like your tongue going round." CLOSER.
And then it ends. I counted 26 innuendos in the music video.
Dirty Computer will be released on April 27, with an accompanying narrative film.
in Your Inbox

Subscribe to get a twice-weekly dose of queer news, updates, and insights from the INTO team.