A queer couple's wedding photos have proved a viral hit.
Umairah and Sameera got married in Brixton, South London, a fortnight ago. A beautiful photo of them on the steps of the registry office, along with some of their wedding party, racked up over 40k likes on X.
Umairah wears red and Sameera wears pink.
Umairah (who uses they/her pronouns) spoke exclusively to INTO to explain a bit more their special day. They said the wedding took place on the fifth anniversary of their meeting.
"We met on Tinder, which should be no surprise for a queer couple!
"The wedding day was amazing," Umairah continued. "I can't even explain how perfect it was, but we are nothing without the people we love. I think everyone would agree that the food was a highlight.
"We had the wedding ceremony/registry at Lambeth Town Hall then had the wedding lunch at Babur, a Bangladeshi-owned Indian restaurant in Honor Oak, South East London.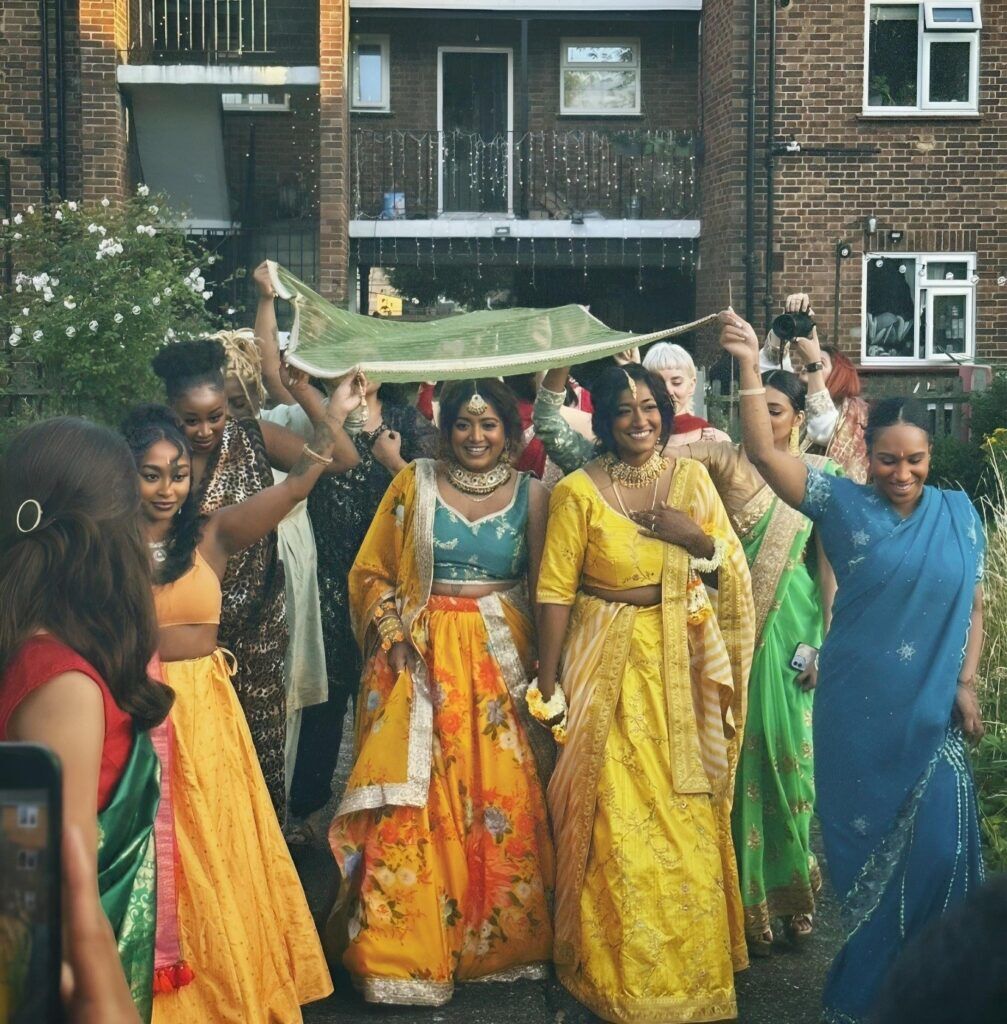 "What's the point of waiting?"
Umairah says they and Sameera became engaged in November 2022. At the time, they had no plans for when to marry.
"However, seven weeks before our anniversary we said to ourselves, 'What's the point of waiting?,'" Umairah said. "Six weeks before our wedding we gathered 12 of our closest friends and said to them that we've decided to get married in six weeks and we need you all to help us pull this off. And they most certainly did."
But once the decision was made to marry, they also wanted to ensure that their cultures were an essential of their wedding ceremony.
"It was important that we kept our culture, both being South Asian—Bangladesh (Umairah) and India (Sameera)—and Muslim," Umairah added. "It was a no-brainer that we would do all the cultural traditions that cishet couples do, from draping a curtain of fairy lights over the front of my entire flat to a pre-wedding mehndi (henna) party with the mitai, haldi, and falooda. We even had a henna artist come and put mehndi on all the guests!"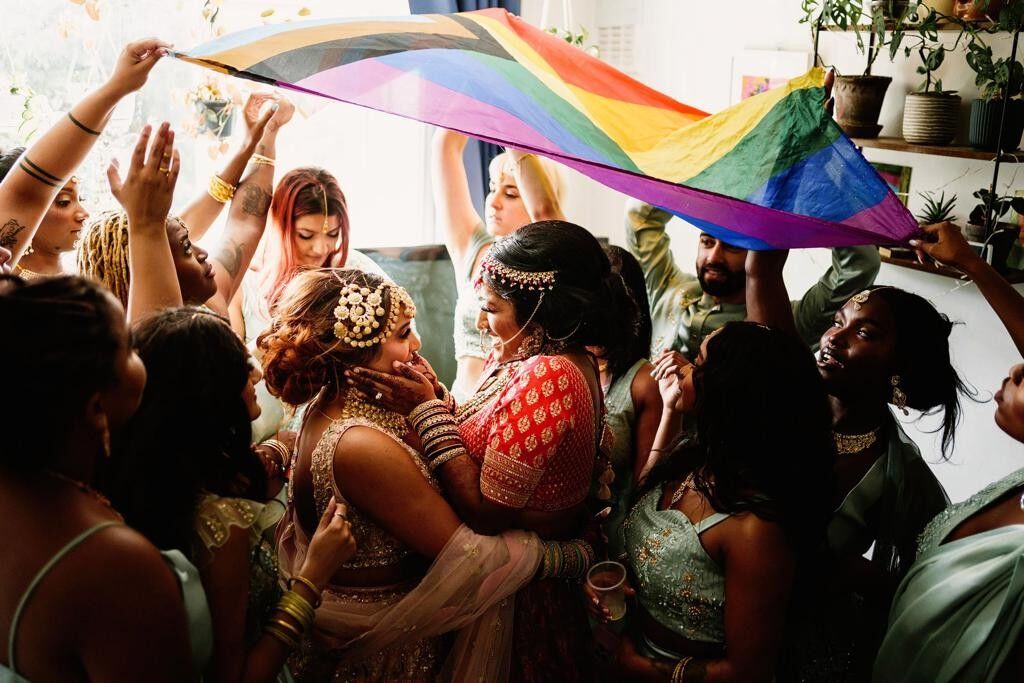 And that also meant not sacrificing their queerness, while celebrating traditions.
"Being queer and South Asian, you go through a period of feeling like your culture is not something you can involve with your queerness, but that is untrue. It's a birthright for us to have the traditions we grew up being assimilated into," Umairah added. "It was important to both of us to keep the parts of our culture that we are entitled to. I am not alienated from what's mine: homophobes are alienated from me."
Queer Muslim, South Asian representation matters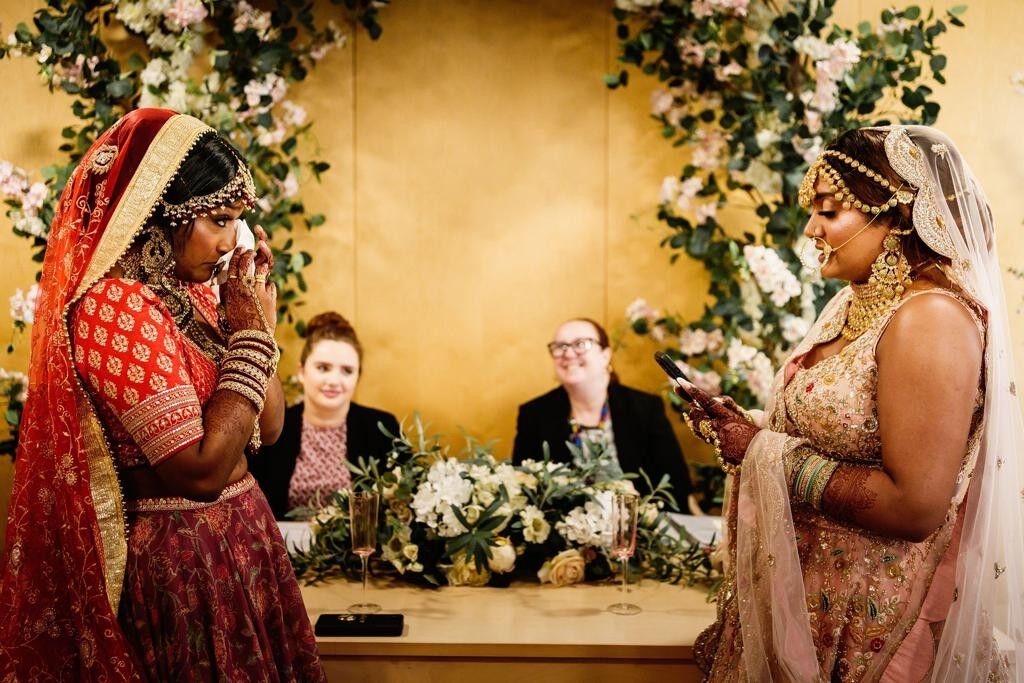 Umairah says they were not surprised the photo on the steps of the wedding venue went viral.
"You don't often see a queer, South Asian, Muslim couple with their visibly Muslim family at their wedding," Umairah said. "It's not easy being the people we are and I don't think you can understand the gravitas of a visibly Muslim mother at her queer child's wedding and being happy about it, and how that can impact other people who look like us, who love like us, but who unfortunately can't be who they are without secrecy and a double life."
"It also helps having a beautiful wedding party," they added, laughing.
Related: