With a perfect layout welcoming to pedestrians and it's urban design, Savannah hits the mark on visible cities. From the cobblestone streets to the green trees that line the streets, to the glory of the majestic architecture, the city provides many opportunities for visitors to wander off the beaten path and experience a bit of history, within this charming coastal city. Springtime visitors are treated to an abundance of azaleas that reach their full blown by then and blanket the city in an explosion of color. But whatever the season, the city is a perfect family-friendly vacation destination with so many different things to do. Music and food festivals, art exhibits, and even Civil War reenactments take place in Savannah. Rent a bike and explore historic Savannah or relax on the beaches of Tybee Island. Museums and mansions have lots to see inside or hang outside and hit the water. Below are some favorite activities to do the next time you find yourself in Savannah.
Their slogan is, "Bringing Savannah's History To Life," and with this tour, their slogan is guaranteed. During the tour, visitors are treated to uniquely personal descriptions of the history of the city while actual historical re-enactors appear from time to time. The tour is done on a trolley so actors walk on and off throughout the tour. Some of the figures from history that can take part include Georgia founder General James Oglethorpe, Forrest Gump and possibly a pirate during the visit to the historic Pirate's House.
Savannah is built along historic waterways and there is no better way than to come aboard a boat and sit back as your guide takes you through the tour. The tour highlights Savannah's Riverfront, waving Girl, Fort Jackson and Fort Pulaski and has a duration of approximately 1-1/2 to 2 hours in length.
For a more historical water tour, the Savanna Riverboat Cruises take guests on a journey by riverboat on the river that made the city what it is today. The captain and tour guide will relive the facts through intriguing tales and historical facts and will take time to discuss the city's past as well as where it is today.
Now a cemetery tour might not sound like an activity most would enjoy, but in Savannah, they are pretty common and also, a lot of fun. Offering both daytime and the city's only evening cemetery tour, the Bonaventure journey is guided by author and filmmaker, Shannon Scott who has been exploring Bonaventure for over 20 years. Guests will learn and about the cemetery's plantation history, Victorian burial rituals & practices, character portrayals of famed warriors, poets, industrialists to painters and dramatic life tales. Shannon Scott also takes the time to include tidbits about "The DaVinci Code" as well as "Midnight In The Garden of Good and Evil" ensuring that this is will be on of the most exciting experiences in the city.
Architectural Tours of Savannah
Known to have one of the most impressive architectural styles in the south, Savannah is also known for its architectural tours. Learn about how Savannah's cultural and economic history help shaped architecture from colonial to contemporary designs. The tours begin from Oglethorpe Square and are offered daily. Customized and private tours are also available.
This 1842 Greek Revival mansion that overlooks Orleans Square, once served as the headquarters for the Society of the Cincinnati in the State of Georgia and is filled with period antiques, gorgeous gardens, in addition to a riveting story about early preservationist Alida Harper Fowlkes. Open for tours Mon, Wed, Thurs, Fri and Sat, 10 a.m.-4 p.m., or by appointment, and also serves as a popular wedding location.
Located in the Historic District in downtown Savannah, this mixed-use project began as a rehabilitation of a four-block area in 1985. In its current state, City market has established itself as a destination for entertainment, dining, art and retail in downtown. It's a great place to spend the day.
The museum and art galleries of Savannah highlight some of the best of the city's culture, history and arts. There are art museums and historic home tours that offer it all, but sometimes just walking into a shop or lobby of a building will offer up some exciting art. Savannah has undergone an art renaissance and the city is filled with artists and artisans who create fine art, music, dance, paintings, sculpture, pottery, theater, photographs and film. One of the most prominent galleries to visit is the Wayne Chambers Gallery. Wayne has studied fine art throughout his life, including life drawing, oil painting, and composition at the New York Art Students League.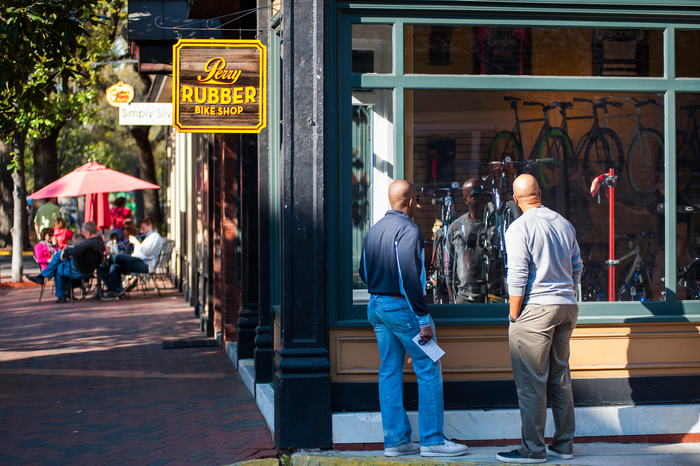 Tybee Island Light Station & Tybee Museum
Georgia's tallest (at 145 feet tall) and oldest (dating back to 1736) lighthouse, the Tybee Island Light Station is one of America's most intact lighthouses, having all of its historic support buildings on its five-acre site. Rebuilt several times the current light station displays its 1916 day mark with 178 stairs.