Why have just one Francois Sagat when you can have as many as you want?
Paris-based photographer and visual artist Jonathan Ischer (@jonathanicher) isn't one to limit himself to that basic bitch known as reality. His work is staunchly surreal, introducing slimy creatures and porn star clones into high-gloss images that were it not for their bizarre details wouldn't look out of place in Vogue and Grazia (he shoots more toned-down editorials for those mags, too).
Check out Icher's work and our interview below.
___
Your work seems a bit more complicated that simply photography. How would you describe what you do?
I am technically a photographer, but I prefer to say that I create pictures. I love to represent scenes that you can not see in everyday life. At the moment, i like to realize aesthetic and weird visuals. I love when beauty also leaves a feeling of unease.
How long have you been making images and videos?
I started to make self-portraits and music videos for my musical universe 10 years ago. I really loved doing this, so I started to do the same for fashion brands, creators, and magazines.
I also have a musical project, Queen Mimosa 3.
How does sex and your own sexuality influence your work?
I think that sex has an important place in our lives, at least in mine XD. But I notice that people are still shocked by sexuality. For me, sexual desire should be able to be treated without taboo, like the other feelings that animate us.
You seem very inspired by Japanese culture – tell us more about that.
I had the chance to discover Japan in 2014 because I was invited to give a show in Tokyo.
It was so crazy !!! I fell in love with the city and went back twice. I love the duality of Japanese culture, both calm and crazy! This bipolar side makes life more exciting!
What other common themes do you like to explore in your work?
I am pleased with my work when it can provide two different feelings at once, particularly if they are opposing feelings. For example, I love danceable music with melancholic lyrics. I like to offer works that may seem WTF at first, but can also be understood more poetically.
You play a lot with makeup and costume, and some of your subjects appear almost animal-like. What are you trying to say with that?
I love hybrids, I thinks it makes the perfect body. Anthropomorphic animal characters are really hot! think it works with the part of my work that mixes beauty and weirdness. And i would have liked to be an X-men. Half human, half animal!
Sometimes you duplicate your subjects many times. Why is that?
I love science fiction, so maybe I'm fascinated by clones. And who hasn't dreamed of having several @francoissagat or @ryuq.qiddo for themelves? 😛
Tell me about your creative process – how do you create an image?
For my personal work, I never force myself to start something. I like to entertain myself.
It can be by reading, watching movies, playing video games, or scrolling on my phone. And most of the time, I will see something that makes an idea germinate in my head. Sometimes it can take several months before becoming a real project! But I just let the idea ripen in my head.
You live and work in Paris. How does the city inspire your work?
I'm not sure Paris really inspires my work. It's a really beautiful place and I know a lot of lovely and creative people here. But it is still a conservative French town with a lot of conservative people. Many cities can seem very inspiring as a tourist, but the magic calms down when you settle down.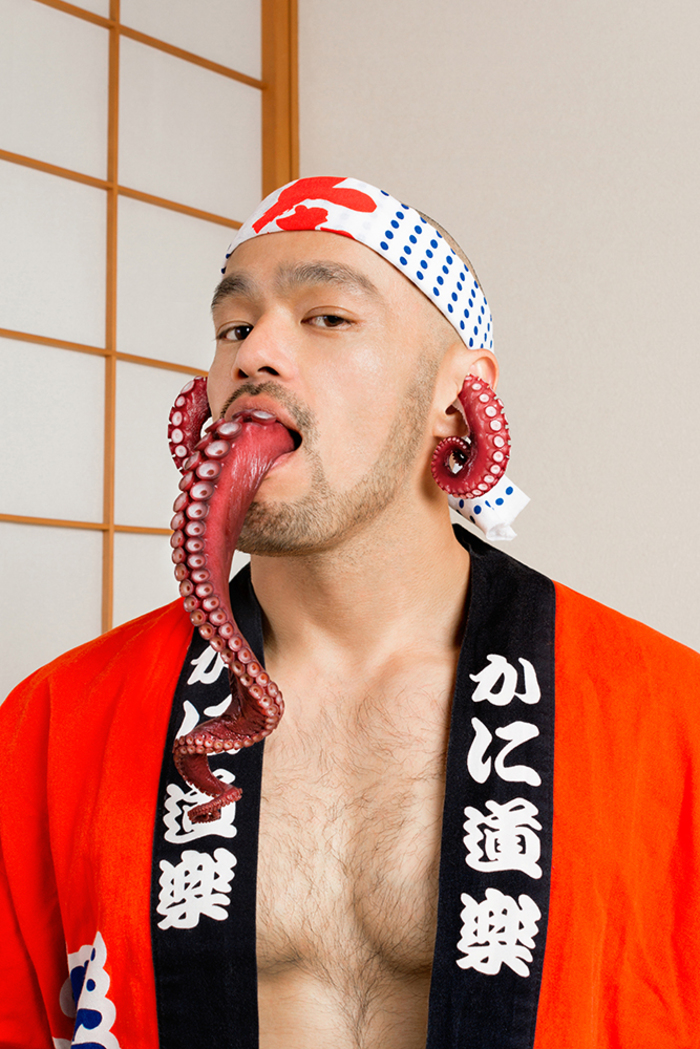 in Your Inbox

Subscribe to get a twice-weekly dose of queer news, updates, and insights from the INTO team.