Lorde got herself into a bit of trouble yesterday when she posted a picture of a bathtub on Instagram with the titular lyrics from "I Will Always Love You" as the caption. Fans immediately reacted negatively to the post as it was seen as a reference to Whitney Houston's death, which occurred by drowning in a bathtub.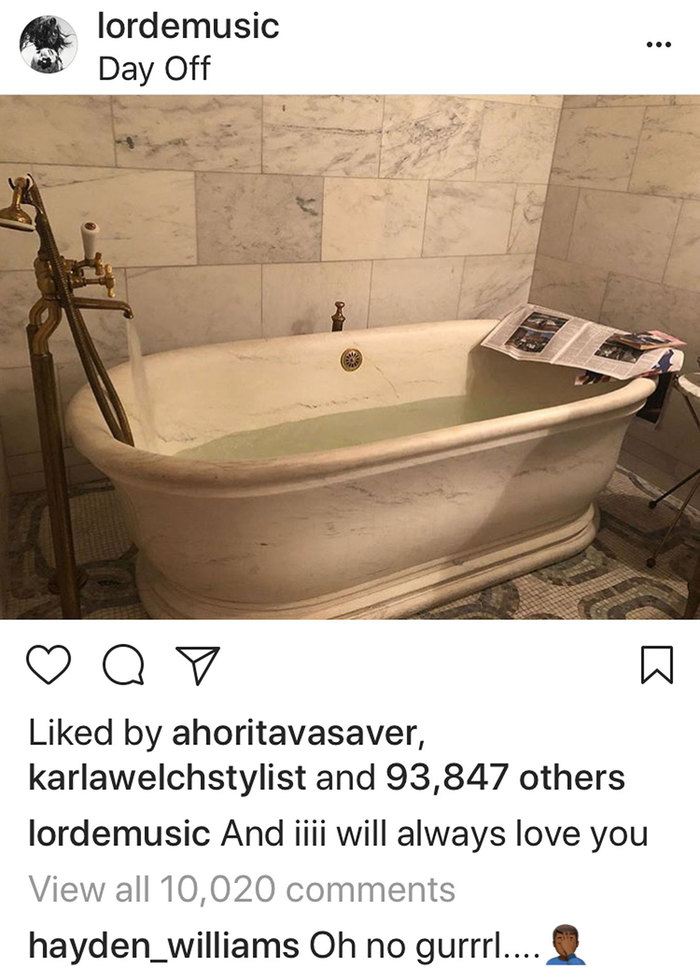 "I'm so sorry for offending anyone," Lorde wrote in a Instagram story post. "I hadn't even put this together I was just excited to take a bath."
Lorde is lucky the gays were watching Drag Race and weren't bored enough to make her Whitney Houston scandal a bigger deal pic.twitter.com/7O485yTedK

— 🗑🌈🐥 (@trashygaytweets) April 6, 2018
It was a little shocking to see people on Twitter come at Lorde so aggressively. Given Lorde's positive track record with other social issues, I thought we'd all just assume it was a bad coincidence. I can't imagine a situation where one, she thought it was funny to post something like that, and two, she thought it would be well received online.
i just want to say i'm so, so sorry. all white people are responsible for this system's thrive and fall. we have to do better. i'm sorry

— Lorde (@lorde) August 13, 2017
Whether you thought it was intentional or not, Lorde's immediate apology and deletion of the post was a better response than we get from a lot of celebrities.
Photo by Nicholas Hunt/Getty Images