Self-described "free-thinker" and "warrior for children" Robby Starbuck absolutely chose the wrong witch today.
The conservative pundit tweeted over the weekend about an interview Fox gave in May. Speaking to Parade, the bisexual actress explained that it's been important to her to raise her two children in an environment free of gender stereotypes. Despite this being a pretty great parenting stance and also something that's 100% none of Robby Starbuck's business, the anti-trans talking head tweeted a segment of the interview to his followers, stating that he felt Fox was "forcing" gender-neutral presentation onto her children.
Now Fox being Fox, she wasn't about to let Starbuck get away with anti-trans nonsense. On Instagram, the actress clapped back in no uncertain terms.
Fox didn't just call out Starbuck's attack on her parenting: she reminded him that she is not a woman to be f*cked with under any circumstances. "Exploiting my child's gender identity to gain attention in your political campaign has put you on the wrong side of the universe," Fox wrote in the caption.
Related:
It wasn't long after Fox posted that trolls started flooding the comments. However, it wasn't long after that that the supportive comments started pouring in. "High priestess status achieved!" wrote one commenter. The ever-iconic Bimini Bon Boulash simply responded: "I love you!"
Fox's ex-husband Austin Green also stepped in to counter Starbuck's claims of abuse. Although Starbuck claimed to have been a neighbor of the family in his original post, Green and Fox have been open about wanting to raise their children free of gender stereotypes long before the current wave of anti-LGBTQ+ conservatives randomly decided that this was a thing they cared about.
Starbuck continued to bring trolls over to Megan's post, all of whom coached the actress to "find God." Her response? A completely iconic IG story that will live in the hearts and minds of queer people for decades to come.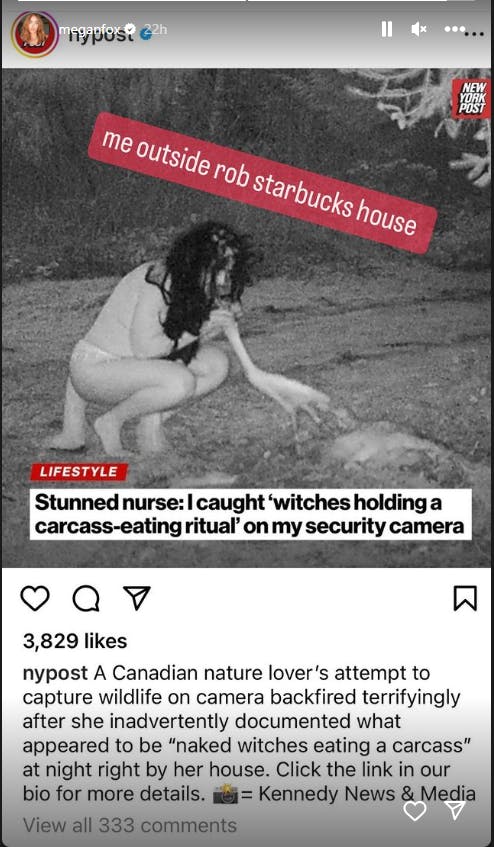 Starbuck, of course, took the story 100% seriously and now claims he's being "threatened" with witchcraft.
Would that it were true. Sadly the only thing Starbuck is being threatened with is good sense.