Whenever RuPaul's Drag Race releases a supertrailer, fans on the show's infamous (and hugely popular) subreddit get to work dissecting it. Which queens are featured in which challenges? How many outfits are they seen in? Stuff like this can give obsessive superfans a hint of which queens stick around longest.
But the biggest reveal in the All Stars 4 supertrailer that dropped after Friday's RuPaul's Drag Race Holi-slay Spectacular doesn't need close examination at all. In fact, the good folks at Drag Race were kind enough to make it basically the first thing in the trailer: RuPaul announcing that All Stars rules are, at least for now, off the table.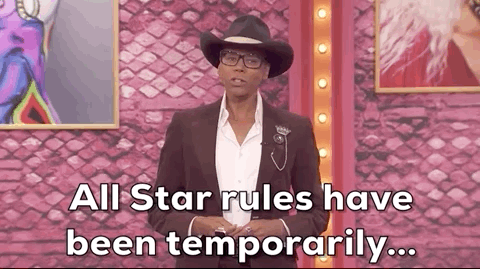 Viewers of All Stars 3 will know that "All Star rules," as Ru speaks about here, is a reference to the controversial Lip Sync for Your Legacy format. In the system used in the last two All Stars seasons, the top two in each challenge competed in a lip sync for $10,000 and the power to eliminate one queen. This stands in stark contrast to the flagship series' Lip Sync for Your Life format, in which the bottom two queens fight for their chance to stay in the competition.
Exactly how suspended the Lip Sync for Your Legacy format is still remains to be announced. However, in a recent Instagram post, season 9 veteran Trinity "The Tuck" Taylor hinted at a very different twist coming down the pike. That speculation, we'll leave to the subreddit.
Two more big developments in the trailer: First, that Ru appears to be addressing a cast of just eight queens at the start of the trailer, with former All Stars 1 competitors Latrice Royale and Manila Luzon nowhere to be found. Perhaps they'll be brought in as a surprise to the other queens, similar to how season 1 winner Bebe Zahara Benet was during All Stars 3?
Additionally, Gia Gunn, season 6 veteran and trans queen, presents female in her confessionals. This, like season 2 alumna Sonique during the Holi-slay Spectacular, is something of a change for Drag Race, which has typically continued to feature trans contestants presenting male in confessionals even after they've announced their transition. This was particularly puzzling when it came to season 9 queen Peppermint, who announced her transition to the workroom about halfway through the season, but didn't change her confessional look after.
All in all, it's a pretty packed supertrailer, with plenty for fans to obsess over for the next week until All Stars 4 premieres next Friday, Dec. 14, at 8 p.m. Eastern. Watch the trailer below.