"This is the only time you will be able to purchase sexual items, write them off on your taxes and screw Donald Trump."
It's Philadelphia Leather Pride Night, and auctioneer Jo Arnone is on stage at Voyeur nightclub. Her comments gave way to thunderous applause and by the end of the night, she had auctioned off over $5,500 worth of goods and services like paddles, leather and fetish memorabilia, as well as tickets to events. That made for over $100,000 raised in a decade of PLPN, benefiting organizations like Project Home, Philly AIDS Thrift, and By The Grace of George.
Created in 2009, Philadelphia Leather Pride Night is part of an almost four-decade-long history of Leather Pride Nights. That first event took place in 1983 New York City as an effort to help fundraise for the Gay Pride Day March and Rally (today's NYC Pride). They hosted the now-signature live auction. And though New York's version ended in 2015, the event has spread to other cities, with Philly's iteration having won the 2012 Pantheon of Leather Event of the Year.
"I had been to the one in New York at least 10 times before starting ours," says Cowboi Jen, who was one of the founders and, up until recently, the executive producer of PLPN. She says she took on the charity effort as a part of her title duties when she was named the first Ms. Mid Atlantic Leatherwoman.
"I was very familiar with auction-style fundraisers and wanted to bring that to my home city," she says.
The auction is a centerpiece of the event (100 percent of the auction's proceeds go to charity, with Voyeur donating the venue free of charge). In its first year, all of the proceeds from PLPN went to the Leather Archives & Museum, but over time, that list of beneficiaries has shifted and grown. One of this weekend's is Project Home, which will use the donated funds for The Gloria Casarez Residence, an in-development four-story, 30-bedroom building of affordable LGBTQ-friendly housing for homeless or at-risk youth ages 18 -23.
This year's PLPN auction was accompanied by a cigar social, live performances, and an intimate conversation with community legend Mistress Mir. Having been in the leather and kink community for over 40 years, and frequently referred to as the "first lady of dominance," the Philly-born dom reflected on everything from how she got her start in the community, to how she's kept involved for so long without burning out.
"One of my strongest moments in my leather life was holding that banner and looking back and seeing three blocks of leather," Mistress Mir says. She's referring to when she posed as banner carrier during the March on Washington as part of the leather contingent. "Just blocks of leather; black leather."
She went on to discuss the differences with her generation and the younger population of leatherfolk. (Though she came up under Old Guard masters, she would likely be categorized as New Guard.)
"I have a problem with the fact that they do not want to wait," she said, referring to how some of the younger generations can become part of the community quickly, utilizing the internet to leapfrog steps and training in lieu of learning directly from a master or a club, as has been traditionally done. "They don't want to learn or observe what they have to know. They don't want to source where things came from or why it's done, they just want to do it."
Mir had been an early supporter of PLPN. She attended the first-ever event, and Cowboi Jen says her participation in this year's was a must.
Mir's conversation was followed by the auction of over 50 lots, the most of expensive of which went for $250. It was just before the intermission at around 9pm that the night broke through the $100,000 mark. Shortly thereafter, Amber Hikes, the executive director of Office of LGBT Affairs in Philadelphia, read an official proclamation from the Mayor's office. The proclamation recognized this year's event and the community it was created for and Hikes, who had previously been known for making headlines regarding her effort to add the brown and black stripes to the Pride Flag. She said that this would become her legacy as it was the "first time the city had used the words kink, BDSM and fetish in an official proclamation."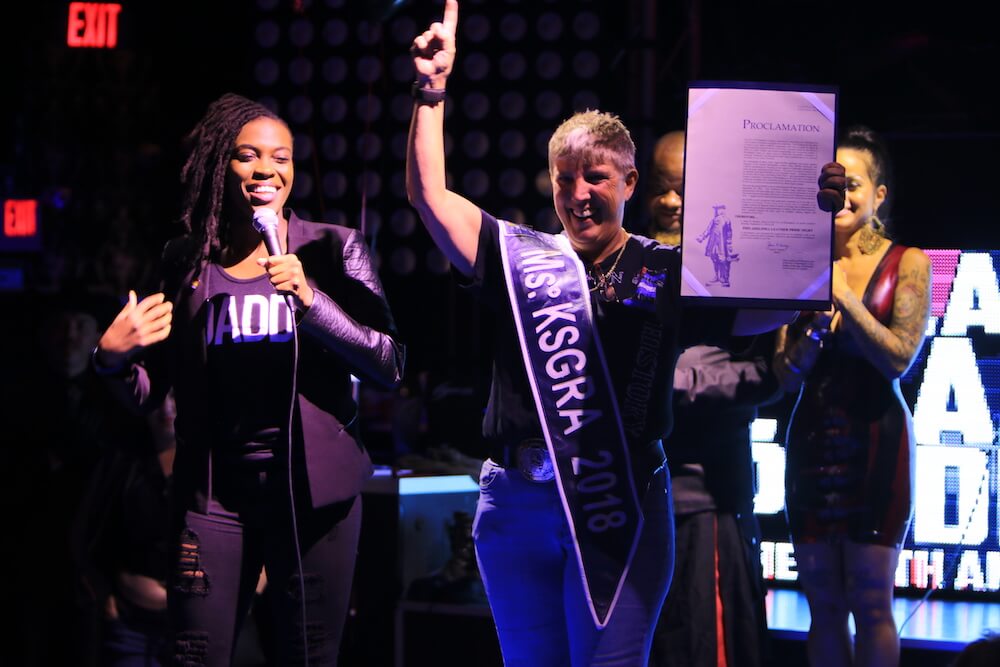 Having now stepped down from her role as executive producer, Jen says she will continue to work in the community. She's also heavily involved in the gay rodeo circuit (she's the current Ms. Keystone State Gay Rodeo), and hopes to devote more time to that organization. In addition, she will also work more closely with Project Home.
"We are going to be working on a couple of initiatives," she says. She also teased that "Philadelphia is going to be the first to do something very new in the country," but declined to divulge details.
PLPN will return in 2019, again at Voyeur Nightclub, with two new executive producers at the helm of their second decade of philanthropy.
Photos by Corey Brent