Few artists can say they've created hits for Britney, Charli XCX, and even experienced songwriting sessions with Sia before dropping a debut single, but LA-based hitmaker Jesse Saint John can. After years of using his talents to craft infectious pop songs for a slew of stars, he says that "MOVE" – his brand new release – felt different; it felt like his own.
Saint John's pop sensibilities are written all over the energetic track, whereas the glitchy synths, raucous cowbells, and explosive chorus are all a fond nod back to the MySpace days of bloghaus, which he cites as a source of inspiration. But behind the hooks and the thumping tempo is the familiar theme of lusting after someone that seems determined to mess you around: "I must be a masochist / I love you 'cos you never come around," he sings in the opening bars.
As the track continues to blow up online, we reached out to Saint John to discuss the lessons he learned from working with other artists, the importance of speaking out on queer politics, and the surreality of working alongside Sia.
Can you tell us a little about your background and how long you've been creating?
I've been creating my whole life! I know that sounds dumb or cliché, but really for as long as I can recall I've been drawing and painting. Then, when I got older I started performing in theatre and things like that; I just felt different and I had this yearning, like all creatives, to make things and contribute artistically to the world.
You've done so much work for other artists, so why did you decide to release your own?
I decided to create my own artistic project after I wrote "MOVE" last year and it just felt like me. It was originally written to be presented to other artists who might be interested in releasing it, but the more I listened to it, the more I thought that if I were to do an artistic project, this would be my song. I spoke with the producer, and he basically confirmed it – he was like, "Yes, this is so you. You have to release it." So, here we are!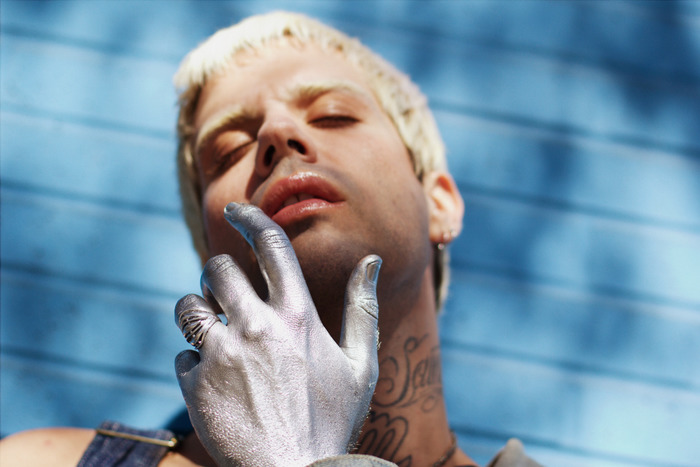 Tell us about the song itself – what are the musical inspirations and the lyrical themes?
Sonically, I'm inspired by bloghaus and indie, kind of dance pop; using those alternative electro sensibilities to make modern, accessible pop. Lyrically, a driving force in my music is this search for satisfaction and a forlorn longing that's never quite fulfilled, even if it is masked in hooky melodies and driving tempos.
What have you learned from songwriting for seriously high-profile artists?
I think a big lesson for anybody hoping to present their work to a wider audience is to make sure you're telling an understandable story. Make it concise and accessible. I believe in being super esoteric and serving your craft, but if you're aiming to reach as many people as you can with your work, then you have to make sure they're going to get it.
What has been your most memorable collaboration, and why?
My first time in the studio with Sia will always be a highlight of my life! She showed me that you can be unbelievably successful and still be incredibly kind and generous; also, we both kind of write from the gut, so being with her gave me the validation as a songwriter that I didn't know I needed. I'll always be grateful.
You've always been outspoken about queer politics. Do you think it's important for queer artists to use their platforms to raise awareness?
I would never tell someone what to do or how to live, but I do believe you should say SOMETHING and believe in something. We're living in extremely oppressive and trying times where daily life is inherently political. Human rights and human safety are being threatened every day, so I don't really think we have any choice but to be political. I would hope that everyone would educate themselves and apply whatever power they may possess to fighting for the greater good.
Imagery via Tiggy Ara.