Last week, LGBTQ Riverdale fans were blessed with a confirmation from Madelaine Petsch, who plays Cheryl Blossom on Riverdale, that her character was bisexual. On Wednesday, Cheryl came out to Toni Topazand fans think there's romance in their future.
Topaz, played by Vanessa Morgan, is bisexual on the show, too. On this week's episode, Cheryl revealed to Toni that her one great love was her childhood best friend Heather. Unfortunately, her devil incarnate mother Penelope broke them up and shamed Cheryl for it, calling her a "deviant." So, not only did Cheryl have her big coming out moment, but she confided in Toni about Heather and the shame her mother made her feel. And with Riverdale having teased an unlikely love interest for Cheryl this season, fans have reason to believe Toni is that person.
Toni and Cheryl's narrative is gay as hell. The duo goes to the movies together to see Love, Simondirected by Greg Berlanti (who also directed this episode of Riverdale, hence the connection) tells the story about a high school kid coming out to his friends and familythematic!
"Toni is the missing puzzle piece that Cheryl needed in order to have the courage and strength to confide in," Vanessa Morgan told ET. "When they go see the movie Love, Simon, Cheryl realizes that she didn't have that person in her life. Instead, Toni is that person for her."
Madelaine and Vanessa are friends IRL, too, having met in auditions for Riverdale.
"Madelaine is my best friend, so why wouldn't I want to date her on the show?" Morgan quipped. "We're both very similar and then she even stayed with me for a month in L.A. That's how our relationship blossomed."
Morgan claims she didn't know that Toni would be bisexual when she auditioned, noting: "I didn't know [a potential romance] was going to be with Cheryl until a couple weeks before [we filmed the episode]." She continued, "I had my theories because the fans wanted it so much based on Toni and Cheryl's one interaction. Literally fan fiction started to go crazy about us being together, so I had a feeling [the writers] were going to do it. With Madelaine and I already being best friends in real life, our chemistry is already there."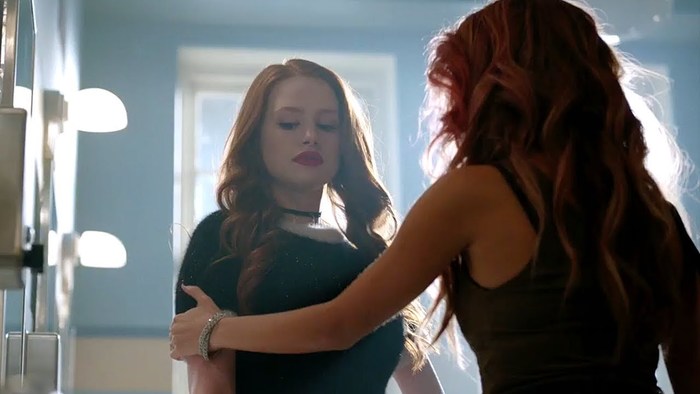 The actress also believes Cheryl is attracted to Toni because Toni challenges her and stands up to her. In the episode in question, Cheryl jumped down Toni's throat when Toni tried to therapize her. "I think it's that Toni's not giving up," Morgan said. "Cheryl likes that Toni's kind of challenging her and not intimidated by her."
But as of yet, there's been no confirmation as to whether their relationship will remain platonic or turn romantic.
"I think their relationship will blossom, whatever direction it goes in," Morgan said."I would love to see whatever does happen develop very naturally, and I think it will." When all is said and done, the 25-year old actress is just happy to see two women forming such a strong bond.
"It's so important to show female characters not competing but relating, and going through whatever issues they think they have," she said. "It's important for Cheryl to know that love is love, and she can fall in love with somebody's soul. I'm all for it, and I'm glad to be a part of it."
Well, even though Cheryl isn't exactly the kindest of characters, we're just glad to see some air-tight LGBTQ representation on Riverdale. The hit show wasn't off to a great start with it's exploitative girl-on-girl kiss between Betty and Veronica in its inaugural episode. But these bi characters, especially Cheryl in a leading role, are giving us ginger-fueled life.
Images via CW/Getty