Next week, 30 new and mid-career LGBTQ photographers selected from more than 600 images submitted from nine countries will show off their best queer work as part of The LA Art Show's Round Hole Square Peg exhibition. Curated by the exhibit's founder Phil Tarley, who is also a fellow of the American Film Institute, a member of the Photographic Arts Council, and the photography critic for Fabrik Magazine, the Bert Green Fine Art booth will host portraits and other pieces from January 10-14, where more than 700,000 people are expected to attend.
Photo by Robert Martien
Tarley tells INTO that he sees Round Hole Square Peg's presence as part of the largest art fair on the West Coast as defiance of damaging LGBTQ stereotypes and erasure.
"The world is changing for LGBTQ people," Tarley tells INTO. "In 2018, Dark Trumpian clouds are forming and threatening to roll back hard-won civil rights. The religious right is ramping up its homophobic and transphobic attacks. By showing positive, sincere images that reflect our true queer lives, we can stay visible in a world that wants us to disappear."
Photo by Shoog McDaniel
This year's Round Hole Square Peg is dedicated to the question "What is queer photography?" and Tarely will join jurors Laura Aguilar, Paul Bridgewater, Zackary Drucker, Bert Green, and Robert Summers in selecting Best in Show.
"Queer identity is not simply a sexual one," Tarley says. "Queer artists have a perspective and an experience to contribute to society that is wholly our own and it's a rich and worldly one. Having been marginalized and alienated for so long has helped us develop a unique view of self-worth, self-image, spirituality, and companionship. Perhaps because we have a different point of view, we can look at the world and mirror it back to the human condition with insight, style, glamour, and fun. Queer photographers have branded their work with provocative celebrations of sensuality."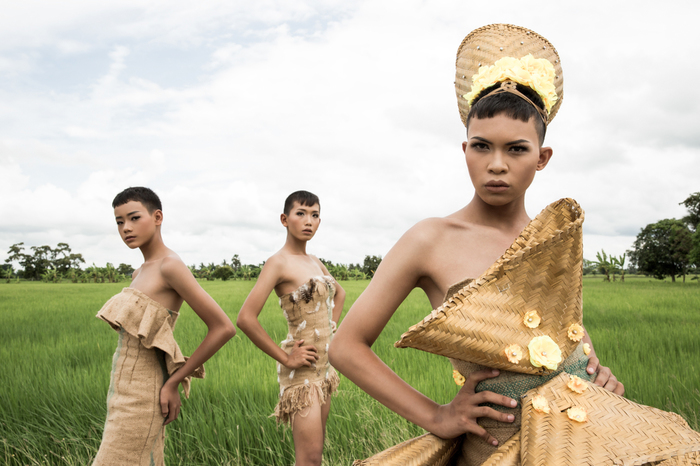 Photo by Chaiyasith Junjuerdee
Participating artist Stuart Sandford tells INTO that he sees his work as queer, innately.
"The queerness of my work, other than simply being produced by a self-identifying gay man, comes from the intention to question the prevailing norm," he says. "The taboo, the (gay) male gaze on the (gay) male body in a unbridled manner, something once lost and now reclaimed. But will this, or any art, help save us in 2018? No, of course not, the artist's role is to ask questions and provoke debate, yes, but it's already too late, always was."
photo by Stuart Sandford
Still, Tarley believes that the powerful imagery produced by LGBTQ artists will help facilitate further understanding of a nuanced community.
"Ultimately, " he says, "our photographic art triumphs over hate by showing the love and beauty in our lives."
Round Hole Square Peg will also feature work from Tom Atwood, Josef Jasso, Austin Young, Kalvino Coria, Amanda Majors, Blake Little, Braden Summers, Carl Hopgood, Chaiyasith Junjuerdee, Jan Hoek and Duran Lantink, Sawdon Smith, Sara Swaty, Joey Salehi, John Waiblinger, Joseph Haxan, Ken Weingart, Larry Brownstein, Martien Robert, Marval Rex, Mei Xian Qiu, Mitch Cullin, Pierre Barbrel, Russell Benjy, Sanh Tran, Valerie Leonard, Cameron Lee, Shoog McDaniel, Stuart Sandford, and Tiffany Chung.
photo by Carl Hopgood
After The LA Art Show, it will move will be a six-week museum-style exhibition at The City of West Hollywood's Long Hall Gallery in Plummer Park from February 3-March 17, 2018, with an opening night reception on Saturday, February 3, from 6-9 PM, with a live photo art raffle benefitting the Trevor Project and a DJ set from DJ Paul V of Drag Strip 66. A Special Recognition Award will be given to an emerging West Hollywood photographer chosen by Fabrik Projects Gallery Director and Producer of the Photo Independent Art Fair Chris Davies.
Header image by Braden Summers