Get out your roses and red M&Ms, girls. After a quiet performance in the RuPaul's Drag Race All Stars 4 premiere, Valentina properly explodes onto the scene in episode 2. She wins the challenge, wins the lip sync, and gets some primo confessionals, to boot. Though the episode is framed as being about season 3 legend Stacy Layne Matthews, in reality, this week is All About Val.
Of course, considering what a divisive figure the season 9 Miss Congeniality-cum-Fan Favorite can be, this episode will likely inspire heated disagreements. For example: Her talking heads are plentiful, yes, but also quite extra. (The editors literally stitch in a round of applause for her in one confessional.) An impromptu monologue during deliberations about how difficult choosing someone to go home is mostly makes her fellow queens roll their eyes.
That said, the quality of her performance in the challenge — a girl group music battle that sees the girls writing and recording their own verses, executing group choreography, and incorporating Stacy into their routines — is nearly indisputable. She comes up with a killer verse that is perfectly Valentina, all fire and spice, and sings the hell out of it. Her runway presentation, a gorgeous gown, is also 10s across the board.
Valentina definitely deserves to win this week. The biggest point of dispute, I imagine, will be about her winning the lip sync.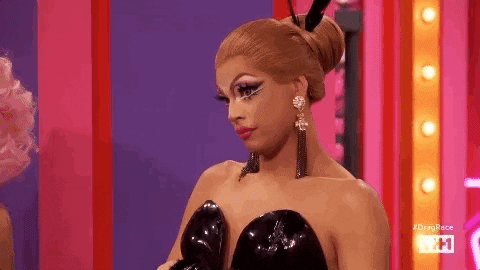 Watching the Lip Sync for Your Legacy, I knew immediately Ru's choice of winner would be controversial. Season 10 veteran and fellow challenge winner Monét X Change certainly serves big stunts and moments in her lip sync, which is more immediately impressive. In rewatching it, though, I get why Valentina wins. Monét doesn't really stitch those big moments together, whereas Val's is a cohesive performance. Her peaks aren't just sudden spikes; she builds energy throughout the song, and explodes at the climax. It is a battle reminiscent of the similarly disputed Peppermint-vs.-Trinity Taylor lip sync to "Stronger" in the season 9 finale. I don't begrudge anyone who thinks Monét deserved the win, but I'd personally also likely go with Valentina.
That said, I'm also certain Valentina wins because it makes for the best story. Redemption on an Ariana Grande lip sync? A year and a half after the Great "Greedy" Massacre? Yeah, I wouldn't be able to resist that either were I a Drag Race story producer.
Still, any whiff of impropriety is enough to get the fanbase roiled up these days. After Farrah Moan fell in last week's challenge, some viewers (including season 9 and All Stars 3 veteran Aja) were upset that the show used the take of her All-Star Variety Show Performance in which she fell, as opposed to an alternate take. Trinity the Tuck herself started some drama when she alleged Latrice Royale's alternate take was worse than the performance we saw (which, in our minds, could have easily been in the top). There was even anger over the shot of season 6 alumna Gia Gunn that the show used after Farrah's fall. Some eagle-eyed viewers caught that, due to Manila's unrevealed outfit behind Gia, that shot couldn't have possibly been Gia's real reaction to Farrah.
To that last bit of detective work, season 8 queen Kim Chi had the best response imaginable: "Who cares?" Because really, that's the heart of it. RuPaul's Drag Race is crafted and curated entertainment. It is not a docuseries, or a live news report. It is reality television, which, despite the name, is under no obligation to present reality exactly as it happened. Producers are telling us a story. Using a hilarious shot of Gia smiling — one that is quite rightfully going viral — to underscore their feud is not malicious. It's good story editing.
So yeah, Valentina probably wins the lip sync for a combination of her performance, her redemption, and the dramatic narrative potential of her sending former season 9 frenemy Farrah home. That's not shady or deceptive; to quote Angela Bassett in Mission: Impossible — Fallout, "That's the job."
Speaking of Gia, though, she really leans into that villain edit this week! I'm not sure if Gia purposefully settled on being the bitch when she walked into the workroom to maximize her screen time — as Farrah accuses her of doing in the workroom — or if she's just this unaware. But she's unrepentantly unpleasant this week, stirring up drama with Farrah over some nebulous non-story. (Farrah tried to make Gia and another girl make up … while drunk? While Gia was working? And Gia exploded at her? That's all I got.) She's blatantly trying to distract Farrah in the workroom, and ignores Farrah's multiple requests to table the discussion. Even when Monique and Naomi are yelling at Gia to cool it, she still doesn't listen.
Gia didn't stop there, though. During deliberations, when Farrah is pleading for her life in the competition with Monét, Gia decides to go over and interrupt the conversation to deliver an insincere apology for any drama she caused. It struck me watching Gia interrupt this one-on-one conversation while wearing opulent eveningwear that Gia is a Bachelor villain in a Drag Race world. She's all about shady comments behind girls' backs and inconveniencing them, but that's not fun to watch. She's a distraction, in every sense. I deeply empathize with Farrah when she lets out a frustrated, "GOD, I can't stand her."
As for Gia's performance in the challenge, it's fine. Her verse is unmemorable but enjoyable enough. Honestly, that's the case across the board this week. Trinity's verse is fine. Latrice's is fine too, energetic but lyrically a bit shallow. Season 8 queen Naomi Smalls is actually quite a bit better than fine (guest judge Kacey Musgraves calls her a "great songwriter"), and she looks fantastic to boot. It's enough to land Naomi in the top three for the second week in a row; one imagines she'll break through with a win imminently.
Season 3 veteran Manila Luzon, on the other hand, is much worse than fine. Her verse is underwhelming, and nothing she does on the main stage can salvage it. I enjoyed Manila's painting gag immensely last week, but watching her perform this episode brought back a lot of the problems I have with her. She's a stunning queen — her runway look this week is nothing short of breathtaking — but she never feels emphatic enough in performance, "MacArthur Park" excepted. Hell, she basically whispers through her verse. For such a big character, Manila's performances often end with periods, not exclamation points.
The heart of season 10 and winner of last week's challenge, Monique Heart, is also mostly fine while attempting to pay tribute to Aaliyah in her performance. Unfortunately, she screws up a costume transition in her verse, and worse, she makes excuses for it on the runway. This is truly the most maddening thing about Monique: She has an excuse for everything. And she did the same thing in season 10! I desperately want her to stop, because it so clearly annoys the judges. I can't watch such a talented queen go out too early again because she won't just accept critiques on the main stage. If she'd had better humor about the judges' notes, she may well have swapped placements with Manila.
Neither Monique nor Manila have much to worry about this week, though. Farrah Moan is just so clearly out of her depth in this group. Her verse isn't demonstrably worse than Manila's, but her hesitance in both the vocal performance and dance is obvious. She really does lack the nerve to perform with confidence in this arena. Farrah's a sweetheart, but her departure this week is entirely fair and deserved.
Valentina and Farrah have a fascinating conversation during deliberations. Val makes no bones about it: She is very much considering sending Farrah home, and wants to know if their friendship will survive it. Farrah says it would be difficult to recover from, considering their relationship is fragile. I'll give Farrah credit: Whether or not she's being sincere, that's pretty good social game. Valentina clearly demonstrates she's worried about upsetting Farrah, and Farrah doesn't let her off easy. Even though Valentina ultimately decides to send Farrah home, I'd bet Farrah made the choice a harder one for Val than she expected.
It's almost certain that Monét would've sent Farrah home, too, considering her tight friendship with Monique. Unfortunately, her sending Farrah home is much less compelling narratively — which is kind of the Monét problem all episode. Yeah, she gets her first challenge win, and after absolutely slaying her verse! But she's not Valentina getting her redemption. Yeah, her runway is a major step up! But it still pales in comparison to everyone else's gown.
Monét absolutely gets second-fiddle treatment this week — and is even getting it in this recap. I'm hopeful this is only the first win for her, and I'll get plenty more chances to rant and rave about my fave.
A henny for your thoughts:
• I adore Stacy Layne Matthews, known best simply as "Henny," and I'm a little bummed to see her backgrounded in a challenge that was designed to feature her. I think the failing here is that she isn't included in helping the girls develop their verses, so the songs themselves are deeply disconnected from Henny herself. Even during dance rehearsal, she takes a backseat to the group drama. Still, it's always nice to see Stacy, and to see the show acknowledge its pre-VH1 roots.
• No mini-challenge this week, which is worrying. If these episodes are going to be 90 minutes long, we need weekly mini-challenges. There was a whole lot of time spent in the workroom this episode.
• Sometimes I think Valentina skeptics are off the mark, and then sometimes Valentina shows off her bare ass in the first five minutes of the episode. So, like, I get it.
• Monét drops a reference to The Vixen in her verse. Color me not just shocked, but floored, that Drag Race allowed it.
• I shrieked when "Into You" came on as the lip sync song. One more Ariana song in season 11, and she'll tie the record held for most non-RuPaul lip sync songs by a single artist! (Current record holders: Paula Abdul, Britney Spears, and Madonna.)
• Though Manila's output this episode is decidedly underwhelming, I do appreciate her commentary on the Gia-Farrah fight. She sees a lot of herself in Gia, and wisely notes that going for the weakest link in the room is only going to look like bullying. As she says, she knows from experience. Heathers vs. Boogers, anyone?
• Kacey Musgraves and Ciara are good-not-great guest judges, though Ciara does get a couple of good notes in during judging. Knocking Monique for making excuses instead of taking responsibility as a performer is the kind of note only another performer can give. And Kacey calling Trinity "Tanya Tuck-er" during the runway is fun.
• God bless Ciara for not just screaming at Naomi when she says she listened to "One, Two Step" in sixth grade. Monét screaming that she loves Ciara is much more respectful.
• Once Gia inevitably goes next week — Snatch Game doesn't really seem like her forte — we'll be down to an absurdly tight final seven. I truly think anyone could win this thing, though if I were a betting man, I'd say Valentina, Trinity, Latrice, and Monét will be our final four.
• I will never be over Valentina saying that Monique's pant fit "is so disrespectful to Aaliyah."
RuPaul's Drag Race All Stars returns next Friday, December 28, at 8 p.m. Eastern on VH1. (Merry Christmas until then!)