If readers were expecting Samantha Irby to write the new Fifty Shades of Grey, they will likely leave disappointed.
In Irby's latest book, the New York Times bestseller We Are Never Meeting in Real Life, the writer and creator of the blog Bitches Gotta Eat, discusses her the first time she had sex with her wife, Kirsten Jennings.
If someone else were writing about the encounter, which took place in a rented room at the Acme Hotel, it would be breathlessly described as the consummation of blossoming lovemutual infatuation giving way to hair-pulling, tongue-lashing passion.
What's so special about Irby's work is that she says what many of us are too afraid to admit: Sex can be really awkward.
"It wasn't until I felt her definitely female fingers fumbling awkwardly with the zipper of my hoodie in that hotel room downtown that it dawned on me: I don't really know how to fuck a lady," Irby writes in "Mavis."
"My stomach dropped as I tried to recall every article I'd ever read about G-spots and nipple sensitivity," she writes, "my arms stiffening at my sides as she bent down and pressed her lips into my neck. I assumed it was up to me to do the man stuff…waiting for her to yell at me because I hadn't taken the garbage out.
That's how this works, right?"
Irby refers to We Are Never Meeting in Real Life, which hit bookstores earlier this year, as her "big coming out moment" during our interview.
"Mavis," which takes its name from the pseudonym that Irby uses to refer to Jennings in her writing, marked a milestone in her writing.
Her wife made a brief appearance in the 2015 story "Lesbnb," but Irby's second book marked the first time she discussed their relationship with the same depth and unflinching honesty she applies to her relationships with men.
What first attracted her to Jennings, Irby says, was that the two were complete opposites.
Irby is the type of person who "eats peanut butter out of the jar with a spoon while trying to remember where [she] last put the chips." Her wife, meanwhile, is a "going to the blueberry patch kind of person." Jennings likes kale and makes herself acai bowls for breakfast every morning.
During a particularly bad Airbnb experience, in which the two ended up in a neighborhood with "mangy dogs walking around with human limbs in their teeth," Jennings still went for a 7 a.m. jog.
But while "Mavis" was the first time that Irby has gone into detail about her relationship with Jennings, it would be false advertising to describe it as a true lifting of the curtain. She has been open about her sexuality in her writing for years.
"I'm into love from wherever I can get it," Irby writes in "Am I On A Date Or Are We Just Two Pretty Girls Hanging Out?", a 2013 essay about all-too-relatable confusion of trying to figure out whether that Meshell Ndegeocello concert is leading up to sex.
"And I have been known to wear a pair of work boots in the winter, and I also find women in neckties incredibly attractive.I'm basically happy to be around anyone cool, whether I have to learn how to use a dental dam or not."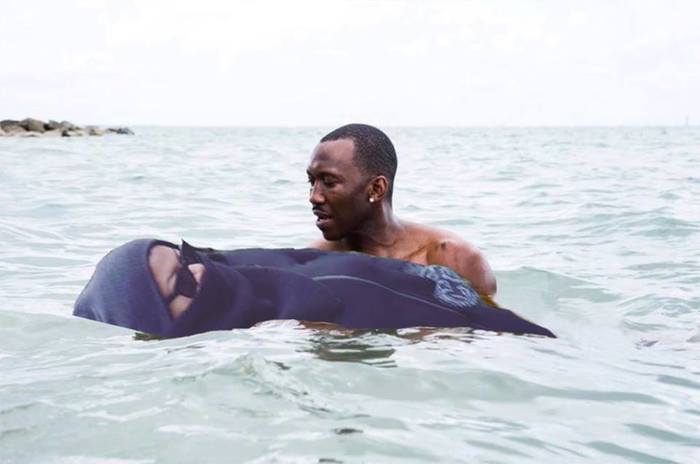 No matter how many times she opens up about her sexuality, it appears to take her fans by surprise.
When Irby recounted the couple's Airbnb misadventure in the appropriately titled "Lesbnb," Irby got a slew of emails from shocked readers who claimed that they had no idea. "Why didn't you tell us?" they wanted to know. Irby says that she responded, "Well, maybe you aren't reading very closely."
Irby argues that because she often makes jokes about her attraction to women, it's perhaps easy to gloss over these details and dismiss them as just her being funny.
But as often as she plays coy about her sexuality for laughs, Irby is very overt about her queerness. Take this line from "Pretty Girls Hanging Out," for example: "Sometimes Samantha Irby wants to have sex with dudes. Other times, Samantha Irby wants to have sex with ladies."
Erasing what is a major part of her life bothers her, but Irby says the misreading of her work largely stems from the fact that most people know her because of her essays about men, which is somewhat by design.
Irbyfirst began writing a decade ago when she started a Myspace blog to impress a guy.
A friend that she was crushing on told her that he was really into girls who wrote poetry. Her early posts were intended to show that she was "breezy and funny," the kind of person you could imagine sharing a laugh with over drinks.She started off penning short, off-the-cuff posts about her favorite things, including tacos and theBachelorfranchise.
But as Irby's work evolved, it developed into a critique of masculinityspeaking truth to power.
Many of her most popular posts call out the toxic male behavior that women have long been conditioned to accept.
One particularly memorable essay in We Are Never Meeting in Real Life catalogues all the guys who have suggested that Irby (e.g., an overweight black woman with Crohn's disease) should be grateful for sex. The long list includes a handyman who took out his genitals in her mother's bathroom, apropos of nothing. Irby was 15 at the time.
Although it's a bit passé to describe memoir as "therapy," there's an element of emotional exorcism to her work. She describes writing to relive all her most painful experiences "one last time before shutting the door on it."
But why hasn't she purged the demons of her same-sex relationships, I ask? Irby has to think about it before she responds. It's a difficult question and she wants to get it right.
But while Irby doesn't want to keep the "lesbians are boring" rumor alive, she says all of her relationships with women were.
She was nevercheated on. She wasn't led on by someone who wasn't actually interested. She didn't suddenly find out that her girlfriend was going on trips with another woman to Barbados (which she says a guy actually did to her). And shehas just never been involved with a woman who merited a takedown.
"People want the jokes," she adds. "Most of my relationships with men have been jokes."
Part of the difficulty with writing about her female exes stems from a personal philosophy: Irby refuses to denigrate other women in her writing.
She feels that women "have it hard enough" and don't need her adding to it by complaining about some girl she went on two dates with who was "afraid to try zucchini." And as Irby points out, it's just not that funny.
When it comes to her current relationship, Irby draws not on the rejection that has long fueled her work but the inherent difficulty of being an outsider in a new place.
After the couple tied the knot in a small private ceremony in 2016, Irby moved from her home in Chicago ("a one-bedroom where I could see all of my possessions at the same time") to Kalamazoo, where Jennings lives with her two children from a previous marriage.
Today the writer once described as Chicago's "most talented, inappropriate woman" in a Tribune profile is living the life of a Michigan housewife. But when it comes to her new role as a parent, Irby is characteristically candid: She doesn't have one.
Early on, she and Jennings decided that she would have limited duties in the householdwhich usually entail helping out with homework that isn't math. (The fractions are too hard, she laments.) Irby explains that being a mother was simply never something she wantedand that hasn't changed.
She still doesn't want to be on the PTA or the school board and doesn't particularly care about being a "model lesbian."
"I could tell my wife's kids all the mistakes I've made," Irby says, "and if I see them headed toward a big one, I could say, 'Well, the time I did an 8-ball and drove a car, it didn't work out well for me.' That's about it."
While most queer moms balance work and family, Irby is about to have even more on her plate.
FX ordered a pilot script based on Meaty, which she has been developing with Broad City's Abbi Jacobson. Shortly before Irby and I spoke, their team had just submitted a second draft. Should the pilot get picked up, it would put her in the same breath as household names like Louis C.K. and Marc Maron. Both comics have shows on the cable network.
That's a major step forward for someone who got her start reading her essays in a room to 20 other people.
Given that her life is very different from when she first started blogging, longtime readers might expect whatever she writes next tobe a radical departure from her previous work. But Irby says that her fundamental worldview is the same: "I'm always going to be that person who can look at a beautiful day, and tell you everything that's wrong with it."
Irby came by that unshakable pessimism honestly. In high school, she was the girl who lived in Section 8 housing and took care of her disabled mother while her classmates went on vacations. As a nascent adult fumbling toward maturity, Irby struggled with depression and degenerative arthritis while everyone else was Instagramming their yoga classes. Now she's just a different kind of outcast: the only black woman at the mommy book club.
"I want to dispel this myth that you get a marriage license and everything changes," Irby says. "Everything else doesn't change. It's just one more person that you have to deal with that you can't even walk away from easily without getting the courts involved."
"Things are still terrible," she adds. "I just have to file my taxes jointly now."