The final presentation of fashion's Big Four hit the Parisian catwalks this week with the most important looks of the Spring / Summer 18 season. Even as gender neutrality becomes a stronger focus for many houses, the influx of men's looks on the catwalk this season suggests gender-specific fashion still has something to say.
'90S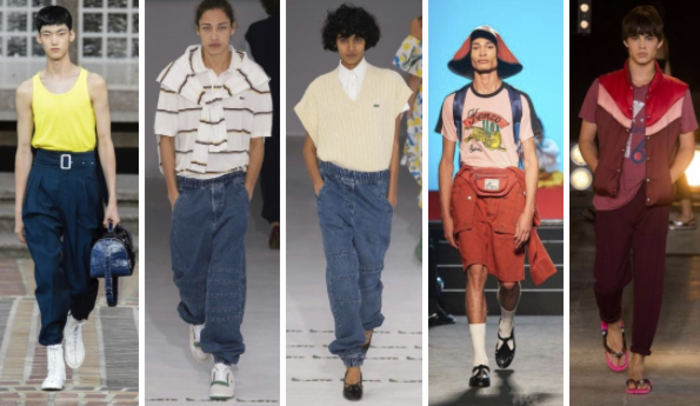 Relaxed skater silhouettes and denim had strong visibility on the Paris runways this season, with cartoon graphics, shoulder-styled knitwear, and puffa vests adding to the vibe. The look feels overtly '90s, taking us back to the effortless style of the decade's teen movie heartthrobs.
POP BRIGHTS
Optimistic brights ran through most collections, with saturated colour being worn from head to toe. Strong mustard and fire engine red tones updated suiting and shirting, while rich purples and blue-greens tones worked well in sporty looks.
ROMANCE
Themes of decadence and romance on the Parisian runway got their whimsy from opulent silk fabrics and soft chiffon layering. Menswear gave strong nods to Dandy dressing, while womenswear saw more dramatic and deconstructed styles.
THE UNDERWORLD
One for the goths! Classic black stole the show this season, with matte-and-shine combinations serving up the perfect balance of sleek and sexy. Deep aubergine and navy tones added subtle accents to the darker looks.
THE MINIMALIST
Stripped-back and smart, minimalism still has a strong place on the runway. The normcore trend got a bit more conceptual this season, with menswear seeing the introduction of ovoid silhouettes and clean retro-inspired pieces.