The 2018 Oscar nominees were announced today and the fan favorite horror-comedy Get Out collected four nominations for Best Picture, Directing, Original Screenplay, and Actor in a Leading Role. Directed by Jordan Peele, the now-infamous film has been hailed for its incredibly nuanced and caustic commentary on racism. But amidst all the important chatter on its progressive and unique story, you might have missed one detail that was trumped by its overarching themes: Get Out is actually pretty queer.
Allison Williams plays the evil and pathological Rose, daughter of the Armitage family, who serially and unlawfully imprisons, hypnotizes, and enslaves people of color. Rose is the essential chess piece in the Amritage family's disturbing subterfuge, as she's the actor who lures each person in and brings them to her family home. Diabolicalness aside, Williams' character is inherently queer: she moves way too fast with her partners, lesbian U-Hauls them, merges, and brings them home before it's appropriate to do so. In that minute way, Rose represents something that I ferociously hate about myself.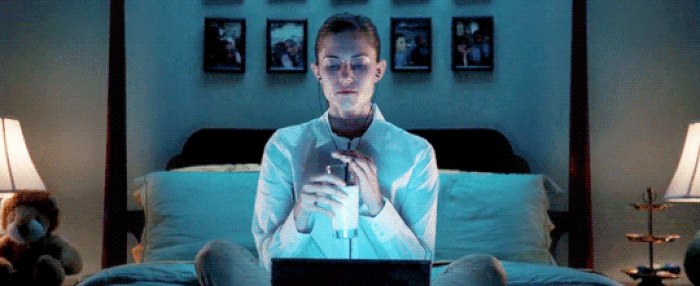 But speculation aside, the crux of the movie comes when Rose's latest ruse, the doe-eyed, sweet baby Chris (Daniel Kaluuya), finds a chest of pictures hidden in Rose's closet. After a chilling exchange with Georgina, the housemaid who has consistently tried and failed to warn him (because of the depths of mind control the Armitages implemented on her), Chris is led to this closet of secrets where he discovers that he's not the first man who's been here. In fact, Rose has brought home numerous people before him, and among these telling snapshots is a photo of her with Georgina, pre-hypnosis, which means at some point, Rose and Georgina were in a queer (albeit fake and depraved) relationship. Rose might not actually be bisexual, being that all of her relationships are part of a nefarious ploy to literally enslave people of color, but Georgina obviously is queer.
Unfortunately, Georgina meets an untimely cliché end, like so many queer women in film and television (especially queer women of color). And this is a far-fetched comment on a woman whose character is inherently sardonic, but let's just call it what it is: the trope of depraved bisexual women has long pervaded American entertainment. Jennifer in Jennifer's Body, Amanda Seyfried's titular character in Chloe, and Griselda in Lifetime's recent insane romp, Cocaine Godmother, were all evil, psycho bisexuals. Bisexuals always seem to be tagged as villains, and it's really getting quite tired.
With that being said, I'm 100 percent willing to give Get Out a pass for abusing redundant queer tropes, because where it fails its queer characters, it makes up for in being one of the most relevant, felicitous, and smartest takes on American culture this yearor ever. This movie deserves every nomination is accrued and more, and I can't wait to see where the brilliant mind of Jordan Peele takes us next.
in Your Inbox

Subscribe to get a twice-weekly dose of queer news, updates, and insights from the INTO team.