Growing up as a young trans or non-binary person can be incredibly daunting, and there are many times where young people need help and guidance to feel safe, comfortable, and accepted. Fox and Owl, two trans non-binary activists, writers, and videographers, have created just the tool to be able to navigate the world as a young trans person: the Trans Teen Survival Guide, a book that provides fun, important, and engaging advice for not just trans people, but their parents and families, too.
Fox and Owl regularly speak on trans and non-binary rights across the globe. Fox is an award-winning artist and filmmaker, and the co-founder of the film project My Genderation. Owl advocates for trans rights across Europe throughout UK TV and Radio, with appearances on BBC Radio 1, Good Morning Britain and LBC. Trans Teen Survival Guide provides a fully comprehensive guide to trans teens on how to survive the ups and downs of gender dysphoria, dating, and how to deal with the media's often inaccurate portrayal of trans bodies.
The book itself was created through inspiration from their dear late friend Christina L. Bentley, who had a site of the same name that offered similar vital and life-saving advice to trans teens across the world. "Her legacy will live on through the site, which is still live," Fox and Owl said, "and through our book."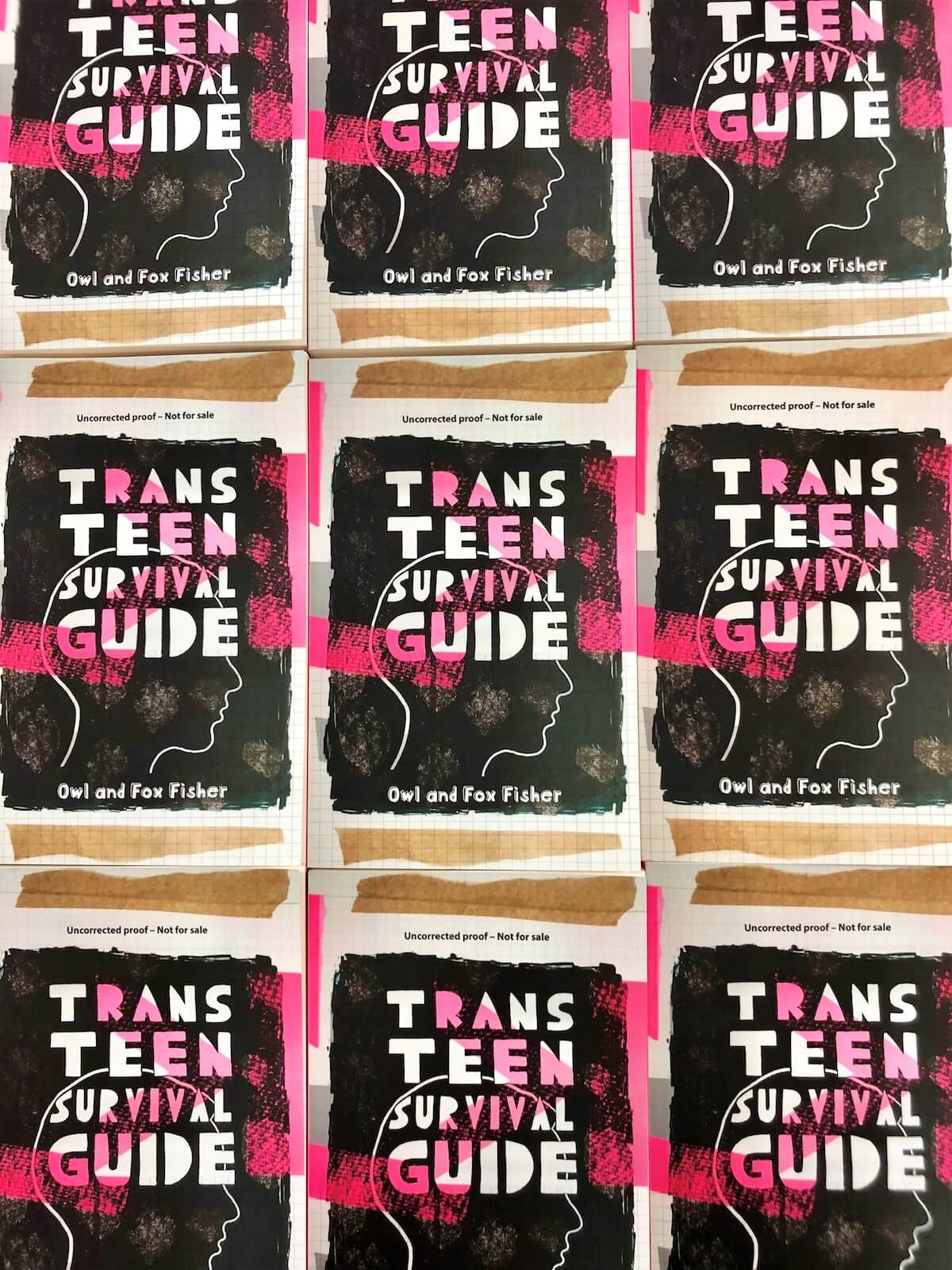 This engaging title for young trans people landed at just the right time, and the response has been incredible.
"We've had many people attend our events and had great discussions with the audience about the importance of supporting trans youth," Fox and Owl told INTO. "We wanted to create a book that would have been beneficial to ourselves growing up and we're glad that it's proving useful for trans teens and their families."  
The current landscape for trans people of all ages is incredibly treacherous, and this book provides young people with peace of mind and real-life accounts from Fox and Owl of the ways in which trans people navigate challenges. The book features illustrations and imagery that navigates the reader through the different chapters, including what to do if you're questioning your gender, fashion tips, and how to battle gender dysphoria.
"We wanted the book to be positive and hopeful without shying away from the difficult parts as well," Fox and Owl said in an email. "We wanted to prepare people that things might actually be really, really hard–while at the same time give them inspiration, hope, and the strength to come out and be true to themselves."
Ensuring that young people are fully aware of the potential challenges of being trans, but also the beautiful community that is available to them is of paramount importance to Fox and Owl, as it provides a realistic insight into the world these young people are entering.
Non-binary literature is something that we rarely see on the shelves, and the authors' experiences with living as not only non-binary individuals, but as a non-binary couple, is a new and interesting angle.
"Non-binary issues seem to be getting mainstreamed into general discussions about trans issues more and more," Fox and Owl said. "But it's still been such a short time since we started to even get a mention, that most people are still ill-informed on our issues or simply don't understand."
Non-binary identities commonly fall under the trans umbrella, and what this book does so well is explore binary trans experiences alongside non-binary life experiences, providing a well-rounded anecdotal depiction of what it means to be trans now.
The lack of education and information surrounding trans people has led to many of us taking the reins and highlighting our own narrative. 
"There is still a lot of misinformation and prejudice towards non-binary people even within the trans community, so I think we need to continue to strive for more non-binary voices in literature," Fox and Owl said. "That means we also need to start highlighting intersectional experiences and realities, showing the intersections of trans identities i.e. with race, ethnicity, disability, class and bodily diversity."
Trans Teen Survival Guide has been published by Jessica Kingsley Publishers and is available to purchase now.