While reports indicate that Tyler Mitchell, the 23-year-old creative from Atlanta, Georgia, could soon be announced as the first black photographer to shoot a cover of Vogue, New Yorkers can get a taste of his work in an ongoing exhibition titled "The Way We Live Now," currently on display in Manhattan. An open submission exhibit that received over 1,000 entrants, the Aperture-organized show features 18 photographers and artists from around the world whose work revolves around conversations happening in culture today.
"What emerged was a broad look of several things," Antwaun Sargent, an art and cultural critic and co-curator of the exhibition told INTO. "Globalization, modernity, gender politics, race politics, immigration, nations in the midsts of rapid change. Even within that, there's this exploration by several of the photographers around gender and sexuality and how those things intersect with race, nationality or other areas."
Working with co-curators like Siobhan Bohnacker of The New Yorker, Brendan Embser of Aperture, and Marvin Orellana of New York magazine, the full showing is expansive. Works look at mass incarceration, the crisis of the opioid addiction, the blended cultures that immigration causes, as well as the contradictions of 21st Century life. In one series of images, David Monteleone shoots scenes along Xi Jinping's proposed Belt and Road initiative. Another photographer depicts recently removed Confederate monuments as cenotaphs, or empty tombs. Mitchell's photos depict youth culture, particularly young black men, capturing them with what he calls an "honest gaze."
A few of the artists have created works around gender and sexuality. A photograph and series of videos by Shikeith Cathey explore the eroticism of the black male form while making sure to sidestep any cliches and stereotypes. A series of still lifes by Jonathan Gardenhire use a combination of texts from the likes of James Baldwin and Jane Jacobs, as well as images he's taken himself and imagery from works like Robert Mapplethorpe's Black Book, to visualize the cultural influences surrounding ideas about black men as well as queerness.
Images from Camila Falcao are a part of a larger project titled "Abaixa Que é Tiro," which loosely translates to "be careful because something wonderful is about to happen" and depict Brazilian trans women in their various states of transition.
"I've started this series because I want to help in deconstructing patterns and prejudices against these women and help to build a more realistic perception," Falcao said, noting that Brazil leads the world in the murder of trans women and also in the consumption of pornography that features trans women. "I also want to show the enormous diversity between them; bodies that have been transitioning for some time, bodies that are not going to change but are still bodies of women, women with penises, with or without breasts, many possible women."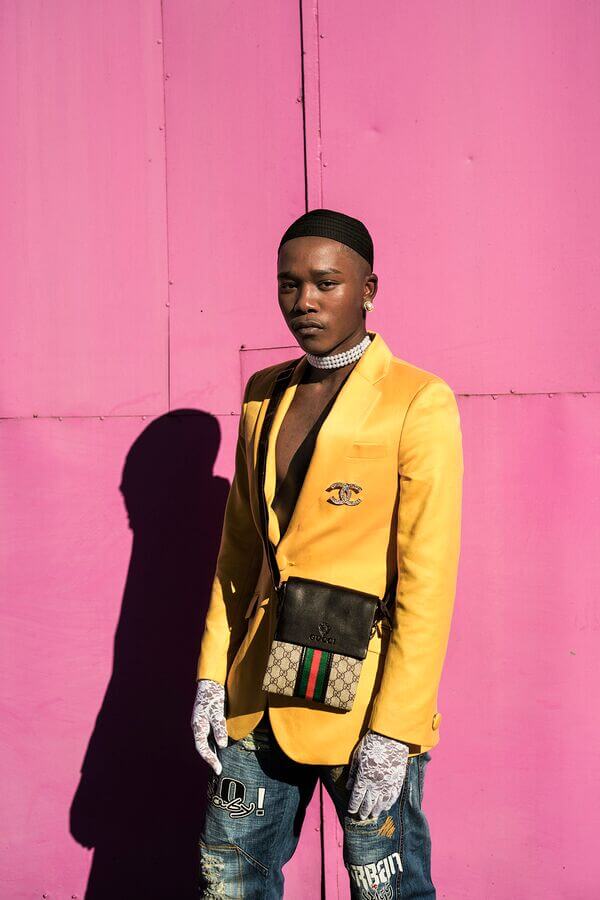 Gowun Lee's images, which are portraits of the backs of queer Koreans in public places, are also a statement about her community.
"For foreigners, Korea may not look like a conservative country because of the K-pop Korean drama but it really is conservative," Lee said. "Although LGBTQ people are living in Korea as members of society as family, friends, and colleagues, many of them are hiding their gender identity because there's no law to protect their rights. Many Koreans still express bitter hostility toward LGBTQ people, while others simply deny their existence."
Lee's portraits are both a representation of how Korea treats its queer population (by turning its back) and the status of queer Korean lives (faceless within the community).
But Falcao is cisgender and Lee is heterosexual in a time where marginalized communities are increasingly demanding to be the decision makers and principals behind projects that are about them.
"There's a history in photography of a group of people who are not of a group or not of a community, going into cultural spaces and imaging people in the wrong way," Sargent said of the historical context. "And there's another history where communities just haven't had the opportunity to image themselves; the history of photography is largely white men dictating what images people see of the world."  
And so what exactly makes these images, poignant though they are, different?
"I think we are all affected by these issues, these shifts in culture, shifts in perspectives, shifts in how we identify ourselves," Sargent said. "To that extent, because everyone is affected in some way or another, I think we are all grappling with these issues. It's not just the people who are at the front lines of it; it's not just black men that are affected by perceptions of their sexuality or gender. And it's also important to acknowledge that these stereotypes were created as a part of the whole culture."
"But I think the shift here, in this particular exhibition with some artists who are of those groups and some artists that are not, is really respect for the people in those images," he continued. "When we talk about the way that we live now, we're very much talking about the way that even in how we take pictures, the relationship between the artist and the subject has changed."

The Way We Live Now is on exhibit in Manhattan through August 15 at Aperture's gallery.
Images care of Aperture
in Your Inbox

Subscribe to get a twice-weekly dose of queer news, updates, and insights from the INTO team.