Last weekend, queers converged on the nation's capital for a slate of events surrounding DC Leather Pride. More than 3,000 of those attendees headed to the Hyatt Regency on Capitol Hill to attend Mid-Atlantic Leather which is, by most accounts, the second largest leather competition in the United States. There, they walked through the lobby, milled around the vendor mart, and cruised the halls of the hotel wearing harnesses, pup tails, furry heads, or jockstraps, using the hanky code to indicate their interests.
A charitable event as well as a leather con, 32 volunteers put on the official events, donating their time to help Mid-Atlantic Leather 2018 to surpass its goal of raising $100,000, which is then distributed amongst several charities. Attending everything from simple puppy play meet ups, to a Formal Leather Cocktail as well as a slate of parties like the closing night Revival fete, the events posed as a reunion for most, who may not have seen their fellow leatherfolk since the last conference.
INTO shot portraits of 10 Mid-Atlantic Leather attendees and asked about their leatherwear, kinks, and the community they've chosen to be a part of.
Mr. New England Leather 2016
Kinks/fetishes/flags: Watersports, fisting, domination in terms of sir-boy or power exchange. Also a little bit of slight objectification.
How did you get started into all of this? I always knew that I was, like, a little kinky. I was, exploring with watersports when I was younger. That sort of just evolved, and I always had a fascination and attraction to leather. I've just sort of met people along the way that have really sort of helped develop that for me. My first bondage bar and my first leather leather bar just felt natural for me.
Mr. Leather Man of Color 2017
Kinks/fetishes/flags: A lot of my gear flags grey, which is bondage. But I have a few things that flag red, which is fisting, and yellow, which is piss play.
Is any piece you're wearing particularly special or sentimental? Well I had to dress very formal [for the International Mr. Leather press conference] but I wanted to do something that expressed me so the kilt with my sash was something that I really wanted to show off because there weren't going to be many people like that there.
My kilt was a gift to me from someone who really means a lot to me. He gave it to me as something he thought I would like because it wasn't something everyone would have. Gifting leather is a time honored tradition and it's usually passed on from Sir to Boy or Sir to Sub in recognition of them coming into their own or leaving the house or becoming a Sir in their own right.
Miss Iowa Leather 2015
Kinks/fetishes/flags: I've been able to get into fisting. I really love spankingthat's what I flag the most with my pink. I like pup playI'm a puppy. I like daddies, I like sex just in general. I just like being filled.
How important is the community part of all of this? The community aspect is my favorite thing and that's why I'm still here. The sex is amazing and wonderful but I could go to every single event and not have sex and be completely fine. I just love the family. There's drama and we all fight but we love each other and stick by each other's sides. I've never felt more beautiful than when I go to a leather event. If I can see a big boy who looks wonderful, half naked in a jockstrap then that means I get to do it too. So if you're going to see someone's ass, you're going to see mine and this is my favorite event to show it.
Martel Brown Jr.
Mr Mid-Atlantic 2017, Mr Pittsburgh Leather Fetish 2017
Kinks/fetishes/flags: The only thing I flag at the moment is light blue right pocket.
So what was the kink or fetish that got you started? Well, that's actually really hard to define because we don't think of them as kinks or fetishes. They are just our desiressociety defines them as kinks or fetishes. It's hard to define because the more you get into this headspace you think "oh, I used to do that because of this thing." There's so many things that you're rediscovering or redefining about yourself. You're just expressing your individuality so fiercely that it inspires others to do the same.
International Cumslut 2015, Mr. Minneapolis Eagle 2015
Kinks/fetishes/flags: Well, I flag houndstooth, which means I'm all about biting and being bitten. I love daddy-son role play. Watersports, cum, fistingI'm a fisting top. The list goes on infinitely. If it's there I'll try it.
You consider bareback a kink? Yes, it is. I love it because it's very intimate, and very personal. For me it was the biggest turn on in my life and then when I put on a leather harness, it was practicality from being able to grab it and bring someone into you and it just made me feel good.
Mid Atlantic Drummer Boy 2016
Kinks/fetishes/flags: Leather to neoprene, spandex, sir and boy scenes as well as superhero cosplay.
Is any piece you're wearing particularly special or sentimental? This shirt that I'm wearing was my first full on leather piece that I purchased and it goes in my full-on formals that I'm wearing. I bought it when I was visiting Le Chateau Exotique, because I was there and I had the money so I really wanted to get it. Plus it has red in it and I also flag for fisting. And this vest is my title vest from when I was Mid-Atlantic Drummer Boy for 2015. It shows off my title as well as my badge.
Miss Philadelphia Leather 2016
How important is the community part of all of this? I decided to run for a title more for the charity aspect of it and the ability to do things for the greater community. I actually really don't play at all when I come to these events because it's majority gay men but I love to come for the social aspect and giving back. I actually had a falling out with my biological family over the holidays but my leather family was there for me.
Sir Eli and his family
Mr. Maryland Leather 2016
Kinks/fetishes/flags: My kinks are high impact play, like fire play and mummification and fisting. Pony play is also a kink of mine. I've learned to never say I would never do something because those are the things I wake up the morning saying "I can't believe I did that."
How did you get started into all of this? I tell people all the time that I don't think I got into fetish, fetish got into me. Number one is I'm prior military, so that's where the whole thing for me of having to have some type of organization or status comes from, my military background. I also was part of a house [in the ballroom scene] in New York. During that time, I had to keep them very separate. I was in the military during Don't Ask, Don't Tell, and then I loved the camaraderie that came with being in the ballroom scene.
So when it came to the fetish community, I always admired BDSM and the fetish scene however from the illustrations and photos, I never saw that people of color were a part of it. It wasn't until I went to MAL one year by accidentI was actually on my way to the Fire Place in DC and I saw all these guys in leather gear walking past my car so I kept driving around to find where they were going and never made it to Fire Place. I went into the host hotel that night and I saw a whole lobby filled with leathermen, but it was just a lot of white leathermen. But I knew that I had reached a point that I could journey on.
So it wasn't until I was standing in the lobby that I saw a few black men come through but they were going to the elevator. So I asked one of them was there a party and he told me about Onyx being upstairs. And from the time I hit the floor they were telling us we had to go back down because it was too many people there. Bu, because of that, I found out about Onyx and how I could get involved.
Host of 40th Mr International Leather Weekend 2018. Mr Santa Clara County Leather 2012
Kinks/fetishes/flags: Well I flag red, which is code for fisting in the community. When I first got into the community I would have told you that this was something I would never be into it but time makes fools of us all. I'm also into leather, neoprene, rubber, boots and uniforms. I'm a bit of a gear freak. I'm well known in the community for my extensive collection of uniforms.
Is any piece you're wearing particularly special or sentimental? The belt and the shoulder belt were black with a little bit of a red trim on the side were gifted to me by my partner on the first Christmas that we had together. Basically it was me, his ex-wife, her new husband and my partner's 8-year-old son. That was the first time that I was being introduced to the modern family structure and he gifted these items right in front of all of them. And of course the 8-year-old didn't know what all these items meant, but the grown ups do. So it was very out in the open that we are a modern family, and that was a really great gift for him to give me.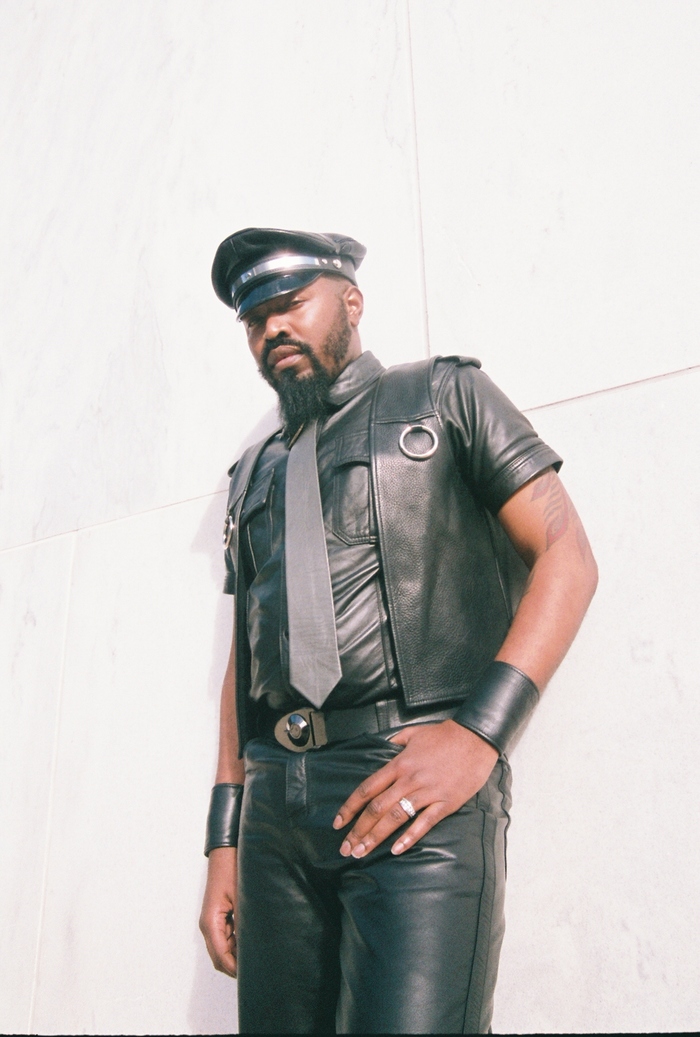 Mr DC Eagle 2017, Ambassador of the Imperial Court of Washington, DC
Kinks/fetishes/flags: I flag grey for bondage, mustard, soft pink and purple.
How did you get started into all of this? So my uncle was actually living in my househe was gay and like a mentor to me. So he came in and I was like "Oh, this is different. Let me see what's going on with him." So I searched through his bags and found some harnesses and leather pieces and all this stuff. So later on down the line after he figured out I'd been going through his stuff I asked him some questions. He was telling me about the whole community and once I became of age, he told me where these places were.
The first place I went to was The [DC] Eagle. I didn't really know what was going toI was just like "Oh, we can take our clothes off," so I was running around in these little cotton boxers and everyone was like "Oh, she's trying it." So, eventually, I got piece by piece, and I started having people come up to me and explaining things to me. And it's sort of just gone on from there.
All photos by Darryl Riley