A Chicago drag queen has been suspended from Facebook for calling out racism in the drag community.
Drag artist Lucy Stoole posted on Tuesday afternoon about attacks against Soju, a K-pop inspired performer also based in the Windy City. In a video posted to YouTube, Soju says that she was subjected to a series of racist attacks by Monikkie Shame, a goth queen from Seattle. She referred to Soju as a "chink" and an "Asian faggot" in August 2016.
"Good luck being single forever with your shitty name, your shitty drag, and your acne-covered face," Shame said at the time. "I would hate to be your parents."
Soju posted the video after Shame was tapped to appear on the second season of Dragula, a Fear Factor-like web series in which contestants are subjected to macabre challenges like eating bugs and being buried alive.
But even before Soju's video went live, Stoole called out the hateful comments in a Facebook post. The 33-year-old wrote that she hopes "that racist trash bag goes home first."
Stoole tells INTO in an exclusive interview that she discovered her account had been suspended shortly after her status "started a firestorm" in the drag community. When Stoole logged into Facebook, the black bearded queen received a notification saying that her post was "bullying" and "violates community standards." She would subsequently be blocked from posting or commenting for three days.
"That was pretty shocking to me," Stoole says in a phone interview. "This person who had been an actual bully and a racist had not been blocked at all. And I was locked out of my account for saying something about it."
Soju says that seeing Stoole's post is what gave her the "courage" to speak up about the racism she experienced in the first place.
"Having Lucy stand up for me and the Asian community was important," she tells INTO over the phone. "It made feel really protected and like there was strong support for me. As a fellow Chicago drag queen, Lucy has always stood up to bigotry and racism. She's never afraid to voice her opinion."
After the queens called out Shame's racist comments, she subsequently apologized on her page, calling her remarks "hurtful and rude." The drag performer claims that the incident reflects a "dark point" in her life and that she doesn't "condone racism."
But even after Shame's mea culpa, Stoole's account remains suspended.
This isn't the first time that something like this has happened to Stoole, a well-known female impersonator in the Chicago scene. Recently referred to as the "mother hen" of the city's drag community, she will be appearing Thursday night on The Tonight Show Starring Jimmy Fallon as a backup dancer for Charli XCX.
Her outspoken image, though, has made her a frequent target of Facebook's moderators. She's been blocked in the past for harmless behavior. Previous infractions, Stoole claims, include posting a picture of her butt.
Soju claims that the targeting is unwarranted. She has called on Facebook to reevaluate their moderation policies and reinstate Stoole's account.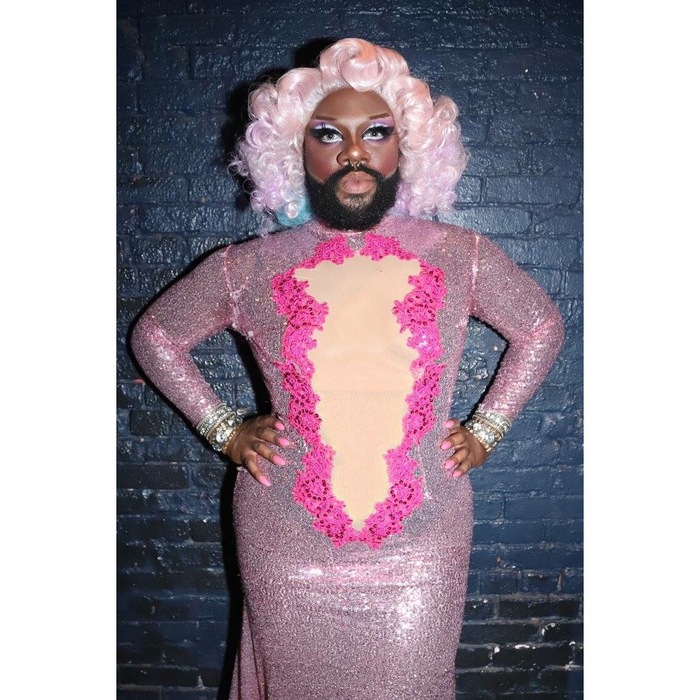 "It's not right," she says. "I don't understand how Facebook blocks people. If they actually saw the status, they would know what Lucy was talking about. If it's so easy for people to report other users just because they don't like what they're saying, then I think Facebook needs to do a better job of figuring out what's real and what's fake."
This is only the most recent example, however, of Facebook coming under fire for how the social media platform moderates its LGBTQ userbase.
Numerous lesbian users reported earlier this year that the website had blocked them for using the word "dyke," a slur that has been reclaimed by the lesbian community. An Australia chapter of Dykes on Bikes allegedly had their account suspended because of their name, while at least two Facebook users report being suspended for posting about the Alison Bechdel comic strip Dykes to Watch Out For.
The drag community has been at the center of the debate over moderation since Facebook instituted its controversial "real names" policy in 2014. Performers claimed that the rule discriminated against them by not allowing them to use their stage names.
Soju argues that these policies aren't just discriminatory. They make it difficult for drag queens to earn a living.
"Clubs see us on social media and direct message us to book us," she says. "When you shut us down like that, we're not able to get bookings. So if Facebook blocks us just because some haters report us, they're shutting down our business. That's not OK."
Facebook has claimed that the company is working to address these issues, but moderating a platform that counts more than 2 billion users presents challenges. The center that monitors user complaints, which is located in the Philippines, employers over 100,000 workers. Each of these employees reviews thousands of flagged posts each day. Because complaints come from all over the world, sometimes the nuances are lost in translation.
But as Facebook works to address the needs of a diverse community, Stoole says that being banned from her page feels like a "slap in the face."
"It actually was really upsetting to me," she claims. "It brings up so many emotions that I've had to deal with since I was six years old, starting school and hearing people use derogatory words for the first time. The more I think about it, it's just another instance of my black voice being silenced for speaking up for myself or other people of color."
Stoole says her ban will be lifted on either Friday or Saturday.