The Bachelor extended televised universe is slowly but surely getting queerer every second — just not in the U.S.
Earlier this month, the Australian Bachelor came under fire for revealing a female contestant's bisexuality as if it were some shocking, life-changing plot twist — and other female contestants have come out as bisexual in the past few years. But the latest women to join the (extremely) short list of queer former contestants came from the Vietnamese iteration of the franchise. In a beautiful surprise during a rose ceremony this past week, Minh Thu and Truc Nhu decided to reject the Vietnamese Bachelor's roses and leave together, as a couple. Aww!
The teary-eyed gay moment was long overdue, as The Bachelor has historically been an extremely — almost painfully — heterosexual show, one that has always excluded LGBTQ people. I understand that the show was originally designed for women to find a man to marry and vice versa, but in 2018, the beloved show should reflect the lives of real-life Americans. The American Bachelor has never featured an LGBTQ storyline, and with more adults identifying as queer than ever before, it's not just insulting — it's downright unrealistic.
The American program has had just one single dalliance with bisexuality, which starkly misrepresents the amount of Americans who identify as queer. According to a 2016 study, less than 50 percent of American teens identify as straight. But it took The Bachelor 21 seasons — and 16 years — to showcase an out bisexual.
On Season 21 with Nick Viall, contestant Jaimi King was revealed to be bisexual, having dated a woman in the past. Luckily, the show didn't make a big to-do about it, and Viall didn't blanch at the revelation — though he did let her go soon after. But after 22 seasons of the show, and 14 of its sister series The Bachelorette, it's offensive that only one contestant has been openly queer. The formula for the show doesn't leave room for same-sex relationships as it is right now, but there have been literally hundreds of single adults on the reality competition — statistically, someone had to be queer eventually.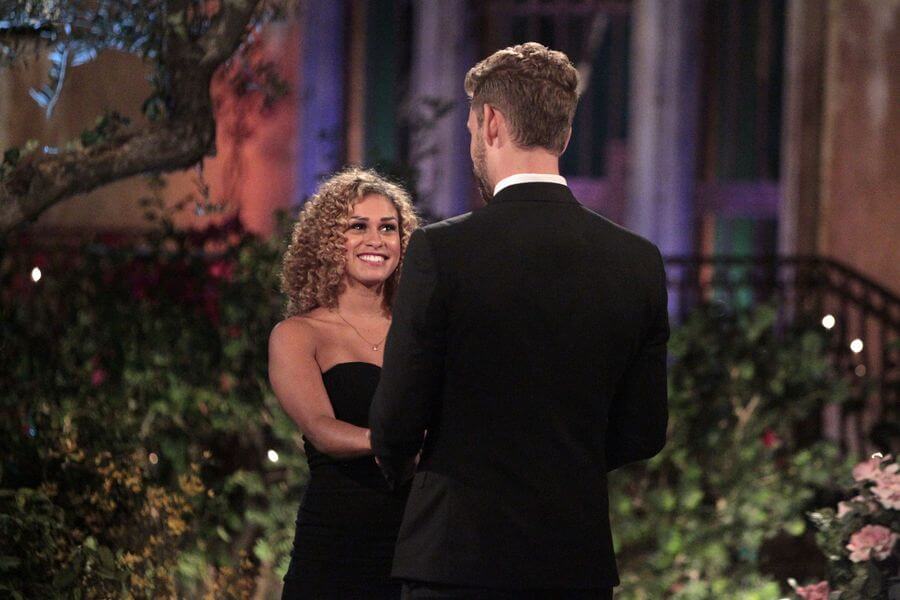 Each season typically has 25 contestants, and with 21 seasons of The Bachelor and 14 seasons of The Bachelorette, that leaves about 875 contestants. The 2018 Gallup poll showed that 4.5 percent of adults identify as LGBT, a record high. That means—yes, I did the math—at least 39 contestants on The Bachelor could have been queer, unless the producers meticulously and purposefully only cast straight contestants (which they probably did).
Even though The Bachelor's formula is designed for a single heterosexual relationship to prevail at the end, some of the Bachelor-adjacent shows absolutely could have queer participants. Bachelor in Paradise, for example, essentially leaves a group of past contestants on an island and forces them to couple up—it's a free-for-all of sex and dating. So why exclude queer people from that narrative, one that so obviously could include queer contestants?
British reality show Love Island has been called out time and time again for its politics surrounding the LGBTQ community. Earlier this year, they were accused of queer-baiting, as the show's host and creators teased an upcoming queer season, clad with "gay villas" and all. But when the dating show returned in June, there were no signs of queer inclusion or any changes at all. In 2016, two of the female contestants on the show, Katie Salmon and Sophie Gradon, famously hooked up, but were told that they weren't allowed to couple up (the premise of the show is similar to Bachelor in Paradise, in that contestants "survive" the island by coupling up with someone of the opposite sex).
As previously mentioned, The Bachelor Australia has had mild successes with the LGBTQ community, and is probably the most inclusive iteration of the franchise — but no thanks to the actual show. Last month, contestant Brooke Blurton came out as bisexual. She is the fifth female contestant on the Australian show to come out as bi, joining Natalie Holmberg in 2017 and Megan Marx in 2016, who actually left The Bachelor to date her co-star Tiffany Scanlon (the couple has since broken up). The woman who won the 2016 season, Alex Nation, also identified as bi, as did 2015's Heather Maltman.
No out male bisexual contestant has ever appeared on any show in the Bachelor universe, which is unsurprising given the state of representation for male bisexuality in TV — according to GLAAD, bisexuals make up only 28 percent of bisexual regular characters on TV, with 75 of those characters being women, and just 18 being male.
So, while international fans of The Bachelor and similar reality dating shows have seen scant bi characters come out, date women, and find happiness — however fleeting — it wasn't until this week's episode of The Bachelor Vietnam that viewers could watch a queer storyline actually play out on the show.
"I went into this competition to find love and I've found that love for myself, but it isn't with you," Minh Thu told Bachelor Nguyen Quoc through tears. "It's with someone else." Thu then approached Truc Nhu and said, "Come home with me."
The moment was saccharine and heartfelt in all the right ways, and the couple even brought their fellow contestants to tears. It was a moment I definitely hope to see repeated on American television. However, I don't think it's too much to ask that The Bachelor format be updated after 16 years to better reflect the American public and be more inclusive of LGBTQ people. Right now, the format is almost laughably outdated.
There has been much discourse within the LGBTQ community surrounding a queer dating show a la The Bachelor. Logo threw its hat in the ring with Finding Prince Charming in 2016, a dating show that only featured gay men (obviously), but gay critics slammed the show as "lifeless" and "bad reality TV." Some queer creators have taken swings at filming low-budget lesbian dating shows, which have been unsuccessful, unfortunately. If not The Bachelor, then hopefully a new, mainstream, more inclusive reality dating show will emerge in the near future.
The Bachelor isn't anti-gay; if they were, they wouldn't have welcomed Jason Tartick's gay brother and his husband with open arms in the final weeks of The Bachelorette Season 14. However, their deliberate and consistent exclusion of queer people sends a message to the queer community that our stories are too scandalous or disagreeable for mainstream primetime reality TV. The LGBTQ community knows that's not true — but does The Bachelor franchise?