It's 9:30 p.m. on a Wednesday night in Kuala Lumpur. Even though Bohemian Rhapsody has been out for close to a month, it's next to impossible to get seats at Mid-Valley Mall, the largest of the city's more than 100 indoor shopping centers. The Malaysian capital has so many malls that demand has struggled to match supply: Many of them sit virtually empty.
When I ask my platonic date for the evening why this is, he argues the superfluity of capitalism is a matter of practicality. Air conditioning is a precious resource in a country where 60º weather is a national crisis.
Mid-Valley is anything but abandoned, though. A buzzy crowd has formed outside the kiosks at the mall cineplex, where self-service screens show our screening only has two remaining seats. Unfortunately, they are on opposite sides of the theatre. The next available showtime in Kuala Lumpur (called just "K.L." by locals) is across town, so my friend and I decide to stay.
But for LGBTQ people in the majority Muslim nation, Bohemian Rhapsody was a tougher sell. Reports from those who had seen it in theaters indicated the Malaysian Film Censorship Board (LPF) cut up to 24 minutes of footage from the Freddie Mercury biopic, as homosexuality is banned under the country's colonial-era sodomy laws.
Censors, though, insisted that only three minutes were trimmed.
"These cuts totaled up to 180 seconds," said board chairman Mohd Zamberi Abdul Aziz in a Nov. 13 interview with the Malay Mail. "Seven involved muting bad words… while the four gay scenes involved moments such as men kissing each other, men rubbing each other, and a group of men in dresses partying in a mansion."
Those claims were viewed with skepticism among members of the LGBTQ community. In order to entice anyone to go with me, I had to bribe my friend by paying for dinner. (We had fried rice and lime juice at a Korean restaurant in the mall.)
Although one doesn't want to give Malaysian censors too much credit, they were telling the truth about the cuts. The U.S. version of Bohemian Rhapsody — which I saw with a much gayer crowd at the West Hollywood AMC Sunset three weeks earlier — ran 133 minutes. After an endless series of advertisements for Samsung phones, the K.L. screening clocked in at 130.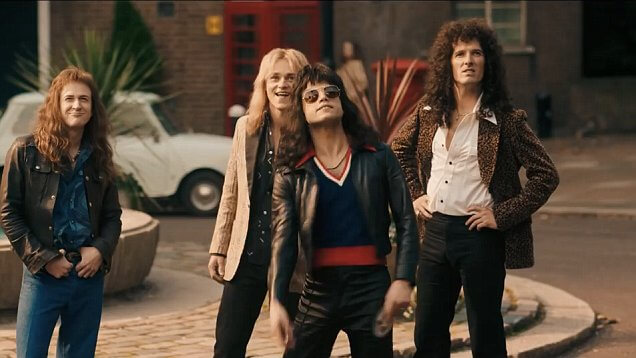 Here's What Was (and Wasn't) Cut
It's easy to see why audiences believed something more substantial was missing from Bohemian Rhapsody. Even with a relatively minor three minutes removed, the Malaysian cut leaves major narrative holes in the film. Key scenes no longer make sense, as if they were fed through the wood chipper from Fargo.
The most noticeable changes to Bohemian Rhapsody involve censoring intimacy between its queer male characters. The physical aspects of Freddie Mercury's relationship to Paul Prenter (Allen Leech) — his personal manager and the film's antagonist — are gone entirely. A meet-cute with future partner Jim Hutton (Aaron McCusker) is virtually incomprehensible.  
As Zamberi told the Malay Mail, censors took the further step of removing a blurb in the credits mentioning that Mercury and Hutton "lived a happy life" until the iconic singer's 1991 death.
"[I]t showed that they were in a gay relationship," the censor explained.
Depicting same-sex relationships is verboten in Malaysia per 2010 guidelines from the Film Censorship Board, which mandate that LGBTQ characters "repent or die" in order to be portrayed on screen. Believe it or not, the decision to bury their gays was actually spun as a positive development for the southeast Asian country. Before then, media regulators hadn't allowed depictions of LGBTQ life at all.
But what's so bewildering about Malaysia's edited-down version of Bohemian Rhapsody is that it doesn't stick to the board's own rules.
For instance, a line in which Mercury (Rami Malek) comes out to then-fiancée Mary Austin (Lucy Boynton) is removed from the film. "I think I'm bisexual," he says. Austin insists he's gay, which is also cut. It must be said: The movie tiptoes around the subject, but the musician was, in fact, bi. Mercury was attached to German actress Barbara Valentin in the 1980s, described in a 2012 biography as his "live-in lover."
Despite erasing Mercury's bisexuality altogether, censors kept an emotional monologue in which Prenter describes the struggles of growing up as a young gay boy in Belfast.
Perhaps the most confusing double standard is around the treatment of HIV/AIDS. While preparing for Queen's legendary performance at the 1985 Live Aid concert, the singer tells his bandmates that he's HIV-positive. "I've got it," Mercury says. "Got what?" a group member asks. "AIDS," he responds.
While censors cut everything after "I've got it," they allowed at least three other references to HIV/AIDS in the film. In another scene, the broadcast of an early news report on the virus plays on a TV set in the background.
It pains me to attempt to make sense of something that so clearly flouts logic, but I am professionally obligated to try. Here goes.
If this were a senior-year AP English essay, I would argue censors had less of a problem with queerness as it exists on the margins, whether a longing look inside a truck stop bathroom or a stroll through the hairy torsos of Berlin's S&M scene. These scenes are brief and chaste; they stop at being merely suggestive, rather than allowing Mercury to luxuriate in the many pleasures of the male form (and, ah, many there are).
But when LGBTQ characters tell us who they are, their identities are no longer subtext. They are the text. Naming allows queer people to take ownership of our identities and stories, to identify our history and the space we occupy in the world. Just as importantly, naming ourselves asks the audience to identify with us.
Shutting down that understanding and compassion is an important tool for governments intent on curtailing LGBTQ rights.
Here's Why More Wasn't Edited Out
But as a vehicle for empathy, I have a ton of issues with Bohemian Rhapsody, which manages to be both very entertaining and downright reprehensible in how it handles its protagonist's queerness. The cavernous gap between critical reviews of the film and its glowing audience scores is no accident.
To wit, the reason Malaysian censors didn't have to cut more than three minutes from the movie is it already presents Mercury's life with a nagging twinge of homophobia.
Despite the fact that the singer didn't learn of his HIV diagnosis until well after the film's events conclude, Bohemian Rhapsody reverse engineers a narrative in which he is humbled by the disease. Living a life of orgiastic sin in Berlin, Mercury spurns Queen and attempts to go solo. But eventually, his ego and hard-partying ways catch up with him. He is forced to crawl back to his bandmates to make amends.
In the grand tradition of these sorts of movies, the band plays one final concert before Mercury's long journey into the night.
While the film's Wikipedia-style structure might confuse its target audience into mistaking it for a documentary, this entire plotline is total bollocks. As Mike Ryan detailed in a must-read Uproxx essay, Brian May and Roger Taylor released solo albums well before Mercury ever did. In fact, Taylor released two prior to Mercury's first solo record, 1985's Mr. Bad Guy.
"I've never seen a film distort its facts in such a punitive way," Ryan concludes. "It's like the movie wants to punish Freddie Mercury."
The film isn't merely about punishment. It's about sticking to a certain prestige formula. All Oscar-targeted biopics about flawed geniuses show their protagonists battling some sort of demon: John Nash's brilliance is marred by schizophrenia in A Beautiful Mind, Ray Charles' marriage is shattered by infidelity in Ray, and Johnny Cash grapples with drug addiction in Walk the Line.
In keeping with that theme, it's Mercury's queerness that triggers his downfall.
Let's take a scene in Bohemian Rhapsody where his Queen bandmates attempt a lavish party thrown by Mercury, one complete with drag queens, half-naked male specimens, and revelers in royal regalia. Before seeing the movie, I was so sure this segment would be left on the cutting room floor. Although the law was briefly struck down in 2014, individuals arrested for "cross-dressing" are subject to fines and imprisonment; the policy is most often used to target transgender women.
This bit was left in, even while the gender-bending music video for "I Want to Break Free" was cut from the film. MTV notoriously refused to play the video due to Mercury's decision to sport heels and a brunette bouffant.
The major difference between the two is one of context. Seeing Mercury dressed like '50s Housewife Barbie is defiant, even punk. In contrast, the party scene exists to shame him for that very sense of avant-garde flamboyance. Visibly uncomfortable with the bacchanalia around them, his bandmates quickly leave to go home to their wives and children. They want him to be queer, but in a way that best suits them.
The point is underlined when Mercury asks why Mary didn't attend the fête, despite living next door. After their breakup, he bought her the adjoining mansion so they could remain close. His bandmates prudishly inform him it's not Mary's "kind of scene."
Never shy about pounding a dead horse into glue, Mary — the virgin-like symbol of heteronormativity and resident killjoy — appears later in the film to inform Mercury his gay friends don't care about him. It would be a nice gesture if it weren't aggressively presumptuous. Aside from Prenter, the film's straw gay villain, she hasn't actually met any members of Mercury's Berlin posse.
The straight characters in the film are positioned as the voices of reason calling Mercury back from the edge, but they make Andy's shitty friends in The Devil Wears Prada look like extras in Spring Breakers.
It's pretty hilarious that Bryan Singer of all people made a movie about how parties are bad, but such is the hypocrisy of Bohemian Rhapsody. The lesson appears to be that it's OK to be queer—so long as you don't enjoy it. The straight characters in the film don't seem to remember that rock 'n roll is supposed to be fun.
If anything, Bohemian Rhapsody is a gift for Malaysian censors. The Film Censorship mandates that LGBTQ characters must repent for their misdeeds or perish. Here is a movie that gives media regulators both of those scenarios.
Even when Mercury's sexuality is embraced by the film's standard bearers of heterosexuality, it's strictly on censorship-friendly terms. During a visit to meet his conservative Zoroastrian parents, Mercury clasps Hutton's hand with all the gusto of a hard G-rating. He refers to his partner as his "friend," a term familiar to many of us who were forced to stay closeted due to fear of rejection.
When I saw the U.S. cut of Bohemian Rhapsody, this moment read as sweet, if almost pointedly non-offensive. But as part of a project of repression and governmental control, it takes on far more sinister undertones.
Here Are the Parts Worth Savoring
Despite seeing a censored version of a self-censored film, I left the theater last Wednesday with a surprising amount of hope for the future of LGBTQ equality.
Against all odds, Bohemian Rhapsody resists its own glass closet in resonant and meaningful ways. Malek's performance brings so much joy and exuberance to the film, suggesting a liberation in the singer's relationship to his queerness the script never dares.
When Mercury first takes the stage with Queen, he confidently struts across the stage dressed in a garish ensemble that would later become the singer's trademark. In the actor's eyes, you see that he understands what that gendered performance meant to Mercury. The singer was most alive when he blurred the lines of masculinity and femininity, challenging notions of what a rock band looked like and sounded like.
Mercury knew his fans were ready for it, even if the judgmental jagoffs around him weren't.
Throughout the film, these glimmers of queer vibrance frequently shine through. When Mary asks the frontman why he chose "Queen" for the band's name, he remarks that it's because her royal highness is "outrageous" and he can't think of anyone "more outrageous" than himself.
Perhaps the best moment in all of Bohemian Rhapsody, aside from the bravura, borderline slavish recreation of the band's Live Aid set, is a small one relatively early in the film. It's so small, in fact, that you may have missed it.
The band's label won't release "Bohemian Rhapsody" as a single because they claim it's too long. A record executive (Mike Myers, in a distracting nod to Wayne's World) believes radio stations won't play the now-classic tune because it contains "nonsense words" like Scaramouche, Bismillah, and Galileo. My condolences to that gentleman's primary school science professor.
Convinced the song is a hit, Mercury pays a visit to a gay radio DJ (Dickie Beau) to drum up support for its release. Clinking wine glasses conspiratorially, the two agree that it would be absolutely mad to play "Bohemian Rhapsody." It's nearly six minutes! Naturally, they allow themselves a bit of lunacy.
Their easy, winking rapport is a testament to the code shared between queer people, one which survives the cruelest of repression. That unspoken bond is what gives us community and continued hope through struggle.
Seeing Bohemian Rhapsody in an audience of brown faces, I knew that it was a rare opportunity for everyday Malaysians to see that queerness can be beautiful and radiant, even life-giving. I felt some of that love reflected back in the audience. After the movie was over, three Muslim women dressed in colorful headscarves stayed through the credits to headbang and strum their air guitars along with the music.
I'll never know which version of Mercury they saw on screen: the legendary bon vivant he was or the tragic figure his cinematic jailers wanted him to be. But I do know one thing: they knew all the words to his songs.
Amid a political moment where hope is in short supply, that feels like a start.
in Your Inbox

Subscribe to get a twice-weekly dose of queer news, updates, and insights from the INTO team.