Lesbians of all ages frequently lament the loss of dyke bars, asking why the staples of dyke culture and community become unsustainable as businesses. The conversation turns into placing blame on ourselves: We don't go out enough, and when we do, we're cheap. We don't make any money and so we can't support ourselves, so we don't. And when we do go out, we eventually meet our partners, and then hole up at home with our cats, waiting until Lesbian Bed Death ends us all.
But most articles attempting to provide ananswer to this question, which seems to be posed more and more as we lose the last ones standing, and major gay hubs like San Francisco, Los Angeles, and Chicago are void of lesbian-specific bars, arguethat we don't necessarily need them. This only exemplifies how lesbian bars were (and in rare cases, still are) taken-for-granted, oft-ignored venues until they disappear(ed) for good. Mourning and memorializing them has made for some much-needed conversation about what kind of gathering spaces we crave to be around our own communitylovers and friends but it's also ignoring the hard work that many women have been doing for years, all to bring us together for a damn good time.Reframing the conversation about our losses to instead talk about the future of queer women's spaces and nightlife will not only serve us better, but help to create more opportunities of what we want to experience.
"We've lost a bit of history in losing the lesbian bar, but we are also currently making history," Caryn Robinson tells INTO. Robinson has been DJing under the A League of Their Own-inspired moniker All The Way Kay since 2003, when she helped create the women's party Tittilating Tuesdays at the now closed Funky Buddha Lounge in Chicago's River West neighborhood.
In the last decade alone, queer women party promoters, DJs, and event throwers have been putting in tireless amounts of effort to make sure their communities had somewhere to go, meet, talk, dance, and just exist in a safe space. Titilating Tuesdays was one such place.
"It was of the first spaces in Chicago that offered a female-body friendly space in nightlife and gave us the opportunity to host queer identified musical acts like Lady Sovereign in smaller venue than you'd normally get to see them," Robinson says.
Titilating Tuesdays and later Dirty Girl Thursdays catered to a younger crowd of lesbians and bisexual women who couldn't find themselves in Boystown, despite the existence of what they deemed outdated lesbian bars of Andersonville, all of which have since shut down.
A Chicago-native, Robinson now spins primarily in Wicker Park's Beauty Bar where she throws the parties Salonathon, a weekly forum for underground emerging and genre-defying art, and Bump and Grindcore, a monthly queer R dance party. Her parties are not just for queer women, but she brings them in by providing a history of catering to their needs and wants for aninclusive, women-friendly atmosphere.
"There are definitely spaces I regret not having gotten a chance to play like Girlbar, Stargaze, Tomboy or T's because of their legacy," Robinson says of Chicago's now shuttered lesbian spots. But, she adds: "That history does follow us when we create queer space on established dance floors."
Los Angeles-based DJ Kim Anh agrees with that sentiment. Ten years ago, she created Booby Trap!, a women-centric space in NYC that she says was promoted as a lesbian club.
"Of course it wasn't meant to send the message that trans men and women, cis men and allies weren't welcome," she tells INTO. "It was meant to say 'this space is queer and women-centric and anyone who enters this space must honor that.'"
Last week in L.A., Anh launched her new RSVP only-party, Paradiso, which she describes as "all-inclusive queer space for women, trans, NB folks and everywhere in between." That kind of intentional inclusivity is what has also shifted our culture away from lesbian-specific parties, and into more generally all-queer spaces where women and other non-cis gay men are more comfortable than in the more general male gay bars.
"Within our own queer community, much like in the DJ world as a whole, cis men are dominating the spaces," Anh says. "I think that it is important for women to have our own spaces. I commend those promoters who have been able to remain a stronghold for queer women throughout the years. We are a marginalized community. It is not an easy job and it takes real commitment and love for the cause and community."
Los Angeles has seen its fair share of lesbian nights, and its queer women have several options on a monthly basis, but few that are regular and weekly. The only weekly night L.A. lesbians have is Altar-Girl at The Chapel, The Abbey's sister bar in West Hollywood. Run by long-time Girlbar vets Sandy Sachs and Robin Gans, Altar-Girl never has a cover, and brings in a rotating list of women DJs on Wednesday nights.
But other parties that happen once a month include Milk Milk Lemonade (rotating venues) and Whitney Day's Heartbreaker at The Standard. Other more all LGBTQ-pop-ups Cruise at The Eagle, Cake at The Virgil, Chinatown's Rumours, Lez Croix, and Sports Bra offer East Side alternatives, but happen somewhat more irregularly. Cities like Portland and San Francisco also host regular women-focused but all-inclusive parties such as Lez Do It and Hot Toddy, respectively, and queer women promoters in other major metropolises ensure that the locals have options, even if they might be fewer and farther between than in L.A. or New York.
Charlotte "CB" Glasser recently moved to Los Angeles from New York and, after four years co-producing the largely NYC-based queer party Hot Rabbit, is creating LGBTQ parties as part of her job as the Director of Marketing at The h.Wood Group, and under her production company, Your Plans Tonight.
"It's unbelievable to watch the events that have been successful for years pivoting to accommodate the ever-changing needs of our community," Glasser says. Originally from Boston, she began her nightlife career as a go-go dancer before moving to event production, and has hosted events for The Dinah and AquaGirl in Miami.
"I think it's important for nightlife brands and entities to listen to their audience's needs," Glasser says. "These parties are not for usI mean they are, but most importantly, speaking as an event producer, they are for the community at large. I can't make decisions based on the things that I like; I really try and think of the greater population, and ensure I'm taking into account all of their needs and wants for safe, and fun spaces and experiences."
New York and Brooklyn both have lesbian-specific bars that are still successful enough to keep their doors open. In Manhattan, Henrietta Hudson is the most well-known as it's also the oldest lesbian bar in the city. Owned byLisa Cannistraci, the bar is frequently hailed as the one that's stood the test of time; open in the West Villagefor more than 25years.One reason that the bar (affectionally referred to as Hen's by regulars) has been able to keep afloat, Glasser says, is that it hasn't stayed stuck in the past as many lesbian bars have been wont to do (largely because of an inability to afford or access the updates other venues can provide).
"[Henreitta's] has been existing and supporting the LGBTQ community for decades," Glasser says. "In the same token, Henrietta Hudson has continued to change with the times, and adjust to the generational gaps in a graceful way."
DJ Tikka Masala spent her early DJing career in 2004, mostly in mixed queer spaces in Brooklyn. Her parties That's My Jam and Sweet Revenge ran in Brooklyn between then and 2013.
"We would take over spaces in Brooklyn that weren't necessarily queer-owned or women-owned or any of that," she tells INTO, "just big spaces and fill them up with as many people as we could. It was very much like warehouse style, getting huge numbers of queers no matter what it was about except that it was inclusive."
Then she was offered a weekly DJ spot at Henrietta Hudson.
"That was the first time I had ever DJed at a lesbian bar," she says, "but it just seemed like what I saw around me that I really liked and wasn't used to seeing was an entire staff of women. Women getting paid, the management was all women, and suddenly, I just felt like there was so much to learn about the history of women in nightlife through the lesbian scene. I'm a dyke, so to me that was funny that it took me 10 years to arrive at that."
Now working as Henrietta Hudson's marketing and social media manager, Masala is a proponent of the lesbian space that she hadn't necessarily been before.
"We had been watching all the dyke bars close and I know that when I first started being part of the nightlife, I saw that decline but it didn't really affect me because I was in Brooklyn, which was more of a mixed queer mentality about socializing," she says. "It didn't really occur to me that that was happening on the other side of the river, you know? I didn't really even leave Brooklyn at all. Reentering at this moment where all the bars had already closed except for Hen's but when I started DJing for lesbians strictly in that way, it was kind of after that moment had already past. At the beginning, to me, it felt mournful because I felt like, did I just miss out on something? Was I in Brooklyn when I should have been here?"
She decided that she didn't have to make a decision between the two, and that they co-exist in a way that New Yorkers are lucky to have so many options.
"I had a different purpose when I was doing that work in Brooklyn, because it was really beautiful to see people coming in with trans identities, seeing people actually activate on ideas like intersectionality, that we would gather together in a way that lets everyone be themselves instead of categories we had created for ourselves," Masala says. "That is a really inspiring way to party, and I still do that in Brooklyn on a smaller scale."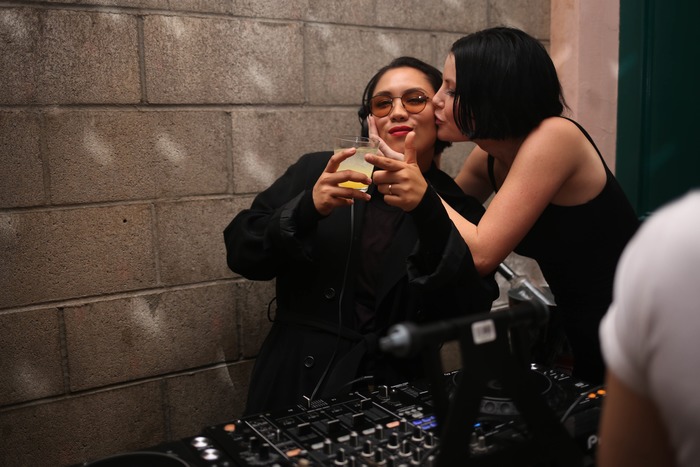 Despite lesbian bars being home to LBTQs who don't necessarily identify as "lesbian," the word has a stigma that created a kind of exclusivity many queer people weren't attracted to. Although attempts to reclaim lesbian from the kinds of negative ideas that society seems to have gleaned from a mix of second wave trans exclusionary feminists as well as the conservative rights' mythological stereotypes, "lesbian" still seems to carry a weight that even those who are lesbians in theory don't necessarily want to bear.
"The word 'lesbian' is very awkward and uncomfortable for a lot of people to begin with, so you start off with a branding crisis a little bit," Masala says. "When I started working at Hen's, I was at the same time working for the Astraea Lesbian Foundation for Justice, and they were kind of dealing with the same thinglike what do we do with this word lesbian? It scares people."
But the theoretical "lesbian-only bar" is often at odds with the space itself, as most lesbian bars have professed to be a welcoming space for members of the queer community. Masala says that is true of Henrietta Hudson, which has been around long enough now that it has seen several generations of queer women through its doors.
"One of the things I noticed right away about Hen's when I walked init was my first time there doing my weekly event, I was terrified because I didn't know what to expect," she says. "But the thing that I noticed that I think speaks to the resilience of that space is that there are many generations, and people who have been going there for a long time. It's a different thing from trying to convince a bunch of hip, young folks, to show up for something that is a fly-by-night party. What I see in the population is that it's not just this thing that came out of nowhere, it's been developing for years and years and years."
Like other lesbian bars, Henrietta Hudson is home to a more diverse age range than is typical of other nightlife options. With a broader range of hours and times where there is less party and more opportunities for casual conversation, an established brick-and-mortar catering to a specific community has long been seen as a temple of sorts. But even churches require their congregations to help keep up costs.
Should Henrietta Hudson or Seattle's The Wild Rose or one of the few other lesbian bars still in business close their doors, the reality is queer women will still find be able to congregatebecause of the queer women who refuse to let these spaces for communing die out. It can be more difficult, though, to chase them down if you don't know who to follow or ask. Word of mouth carries most of these events, with social media helping the spread.There's also the fact that queer people feel more generally accepted in non-LGBTQ-specific spaces.
"The culture has shifted, the opportunity to be out and open is more acceptable. Lesbian bars used to be secret societies, and now the focus is to making inclusive space," Robinson says. "Queer people have always the forefront of fashion, culture, music and art, but now we are being acknowledged and people see the value of bringing us into their space. Lesbian bars are still necessary and very important, but there is more opportunity to queer other spaces, which helps spreads the message of acceptance and could be a factor in fewer dyke bars."
Because gay men have so many bars that are inevitably catering to them, the larger, more inclusive LGBTQ parties that seem to survive and thrive have a strong women-centric crowd and are typically run by queer women, or have queer women heavily involved in the planning.
"I wouldn't argue that LGBTQ inclusive events are 'better' than the lesbian bars that we have lost," Glasser says. "I would say that they are a positive result of the LGBTQ nightlife evolution. There are pros and cons to having spaces that are specifically programmed and developed for niche audiences, and a completely necessary option that shouldn't be ignored.
"That being said," she continues, "an inclusive model for nightlife brings the community together, in a different way, but it is important to appreciate that model as much as the niche model. If the community as a whole would be more community oriented, and less competitive, it is my belief that we would be adding to our tiny, nuclear economy, as opposed to depleting it."
Robinson says that she sees Chicago's queer nightlife shifting in a positive way, with promoters like Party Noire throwing day parties at The Promontory on Chicago's near South Side, the opposite end of the city's more traditional (and expensive) gayborhoods.
"Organized by and featuring LGBTQ black women, [Party Noire events] are both dance party and cultural venue for black health, wellness and business ventures. They have built a strong community for black artists that previously wouldn't have been possible at the dyke bar," Robinson says.
Anh creditsAmber Valentine and JD Samson have been critical to creating safe spaces for queer women, especially in New York where they both throw regular parties: The Woods and Pat, respectively. She also shouts out the Discwoman collective, a three-woman DJ collective and booking agency.
"They are fearless, have heart and embody inclusiveness while still honoring women," she says. "They've made such an impact that no sector of the dance communityqueer or otherwisehas been able to ignore their message."
But what a lot of party planners can sometimes ignore or face as an obstacle is that hosting events inside non-women-owned or run spaces can contribute to the same problem that has helped to ensure lesbian bars have had to shut their doors. Not only do straight venues mean the spaces have the potential to be less safe, but they also end up being the biggest profiters off of a community who is struggling to support their own.
"What does it mean to be aware of the economics of the space as well as the audience that is showing up?" Masala poses. "When I was doing a really big queer pop-up in Brooklyn, and as great as it sells, at the end of the day, it's still straight white guys making most of the money at the end of the night. There is something a little uncomfortable about that, when you actually go into the logistics."
Perhaps it's more important than ever that the women running women-centric or inclusive events look to women or LGBTQ-owned spaces to host them so that we all reap the benefits. Women-owned venues can be more difficult to find, especially in "desirable" and gentrified areas, but should the effort be made, we'll inevitably be strengthening our own instead of contributing to the business owners who make it more difficult for us to inhabit spaces en masse in the first place.
"Money is powerful; money change people's lives, so it's one of these things where it's completely possible to support the queer community doing pop-ups, but that means a little bit of analysis of the part of the promoter," Masala says. "And sometimes it means being a little bit less selfish about what your revenue stream could look like. If you want a really huge event, and want to pack it with people, you might not be making money for someone who really cares about your community at the end of the night and that's a choice people have to make."
It seems the question we should be asking is not "Where did all the lesbian bars go?" but instead "Where did all the lesbians go?" And if women aren't helping to sustain women or queer-owned venues in general, then perhaps we really are a part of our own problem.
Being more mindful about where parties and events are held, Masala says, is integral to ensuring our community will find friendly and safe spaces that will also benefit us instead of another cis, straight man who already has the benefits of the patriarchy on his side.
"At a lesbian bar, everyone in the bar is a woman, for the most part, and most of the money made is flowing back into the community. But this is not always the case when you do a pop-up," Masala says. "But there is a way to do it. When I go to a bar in general, it always feels like work to me, but the first thing I wonder is who owns this place, who do I see working here? Do I see queer people? Do I see trans people? Do I see people of color? Do I see age diversity? Like who is place making itself welcome to and who is this place supporting.
"At its core, those questions get easily answered when you have a lesbian bar, because its more obvious," she continues. "It's not so obvious when you are making the decision to throw a pop-up in a space. Over the years I have gotten more discriminating and conscious about that, and actually working at a lesbian bar has given me the tools to understand and when I am in a space that is not a lesbian bar, I think about whether bringing revenue to this place is going to be good for the queer community at large."
Robinson says she's collaborated with women-owned production companies, like the Chicago Pride party Back Lot Bash and also had a monthly residency at the now-shuttered queer-women owned Parlour, but that there is a lack of women-owned/managed venues in the city.
"I believe the only woman-owned queer bar/nightlife venue left in Chicago is The Closet, which doesn't really throw many events that use a DJ or a performer because of space/capacity restrictions," she says. "I definitely make it a point to attend and support events thrown by women, and introduce myself to those doing the organizing; however, just like the bar scene they are kind of few and far between besides those already established here in Chicago."
Anh says she tries to work with local women and queer-owned venues as much as possible. Her underground night, Tendencies, began at a woman-owned warehouse.
"Booby Trap! was almost exclusively hosted at venues owned by queer women," she says. But:"Those spaces are no longer in existence."
The truest reason for the loss of lesbian bars is that women in general are having difficulty keeping their venues afloat, especially once they've helped to establish a neighborhood that they and their clients later become priced out of. (An example of this: San Francisco's beloved The Lexington Club, whose owner lamented no longer being able to afford the once downtrodden but now desirable area of The Mission.) The only way to help ensure that women and community-owned and run businesses stay successful is by seeking them out and supporting them as much as possible. Otherwise, we'll continue to benefit the same people who are directly profiting off of our lack of spaces to congregate and be ourselves, which is not so far off from when lesbian bars were owned and operated by the mafia.
Still, the women working to create opportunities for us to come together shouldn't be ignored for the sake of lamenting the loss of lesbian spaces, as they are consistent and persistent in providing them however, wherever they cananother integral part of our herstory.
"The most important thing to me is that the people who come to the event have an exciting and good experience. I'm never afraid to try new spaces and places," Anh says. "I have this belief that queer nights are like church. Whenever we take over a space we make it ours."
Photos by Cole Santiago