If only Judy can judge you, then call us your good Judies. Because The Kiki is here to judge some judges.
In this week's episode of The Kiki — the penultimate episode of the season! — hosts Kevin O'Keeffe and Mathew Rodriguez dissect the tenures of RuPaul's Drag Race's seven regular judges. Up for examination: Merle Ginsburg, Santino Rice, Michelle Visage, Billy B., Ross Mathews, Carson Kressley, and Todrick Hall. In the video, the hosts even rank them all — using RuPuns, naturally.
The Kiki also gets into how the changing in the judging panel has changed the show itself. What started as a looks-focused series has evolved into more of a performance-based one. You can thank Visage and Mathews for that.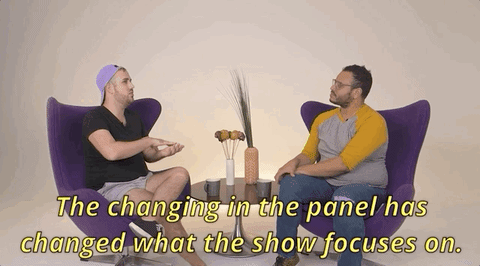 In addition, the hosts get into why Hall is a misfit as a Drag Race judge, the reason why Visage didn't come on until season 3, and how Mathews and Kressley's previous TV experience informs their individual approaches to judging.
Watch the full episode below.