Some call it "The Dinah," some just call it "Dinah," and others refer to it as "The Dinah Shore Weekend." But as of tomorrow, thousands of lesbians and bisexual women from all over the world will flock to Palm Springs, Calif.
What began as a gathering of gay women at the Ladies Professional Golf Tournament named after the heterosexual (and ironically homophobic) actress Dinah Shore is now the largest women's weekend in the worldlesbian spring break, if you will. The Colgate-Dinah Shore Winners Circle Tournament (later the Kraft Nabisco Championship, and now, ANA Inspiration) began in 1972.
In 1991, someone finally figured out how to capitalize on that very specific audience. Taking a cue from the annual white party for gay men in Palm Springs every year, party promoter Mariah Hanson threw her first Dinah party at the Palm Springs Modern Art Museum.
"Shenanigans ensued at the event," Hanson told PalmSprings.com in 2014. "A cowboy hat was stolen off a full sized artwork of a cowboy, some girls climbed up to the roof the the sculpture garden, and did a seductive dance. Needless to say, the museum powers that be were not thrilled with my corporation's idea of a cocktail reception."
The event proved so successful that it grew into its own yearly soiree, eventually becoming five days of DJs, dancing, and the inevitable hope for a same-sex hookup. This was especially the scenario in the Dinah's early iterations, as the '90s were not as friendly to flagrant displays of homosexuality or Sapphic self-expression unless lesbian chic was en vogue for the moment.
Hanson worked with Girl Bar creators Sandy Sachs, and Robin Gans from 1992 through 2005. After 15 years, though, Hanson split from Sachs and Gans, and until 2012, there were competing Dinahs the same weekend in Palm Springs: Hanson's Club Skirts The Dinah and Sachs and Gans' Girl Bar Dinah Shore Weekend. The latter eventually moved to Las Vegas for a short time before retiring altogether, all the Dinah community cared about was a reason to commune in the desert every April, just like they had when it was simply a women's golf game.
The split seemed to coincide with The Dinah's highest point of success. As The L Word finally made lesbians look sexy (and an episode focused on some of the characters enjoying the infamous pool and white parties), The Dinah started to enjoy bigger performers (The Pussycat Dolls! Salt 'N Peppa!) and press from The New York Times. At that time, The Dinah was marketed as "The most popular event weekend in the nation for lesbian women who enjoy parties, live music, lounging at the pool with thousands of other girls, or attending huge mega dance parties at night." In the mid-to-late aughts, there were multiple sponsors putting on events like lube wrestling and wet T-shirt contests. Showtime's reality show spin-off The Real L Word spent two consecutive years shooting scenes at The Dinah that relied heavily on the debauchery the weekend promised.
Because for a lot of women, what they are paying for has a lot to do with the promise of sex. As lesbian bars close all over the U.S., odds of meeting someone are surely much better at The Dinah.
Hanson tells INTO that she initially started The Dinah because she felt queer women were "underserved in the nightclub world."
"I envisioned massive dance parties, with quality performances, all intended to help us celebrate our unique identities and to create community," she says. "The vision has changed only in that we do it much better than I did 28 years ago."
In the last few years, The Dinah has changed its tagline to "the largest and most famous girl party music festival in the world," with the goal of altering its previous reputation of what The Times referred to as "Girls Gone Wild for Girls (and Marketing)."
"In the 10 years, I started booking more cutting-edge, potential breakthrough artists who brought their full band," Hanson says. "We in turn used less of the more common circuit divas."
Hanson might be referring to performers like Chakha Khan and Evelyn Champagne King, acts who might have appealed to the older crowd as those who came to early Dinahs inevitably partnered up and aged out of the party scene. But those divas that used to be on the bill were sometimes the only women of color booked or featured in marketing or promotional materials. In recent years, The Dinah hired acts like Iggy Azalea and Meghan Trainor for their late night party performances. Sometimes, it seemed Hanson and co. have been on the pulse (Lady Gaga just before breaking, in her "Just Dance" debut); others felt tone deaf (Katy Perry just as "I Kissed A Girl" came out, polarizing to some who saw her it as ironic that she was a straight woman singing about a borrowed experience lived by those in the room.)
In 28 years, mainstage Dinah performers (those who were headlining the White or Hollywood parties) tended to be white and, with a few exceptions, straight.
This year, however, there has been a noticeable attempt to change that. Queer acts Madame Gandhi and Brooke Candy are slotted, as are Latinx performers Snow Tha Product and Jessie Reyaz, and another WOC, Rapsody. They are smaller names then the past pop stars, perhaps, but the need to diversify is imperative for an event that has to constantly reinvent itself as more and more opportunities to meet other women present themselves in a culture steadily growing in LGBTQ acceptance.
Another reason why they might have found this to be so imperative is the appearance of another competitor: Krave Spring Break.
Whitney Mixter used to attend The Dinahfirst as a regular partygoer, than as the the star of The Real L Word. She was an invited guest for the next few years, a certified "celesbian," which The Dinah counts on for helping to raise their profile every year. Celesbians (or public-facing figures who are lesbian or bisexual or play them on TV or a web series) are invited to walk the red carpet at The Dinah's nighttime parties. In the past, this has included some big names: Ellen DeGeneres even came one year. More recently, it has become lesser-known YouTubers alongside performers contractually obligated to pose with Hanson.
Unlike some of her former castmates who still attend The Dinah, Mixter decided to create her own Dinah weekend experience. In its third year, Krave is now an official alternative that caters to a more diverse crowd―specifically, it speaks to queer women of color. Mixter is white, but her partner in Krave is Mishelle Ramos, a QWOC and party promoter based in Los Angeles. Together, they program a line-up of dancers, DJs, and performers that are almost entirely women of color. This year, out lesbian rapper Young M.A. will play their Saturday night party, with rap star Trina taking the stage on Sunday. The go-gos are also diverse, with masculine-of-center dancer Carter the Body on the line-up.
"The other parties that go on there―I don't think that the were trying to exclude people it's just that our crowd―we know how to cater to them and make sure they feel represented and celebrated in that sense, and just have artists that represent them that they're interested in," Mixter tells INTO. "In talking to people, it's been really rewarding to hear back from other people that since Krave has come around, exactly that has happened. People have said they feel a lot more comfortable just going outside of city limits, if you will. Palm Springs is kind of isolated in a sense and we want to make sure everyone is safe and represented in an environment they feel comfortable so that's what we wanted to make sure we created."
Kara Lewis, a 28-year-old QWOC who identifies as a lesbian and lives in Cincinnati, Ohio, says her mentor (also a QWOC) encouraged her to go to Dinah last year "as a lesbian rite of passage." But, Lewis says, "I had a heads up that Dinah was not so WOC inclusive," so the two purchased tickets to Krave.
"From my perspective, Dinah certainly needs some work on becoming more WOC inclusive because the majority of attendees were white or white presenting," Lewis says. "I never feel uncomfortable in these kinds of spacesI'm used to itbut I could tell by the music, presenters, venders, and performers and cliques onsite that this was catered more so to non-POC."
Vanessa Watson is a Black queer woman living in Hong Kong but from East Harlem, Ny. She says she found out about the Dinah through The L Word and went for the weekend's 25th anniversary in 2015.
"Palm Springs is very white and very wealthyyou feel it immediately," she tells INTO. "Dinah was mostly inclusive of queerness. My Blackness, not so much. From what I recall, most of the go-go dancers were either white or Latinx. The celebrities/celesbians are mostly white/Latinx. There were cliques of Black/POC folks, but we were definitely not the majority."
She did note that she saw a lot of QPOC working the eventregistration, security, behind the barsand that the biggest reason she believes this to be the case is the weekend's hefty price tag.
"Tickets are $260+, lodging is $180 plus a night, and you haven't even gotten to California or ate a single meal yet," she says. "The Dinah experience in and of itself is exclusionary. It's in Palm Springs and shadows a golf tournament… C'mon, now. Yes, there are Black folks who have those disposable funds…but I'm sure that we're not the first type of guest that the organizers are thinking of when they 'picture' attendees. It (Dinah) felt like a microcosm of the larger LGBTQ+ community. Black/POC folks are here, but we're not effectively centered/considered."
Stacia Holley is a Black lesbian who has worked in the women's festival circuit for more than 10 years, including as the event manager for Sweet Heat Miami, a women's weekend held in Florida. She has been to the Dinah twicethe first time as an attendee, the second two years ago as a guest invited by Hanson, whom Holley says "wanted to partner with other larger women's festivals in the US."
"My main focus was actually on events for QWOC when I started, as I didn't really know of any events like Dinah Shore but for women like me," Holley says. "Once other events began to see the success of the events we were producing, we were invited into their space. Beforehand, there wasn't much concentration on getting QWOC involved in attending events like the Dinah. The shift is interesting to watch, but that shift seems to be happening all over. Everyone is starting to see the buying power of the African American community.
Holley said she felt she was "definitely a minority there."
"There were not many melanin queens at the event overall," she continues. "I must admit that Dinah is known as the pride for white girls by those QWOC that have never been. And this is because it is a predominately white atmosphere in its marketing, in its hosts and DJs, and even event staff."
This year, however, there has been a noticeable change, as QWOC are more prominently featured in promotional materials. But before now, lesbian culture had so few large-scale events for lesbians and other queer women who don't have regular access to fantastical displays of gorgeous go-gos and proud gay women. It was very much like The L Wordthe only thing we had.
"There are not many women's festivals in the U.S., not to mention ones with such longevity as Dinah Shore," Holley says. "I think a lot of QWOC simply don't know about the Dinah. In the most recent years, I do feel as there is some confusion between Krave and the Dinah as they both take place the same weekend in Palm Springs."
Holley said she also attended a Krave party the last time she was at Dinah.
"The events are less expensive to attend, and their marketing is clear, with booking hosts like Remy Ma and Kehlani and having a mix of women in all of their promo, that it may be more QWOC friendly than the Dinah," she says. "The creators of the event include a QWOC (Latinx), and their target audience shows in their marketing." She noted it was a younger crowd, too.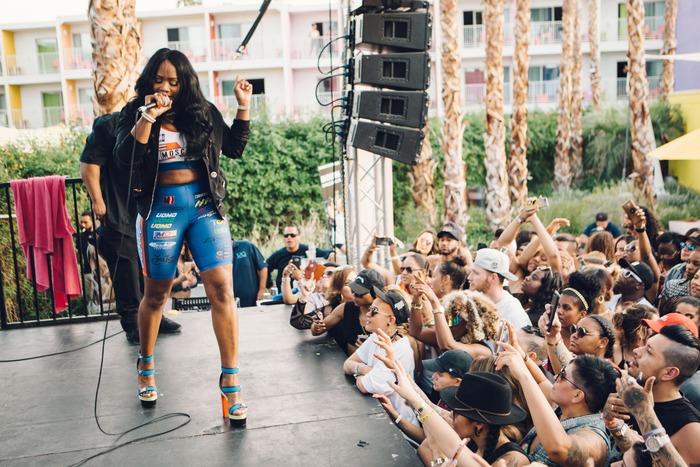 Still, Hanson says she isn't worried about the competition.
"The Dinah's magnitude has always drawn other smaller promoters out to produce unofficial parties around the main events," she says. "We take it as a compliment that we are inspiring others to help us bring women together to celebrate their identity and the more safe places available within the community the better. We view it all as community building. As often is the case, we enlarge our own audience as many of the smaller events attendees end up at our event. There is nothing like The Dinah."
A weekend pass for Krave is $175, while Dinah's is around $300 with taxes. Dinah has become more of an international destination for tourist types, with women from all over willing to save up for the trip, which is certainly costly when you consider flights, hotels, and food and drink on top of the party passes. But even those who were to come to Palm Springs just to see it filled with female energy can find free parties at other spots like The Ace Hotel, as well as houses and hotel rooms of welcoming strangers and friends alike.
Mixter says Krave caters to that local crowd―meaning women driving in from major cities like Los Angeles, San Francisco, and San Diego.
"We wanted to represent the parties we throw and produce every week, and we wanted to take that to a larger scale in the desert," Mixter says. "So basically we had all the tools to do so, we had all the connections to do so, the crowd to do so, and we decided to give it a shot. And when we did, we realized that it was received really well and it turns out a high demand for it. Our goal was to create something young, affordable, and fun as a new alternative."
Mixter says she and Hanson haven't spoken since she launched Krave, but she expresses a similar sentiment Hanson's idea that "more is more" for a growing crowd of queer women who aren't necessarily coming to Palm Springs for Dinah, but for the takeover.
"I don't know how she feels but I do think―I would like to say the words 'healthy competition' are good because it keeps people on their toes," Mixter says. "It makes you better and to strive for―it makes you not complacent in your normal goings on, and I think it makes everybody up their game. It's not in a competition sense; it's making sure you're really cognizant of what your customer wants and what the market is, and making sure that's priority as opposed to getting into a routine of things."
In 2017, The Dinah started their "party with a purpose" campaign, asking attendees to donate to the National Center For Lesbian Rights, matching a $10,000 donation from sponsor Tito's Vodka.
"I like the crowd I see these days," Hanson says. "Younger LGBTQIA people are infused with a greater understanding of inclusivity, diversity, tolerance, unity. It's really fun to infuse these ideas that really should be the norm into the event messaging and see such a positive response. I used to feel like I had to spoon feed our messaging subtly as it really was just a massive party without the political connection. But these days, our customers are all in. We all want to change the world for the better and for five days, we live like that wholeheartedly and take that sentiment home with us. "
The NCLR has held their own Palm Springs Garden Party during Dinah weekend. Hanson was honored by the organization in 2015.
Another change The Dinah made last year: The infamous White Party was no longer "white." Instead, they changed it to pink. This year, Hanson says, "The Pink Party is still The White Party with a little Panache. The dress code is white with a touch of pink."
"I think it was lacking diversity for a while," Mixter says of The Dinah. "It kind of trickled out, and so I think [Krave] definitely made a shift into a more positive presence."
But with a renewed interest in "purpose" came some problematic elements for a weekend that was initially one big party, helmed by upper class white women.
Anita Dolce Vita is the publisher and Editor in Chief of Dapper Q, a site dedicated to queer style and empowerment specifically for masculine presenting women and trans-identified individuals. She has never been to Dinah, but in 2016, Hanson approached her about staging a queer fashion show like the ones Dapper Q puts on at the Brooklyn Museum every year.
"Quite frankly, [The Dinah] never appealed to me as a queer Black femme," Vita tells INTO. "I didn't really see myself represented in the pictures and I heard that it was very cliquey.' Additionally, I find it to be very expensive and am looking for a more well rounded cultural experience when I travel."
But she'd considered the trip and the show (with theme of "resistance"), until she found Hanson expected her to produce the show for free.
"When they asked on the phone if we were interested, they added that they 'heard' that our team pays for our own flights and accommodations when we do traveling shows," Vita says. "Where they heard that from is beyond me because that is never the case. When we pushed back, they offered only me a flight and to share a room with another performer, but zero dollars for myself or any production team to actually produce a show, which I found absolutely insulting as a queer femme of color who produces the largest queer runway showsthat they wouldn't compensate me for my labor while paying other performers."
Vita says that she countered The Dinah with a fee that would cover "everything from identifying designers, marketing/promotion, taking time off work to travel and work for Dinah instead, coordinating music and visuals," and received an email response "stating they didn't have a budget and were likely scrapping the fashion show idea and brainstorming on other ways to promote the lesbian fashion industry."
"Then they asked me for my recommendations of what designers they should showcasing … and then ended up having a show anyway," she says.
Vita shared her experience in a Facebook post, where Vita commented she's "not interested in reproducing capitalist power structures where a small group of people make obscene amounts of money by taking advantage of talent without compensating, are not transparent about it, and/or create an illusion that this greed is in the name of community. That is not what intersectional resistance looks like."
"You can't be truly community oriented if you don't want to pay QPOC folks for their labor in order to advance your own financial success behind the scenes," she continued. "The community is what made that community oriented, not the obscene profit and short changing of talent. We didn't reach out to them. They reached out to us, meaning they saw value in what we do but didn't feel it worthy of compensation."
In the same post, she noted the Dinah has "makes tons of money and has been around for almost three decades."
"They have the money to support queer women of color run platforms that are doing activist work every day to ensure the economic viability of queer style brands and the celebration of our bodies. I honestly want to know why they thought asking a woman of color to work for freewhile they had the money to pay other talentwas an act of intersectional resistance? "
Hanson didn't give an exact number of attendees she expects this weekend, outside of saying, "This is going to be one of our larger Dinahs."
"The economy is good and in this political climate we so need to take a break now and then and The Dinah helps to offer a respite and a promise that it will get better," she says.
Mixter says that she expects between 4000 and 5000 women to attend Krave this year. And while she may no longer be attending The Dinah, Hanson still uses The L Word and The Real L Word as a draw. Almost ever year, there's an L Word pool party, despite the show having been off air since 2009, and The Real L Word since 2012. Among her castmates, Mixter is one of the most recognizable and active, and has parlayed her time on camera into creating lesbian nightlife and events in L.A. and the Bay Area, as well as hosting others around the world. Her regular presence and dedication to the community has given her parties an authenticity that is similar to what some might feel for Hanson's Dinah, in its origins and possibly its evolution.
"The presence of Krave has overall upped the quality of Dinah Shore Weekend as a whole, on both sides of things," Mixter says. "It's aways smart to have different options for people. It promotes diversity; it's more opportunities for people. It's kind of like more the merrier. There's plenty of lesbians to go around, that's for sure."
images via WikiCommons, Getty, and Krave