The nominations for the 70th Emmy Awards have officially been announced, and this year is pretty damn queer, from the variety of out performers that were nominated to the prestige television shows that use queer themes and imagery to tell more complex stories. LGBTQ narratives are often reduced to coming out stories, with queer and trans characters lacking a personality outside of their identity. These series and networks, however, show what a queer future for television can look like.
LGBTQ Nominees
Evan Rachel Wood — Westworld
Wood has been nominated for her lead as robot revolutionary Dolores Abernathy. The actress is is very vocal about her bisexuality and also comments often on LGBT issues within Hollywood. She also posted on Twitter about how she was disappointed when a part where two female characters kissed was cut from the show, but assured everyone that she would continue advocating for LGBTQ representation on the show.
This is Wood's third nomination to date, but she has yet to win.
Sarah Paulson — American Horror Story: Cult
Paulson has been with the American Horror Story anthology since the first season and continues to be a shining star during every installment. This nomination follows an already big year for Paulson as she starred alongside an amazing cast of women as a member of Ocean's Eight.
This is Paulson's seventh Emmy nomination, and she's got one win under her belt.
Kate McKinnon —Saturday Night Live
Speaking of queer women taking over Hollywood, Kate McKinnon continues to be the powerhouse of Saturday Night Live. In 2016, she starred in the reboot of Ghostbusters and next month she'll star opposite Mila Kunis in The Spy Who Dumped Me.
This is McKinnon's sixth nomination and she's won two Emmys.
Jane Lynch —The Marvelous Mrs. Maisel and Hollywood Game Night 
Lynch has been a little off the radar since her iconic role on Glee, but has clearly now bounced back into the spotlight with not one, but two Emmy nominations. She is nominated for her supporting role on the Amazon original series The Marvelous Mrs. Maisel and her hosting of Hollywood Game Night.
Lynch has won four out of 10 Emmys she's been up for.
Samira Wiley —The Handmaid's Tale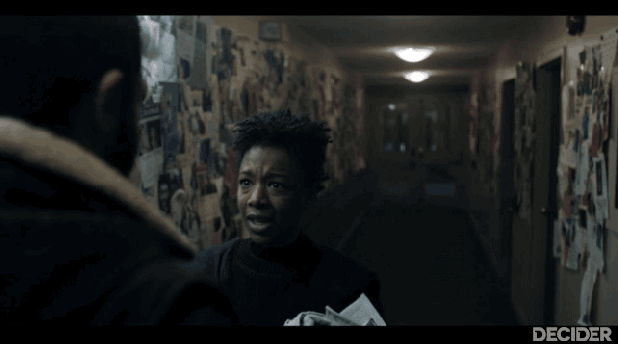 Thank god Samira Wiley is still being appreciated and acknowledged. Wiley has lived in our hearts since her big debut on Orange Is the New Black as Poussey Washington, and when (*spoilers*) she was killed off, many fans were disappointed. It's nice to see that her success and her talent live on! In addition, Wiley is one of the only queer people on this list who were nominated for playing queer characters.
This is Wiley's second Emmy nomination.
Wanda Sykes — black-ish
Sykes is without a doubt one of the most iconic queer black women in Hollywood. She is nominated for her recurring role as Daphne Lido, Andre Johnson's boss in the show. One of her other recent projects has been in Bianca Del Rio's 2018 comedy film, Hurricane Bianca 2: From Russia with Hate.
This is Sykes' ninth nomination and would be her second win.
Ellen DeGeneres —Ellen's Game of Games
DeGeneres is perhaps the least surprising name on this list, but what she's nominated for is a little more surprising. Instead of her usual talk show, the nomination is for hosting Game of Games, a comedy game show that she produces. (I didn't even know this show existed until writing this article, but work.) 
Ricky Martin — The Assassination of Gianni Versace: American Crime Story
Yup, the Puerto Rican pop daddy was nominated for an Emmy. Although Martin is known for his iconic music, he is not completely new to acting. He has had guest appearances on shows like General Hospital and Glee as well as a role in the telenovela Alcanzar una estrella II.
This is Martin's first Emmy nomination, but since he already has a Grammy, he's one step closer to his EGOT.
Tituss Burgess — Unbreakable Kimmy Schmidt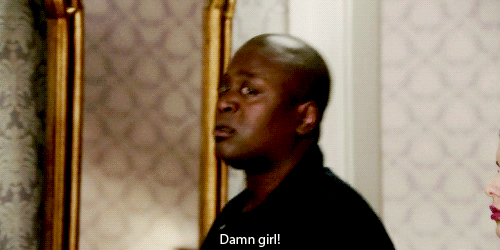 Burgess has undoubtedly been the most talked about part of Unbreakable since Season One. I mean, who doesn't use the phrase "white nonsense" in their everyday vocabulary now?
This is Burgess' second Emmy nomination.
RuPaul — RuPaul's Drag Race
RuPaul's cultural reach, especially over the last few years, is wild. In addition to Ru's nomination as a host, Drag Race itself is nominated as well as Untucked. In addition, it was recently announced that the Season 10 finale was the most viewed to date and Ru will also be piloting a new talk show.
This is RuPaul's fourth nomination. He's won twice before.
Tim Gunn — Project Runway
Gunn has been the consistent gay voice of television and the inspiration for many gay fashion design students for almost 15 years. Although he's known for only really one thing, he is very good at that one thing. Project Runway is going into its 17th season and has no end in sight. The show itself is also nominated for an Emmy.
This is Gunn's 12th nomination, an award he's previously won once.
Lily Tomlin —Grace and Frankie
Tomlin, aka our gay mom, is nominated for yet another Emmy for her role on Grace and Frankie, where she stars opposite Jane Fonda.
Tomlin's filmography goes back decades, so it is not surprising that this is her 25th nomination, and she has won six other Emmys.
Cherry Jones —The Handmaid's Tale
Jones is a pretty well-rounded actress, but she is best known for her work on Broadway. She is a five-time Tony Award nominee and has won the award twice. First for her 1995 revival of The Heiress and then for the 2005 Doubt.
She is also no stranger to the Emmys; she has one win, for her role on the FOX show 24 of all things. This is her second nomination.
In addition to LGBT actors, the Emmys also feature multiple shows with queer director/producers, queer characters or queer plot lines.
Queer Eye
Netflix's reboot of the 2003 Bravo show has been extremely well-received. In fact, they've released two seasons just in 2018. The Fab Five have become popular icons in the mainstream media and many of the episodes have positively resonated with both straight and LGBTQ people alike. All of that to say, it is no surprise this show is receiving a nomination.
RuPaul's Drag Race and RuPaul's Drag Race: Untucked
The empire grows. As mentioned above, this has been a huge year for the Drag Race empire. In addition to the successful rating numbers, the series has also been franchised into Drag Race Thailand and World of Wonder, the Drag Race production company has also been producing The Trixie and Katya Show on Viceland.
Portlandia
The final season of Carrie Brownstein and Fred Armisen's weird comedy child was nominated for an Emmy. The IFC critical darling has been on since 2011 and concluded in March 2018. Although people probably wouldn't think of the show as queer, Brownstein is openly gay and was a huge part of the producing, writing and acting throughout all eight seasons — an opportunity that is rare in the comedy world.
Alexis Bledel and The Handmaid's Tale
Hulu's perhaps not-so-distant dystopian future drama has been well-received by both critics and fans alike. The show itself is one of the most nominated shows in 2018, raking in 20 nominations total.
Bledel, who plays a lesbian character in the show, was also specifically nominated for her role. The sexuality of her character is a main part of her story.
Darren Criss and The Assassination of Gianni Versace: American Crime Story
The second season of the crime anthology American Crime Story has been another dominator in this years Emmy Awards. The story follows the murder of Gianni Versace.
Darren Criss plays the gay killer, which I guess counts as diverse representation? He also reacted emotionally to his nomination in a tweet, saying how happy he was to be nominated along with other performers he admired. Five of the other stars from the series have been nominated for Emmys as well, including Penelope Cruz and Ricky Martin.
Sandra Oh in Killing Eve
Killing Eve is a one of a kind show featuring a lot of lesbian symbolism. The relationship between Sandra Oh's lead character and her playful enemy is interesting and unique for the thriller genre.
As the lovely Trish Bendix writes for INTO, "Without spoiling too much, Killing Eve is full of surprises, and one of the gifts from Waller-Bridge is that every relationship across gender is up for interpretation. The possibility of sex, romance, disdain are open for any two people, something that is too-often defined by gender roles and hetero expectation on modern television."
In addition, Sandra Oh is the first Asian woman to be nominated for an Emmy as a lead in a drama series.
Megan Mullally in Will & Grace
Even though she's not one of the gay characters, Megan Mullally's iconic character Karen is probably the gayest part of Will & Grace. Mullally is a brilliant comedy actress and although she's had a vibrant career after the first run of the show (having a recurring role on Bob's Burgers and Parks and Recreation), it's hard to top Karen Walker.
She has been nominated eight times and won two other Emmys for playing Karen.
Merritt Wever in Godless 
Godless is another interesting series that focuses on a mystery town that is populated entirely by women. The tagline for the seven-part show is literally "Welcome to No Man's Land," so I think we can see what they are going for.
Merritt Wever plays Mary Agnes McNue, the wife of the sheriff who ends up taking over for him — a badass. In addition, Mary also has a relationship with another female character. 
Ron Cephas Jones in This Is Us 
Jones role as an older gay black man in This Is Us was highly regarded as the first of its kind. Although not a huge acting role, the character's story resonated with a lot of fans and was part of an important plot in the show's first season.