Pride month is in full swing and there's so much to be proud of, celebrate, and enjoy. That might seem a tad bit difficult when the media continuously highlights anti-LGBTQ+ sentiment in the United States, but art director and Illustrator Shanée Benjamin (she/her) knows there's power in finding joy during trying times. Born in Brooklyn, Benjamin has a decade of design experience shining a light on Black queer joy and building community through her art. Now, she's sharing her brand of joy through her latest collaboration with Skittles.
As one of five artists selected, Benjamin designed a pride-themed package with her artistry front and center for the rainbow-colored candy's national pride campaign. Benjamin joins fellow queer creatives Zipeng Zhu, Symone Salib, Mady G, and Bianca Xunise, as they remix Skittles' signature rainbow to showcase their artistry and celebrate Pride. Additionally, each package comes with a QR code that leads purchasers to Skittles' Pride site where they can learn more about each artist, why LGBTQ+ stories matter, and, from now until mid-July, Skittles will donate $1 (up $100,000) to LGBTQ+ media advocacy organization GLAAD with each package sold. This pairs with their collaboration with Audible, and partnership with LGBTQ+ comedian and "A Million Little Things" star Cameron Esposito, to increase access and visibility to LGBTQ+ stories this summer.
INTO spoke with Benjamin about her artistry, her new collaboration with Skittles, and what Pride means to her as a Black queer woman.
You have over a decade of experience in design illustration, but how did you get your start in this field?
Well, I went to college for set design. I was a theater kid and then I took, for one of my electives, I took [a class] called Desktop Publishing where we were learning design and photoshop and I absolutely fell in love. And I also realized, when I went home that summer, that I had a passion for magazines. I would save every single Seventeen magazine, like years worth. I would save them and I would always rip out my favorite pages.
So, I switched my major to graphic design and then I graduated as a graphic designer. I came back home to New York after college and I started interning. My first internship was at Afropunk, which is really, really cool, back in 2013. Then, I kind of stepped my foot into the corporate world, working with a bunch of different brands, from fashion to lifestyle to beauty to technology and fitness.
Then, it was the summer of 2018, I quit my full time job as an art director. And I said, "I don't want to work for corporate anymore." I had been illustrating, at that time, for about six months and it was only something I did after work as a way to relax. After I got my very first job at Vox Media and I was like, "Whoa, this is really fun and I really love it." I quit my job and I just became an illustrator. This is just who I am now and I love it so much. And I feel so, so grateful that I get to draw every day for a living.
How would you describe your artistry?
I would say first and foremost, my narrative is expressing Black joy. That is something that I'm very passionate about. Growing up, you know, everybody's mom has that painting in their house of the Black woman and the piano, you know. My mom has that and I love it. And I started to notice that a lot of Black art that I saw was very solemn. I didn't feel joyful. There were some pieces that feel joyful, you know? But like, I really wanted to, like, really encapsulate Black Joy, Black queer joy, just Black narratives, and just being happy itself. So that is my ministry when it comes to art. So whatever way we find joy, whatever way I find joy is a Black woman. I love to express that through my illustrations.
Related:
How did your Skittles collaboration come to be?
So last year, Skittles actually reached out to me and they asked me if I wanted to be a part of their LGBTQ Pride program, where they lend us the bag and we add our colors for the bag as our narrative for storytelling. Being that I'm a '90s kid, Skittles was one of my favorite treats growing up. I'm obsessed with the orange one. I would literally just take out all the orange ones and just gulp them up.
I'm like, "why not?" This is the coolest thing in the world. Who wouldn't want to design your own Skittles pack? And it's celebrating being queer and you get to celebrate being a Black queer person? That's dope. So for me, it was an automatic yes. As I worked with the team and I shared my artwork, it was just a very symbiotic process. So it was just a natural collaboration for it.
It's such an amazing thing to be able to share that with the world. Whenever you see your artwork on different brand collaborations, do you still find yourself in awe? Does it ever hit you like that? awe awe
Sometimes it does and sometimes it doesn't. I've read that some actors when they do a TV show, they don't watch their own series. Sometimes I've done that with projects where it's like I have no idea what it looks like. I'm happy to submit the art and I thought it was really cool. But physically seeing [my artwork] in a product, like physically holding it in my hands and knowing from head to toe exactly what a Skittles Pack looks like and knowing that this is my take and my narrative on a Skittles pack, this is a wow factor to me. I am so excited to go to my local stores and try to find them. So yeah, that wow factor is still there. It's really cool.
Now that it's Pride month, I have to ask, what does Pride mean to you?
Pride to me has meant so many things over the years. As I grow into more of an adult and I grow more comfortable within myself, Pride for me is just really living authentically. That's what Pride is to me. Me just talking here is Pride. Me going outside knowing that I'm Black queer woman and I'm doing my stuff, that's Pride for me.
That is how I feel now. When I was younger, I was really, really into visibly showing pride and I think that's extremely important because people need to be seen. They need to feel seen and be heard. But as I grow, I find that my pride also is shown in the businesses I shop with, the companies I work with, the people that I have in my family circle, because you know with queer people, we create community. That is how I show pride in my everyday working life and waking life.
Lastly, do you see your artwork as a form of activism for queer people?
Just me being a Black artist, a Black queer woman working with these big corporate brands and having my artwork placed on these products and in spaces where everyone can see it, that itself is like my activism. Do what you want, but guess what? You still gonna look at me at the checkout line, you still gonna see my [Skittles] pack at the checkout line, and you still gonna see queerness. I'm still here. So that's how I see it.♦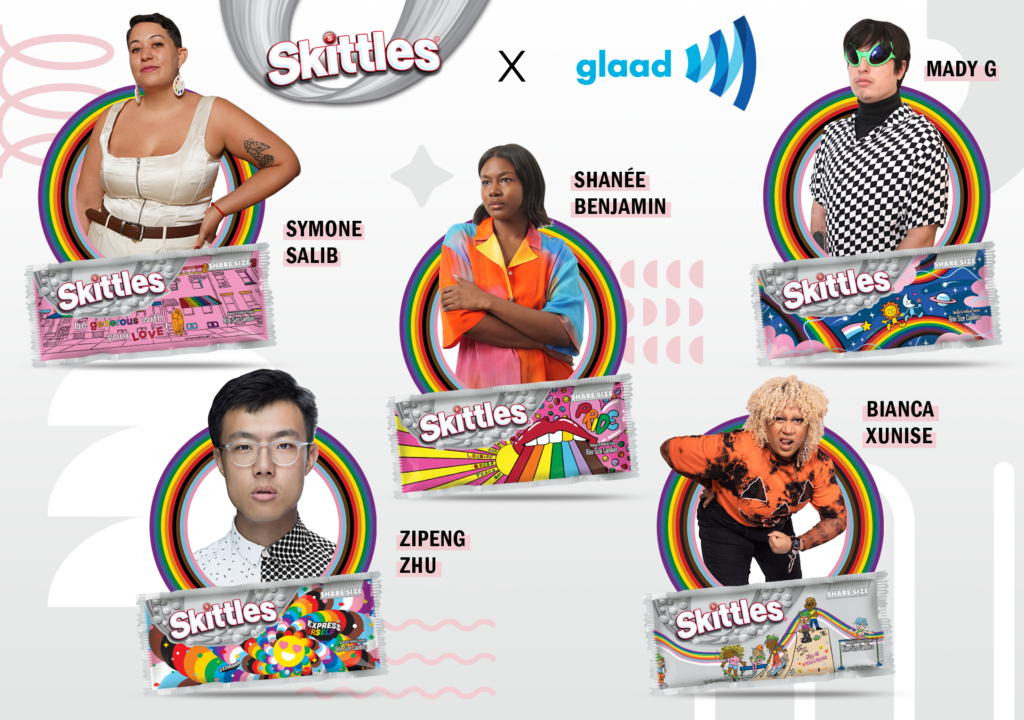 Related:

"Well, I just wish people didn't stop at our identity. We are creative. We have made so much out of nothing."
Read More in Entertainment