Going to my first-ever New York City Pride parade in 2017, I only had one goal in mind: catch a real-life glimpse of Abbi Jacobson and Ilana Glazer on their Broad City float. You would think I might have aimed for more, maybe a conversation with either one of the comedic duo – but no, merely seeing them in the flesh was enough for my 18-year-old self. 
Pressed up against the fences blocking off the street, I was closer to touching the lifestyle of queer and female comedians than ever before. It was a high: with no screen or pixels between us, I put my hands out to Abbi and Ilana as their float crawled by too fast for my liking. Soon, our brief moment came to an end. Though not a word was exchanged, I met both sets of eyes to hold their attention with my fangirlish screams. And I carry that with me. 
My long-distance love for the Broad City co-stars stands to this day. Following Abbi and Ilana's wild successes, it has been a fairly easy relationship to maintain – they are the supply and I, the demand. Up to this point, I've always been content with being a silent partner in our imaginary throuple of besties. That is, until I got around to reaching Abbi Jacobson's most recent book I Might Regret This: Essays, Drawings, Vulnerabilities, and Other Stuff. 
The book itself is really quite beautiful.  Text flowing like a stream of consciousness, I Might Regret This is impishly silly at times, deeply heartbreaking at others, and hopeful throughout. Led by Abbi's narration, the book detailing her own cross-country roadtrip is divided between personal drawings, essays, and a few listicles. All of the different mediums are neatly tied together with the single storyline of Abbi Jacobson's first time falling for a conveniently unnamed woman. The story truly takes off with Abbi's related attempts to escape the crushing heartbreak. 
Text flowing like a stream of consciousness,

I Might Regret This

is impishly silly at times, deeply heartbreaking at others, and hopeful throughout.
Try as she might throughout the text, Abbi cannot seem to outdrive the memories of a love lost: so she brings the reader along for the tumultuous ride. Her musing easily takes on the voice of a close friend and, having read the collection in a single sitting, it was almost as if she gradually materialized right into the room beside me. After turning the last page, I did the same with my body to face the imaginary version of Abbi that I had conjured up. Then I chucked the book at her like Bradley Cooper in Silver Linings Playbook. Of all the three hundred and thirty-six pages on heartbreak, not a single one pertained to the end of relationship revenge my cynical heart demanded from the story. 
Though Abbi tenderly assures the reader "It's okay," on many occasions, my temper tantrum in response convinced me it was not. Here was Abbi Jacobson, Emmy Winner, and creator of a raunchy female-led comedy, having her heart broken and I didn't even know who to blame for it. After placing the Broad City star on the top of my own personal pedestal, I vowed to find out who broke Abbi Jacobson's heart. The mission began not because I am a particularly righteous person, but because Abbi's willingness to be vulnerable in the text made me believe I was entitled to know – though of course, I'm not and I never will be. 
Still, the undeniable gravity of Abbi's heartbreak pulled me in, poking parts of myself I thought were long since healed. With my own intense emotions slowly coming into play, it wasn't long before the internet's black hole opened up beneath me. Minutes stretched to hours but by the time I noticed I was plummeting into unmarked territory, it was already too late. In pursuing someone else's deliberately withheld truth – something I had no right to do – I discovered much about myself. None of it pleasant. 
Upon a single vindictive google search, it became apparent that much of the internet – specifically the celebrity gossip trend of "celesbianism" – had their suspicions about who broke Abbi's Jacobson's heart. In 2016, Autostraddle's celebrity gossip column No Filter ran a piece suggesting Jacobson had a "thing" with none other than Sleater-Kinney legend and Portlandia indie darling Carrie Brownstein. Two days later it was trending news amongst most digital outlets with the likes of Nylon, Mashable, and Slate picking up the story. Neither confirmed nor denied by the suspected pair, the rumor dissipated from mainstream media and was left to die on lesbian discussion boards like the L Chat. 
The mission began not because I am a particularly righteous person, but because Abbi's willingness to be vulnerable in the text made me believe I was entitled to know – though of course, I'm not and I never will be. 
Attention was redirected once again directed towards Abbi's love life when she casually came out as bisexual to Vanity Fair in April of 2018, "I kind of go both ways; I date men and women." Using a hilariously outdated phrase, Abbi affirmed she swings both ways but she's much more interested in her partner's passions than gender, "They have to be funny, doing something they love. I don't know—I've never really been interviewed about this before." 
Now a queer star out in Hollywood, theories about Abbi's possible partners circulated without much prompting. Absolutely nothing at the time was certain but anything and everything the actress did on social media was put under a microscope – the pictures she liked, the people she followed, and the captions she wrote. Then, Abbi published I Might Regret This on October 30th, 2018; and although she never mentions Carrie Brownstein by name, the soul-baring honesty of Abbi's anecdotes makes it so there is little about her mysterious lover left to the imagination. 
Come the third essay of I Might Regret This – a chapter titled "Heartbreak City," Abbi is quick to outline the dynamics of the narrative surrounding her heartbreak, "I had never been in love before." With the very first sentence of Heartbreak City, she sets up the progression of her unexpected romantic relationship as a series of new and surprising experiences. The first surprise stands to be the act of ever even having fallen in love itself. The confession and surprise of which neatly lines up with a similar admission made in Abbi's first novel, Carry This Book. 
A comparison of the two confessions in

I Might Regret This

and

Carry This Book

creates a chronological timeline of Abbi's heartbreak.
Within the Epilogue of Carry This Book, published in October of 2016, Abby muses over the process of her first novel's making, "The process of making this book, and the five months that have gone by while I drew these pages, have been so incredibly significant to me. I moved….I fainted and smashed my face into the counter (stitches). I wrote season four of Broad City….. I fell in love. I surprised myself." Given Abbi's absolutism in describing the experiences of I Might Regret This as her first and only time falling in love, her confession in Carry This Book denotes the beginning of the very relationship that would later become her first heartbreak – and the plot of her second book. 
A comparison of the two confessions in I Might Regret This and Carry This Book creates a chronological timeline of Abbi's heartbreak; the construction of which is backed up by the author's own account of breaking her nose as it's found in both texts. Amidst the list of life-changing moments that occurred while writing Carry This Book, Abbi recalls, "I fainted and smashed my face into the counter (stitches)." When writing her account of heartbreak, published two years later in 2018, Abbi pinpoints the breaking of her nose as a landmark for the beginning of a relationship with her first love, "In the beginning of the relationship right when we had started talking, me and her, I was alone and fainted in my apartment, smashing my face on my kitchen counter."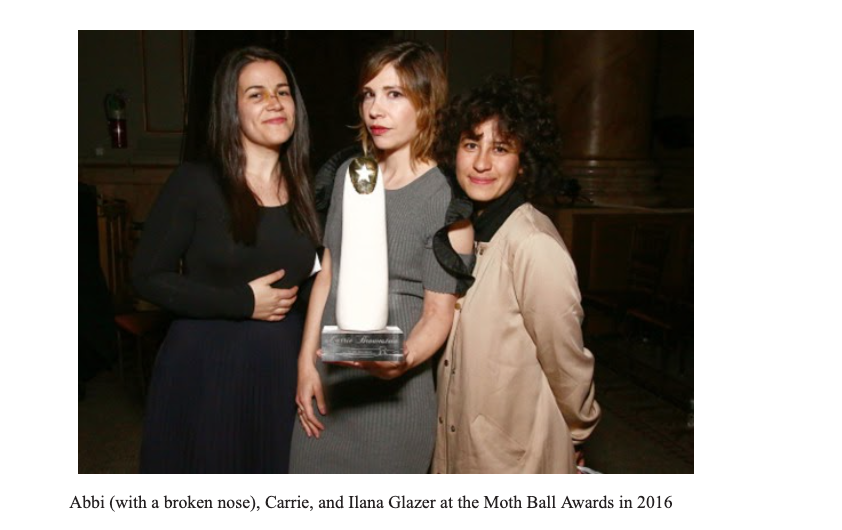 As the memories of each novel come together to create a timeline, Abbi's first time in love is dated back to 2016. And as we go back in time to 2016 with Abbi's own anecdotes in I Might Regret This, all signs point to Carrie Brownstein as the official heartbreaker. Deep in the memory of her first love, Abbi writes, "I had never let anyone in this far, had never brought anyone home for the holidays before…" In 2016, on November 25th, Twitter user @SamBerkowitz tweeted Carrie Brownstein, "Hi Were you at Manillas Diner in Wayne, PA?" A day after thanksgiving, Carrie Brownstein is spotted in Wayne, PA – a location better known as Abbi Jacobson's hometown. 
After an invasive deep dive on the Internet, I finally named Carrie Brownstein as the person who broke Abbi Jacobson's heart. But somehow, I didn't feel better – I felt worse. Somewhere along my quest for Abbi's revenge, it became about myself. I don't know exactly when, but while reading I Might Regret This: a story of loved loss, I made myself the main character. I felt Abbi's pain and equated it to the experience of my own first love and subsequent heartbreak- something I was sure I had moved past long ago. Come to find out, my desire for Abbi's revenge was really a desire for revenge of my own; a bitterness that is in no way related to Abbi and Carrie's relationship but the idea of a relationship in general. 
Led astray by my own sour experiences of love, I did not understand how Abbi could write the story of her heartbreak without directly calling out the one who did it. But in deliberately withholding Carrie's name, Abbi Jacobson taught me how to let go and forgive. It is only then that I learned I Might Regret This is not necessarily about love lost, but about the love we continue to find in spite of said loss – the reception of which I Might Regret This proves will come whenever you alone decide you're ready to find it.♦
Read More in Entertainment