Out of all the many, many comic book characters whose sexualities we love to speculate about, Batman's Robin is pretty high on the list. Bruce Wayne's young sidekick, who is often shown in underwear, tights, and a body-hugging tunic, has always been something of a queer icon. Today, however, he's coming out of the closet for real, thanks to a new DC Comic that has the character finally, FINALLY owning up to his bisexuality.
Tim Drake, who is in fact the third canon Robin of the long-spanning series, first appeared in the comics in 1989. The first Robin, Dick Grayson, went off on his own to become Nightwing, while the second Robin, Jason Todd, met his tragic end when he was beaten up and left to die in an explosion by the Joker. Tim Drake has held on since 1989, making this new coming-out an exciting choice for such a classic character.
The origin of Robin-as-character is a pretty interesting one, too. Originally conceived of to bring more kids into the originally dark, gritty story and build a younger fanbase, Robin was created as a way to externalize Batman's inner musings. Instead of having him think all his feelings via thought bubbles, he could now say them out loud to his sidekick Robin, which is a bit more of an engaging way to tell the story of a hero who's so internal and silent. 
And then, at some point in time, this happened!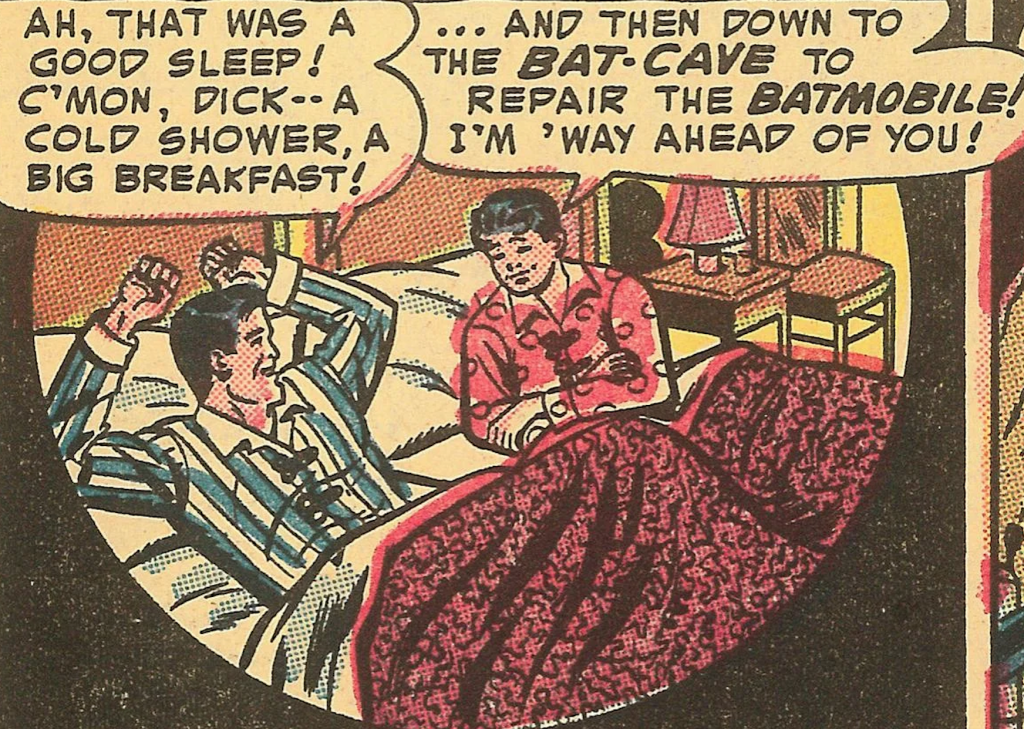 That's right, those boys started sharing a bed sometime in the 60s. And that's not all: there's a whole culture devoted to unpacking the queer subtext of the Batman-Robin apprenticeship. 
Batman: Urban Legends #6 – by Meghan Fitzmartin, Belén Ortega, Alejandro Sánchez and Pat Brosseau, recently thrilled queer audiences by showing Robin #3, Tim Drake, being open to a relationship with a man. After rescuing his friend Bernard from kidnappers, Robin has an epiphany about his own desires. When Bernard asks Robin out, he says yes!
URBAN LEGENDS SPOILERS

TIM DRAKE IS CANONICALLY BISEXUAL I ACTUALLY SCREAMED WHEN TY TAGGED ME IN THIS IM SO FUCKING HAPPY RN pic.twitter.com/UlGxFGMz4z

— andrew/benji 🧸 (@BenjiLikesMyths) August 10, 2021
Tim Drake finally coming out is so inspiring, DC never wanted a queer Robin but after years and years of campaigning from writers and fans it finally happened

A big thank you to Meghan Fitzmartin, Belén Ortega and Alejandro Sánchez for making this moment so beautiful ❤️ pic.twitter.com/xb5YugEYd9

— Neb | 🏳️‍🌈 (@NebsGoodTakes) August 10, 2021
What's next for our masked hero? A date at the Gotham Mall? Perhaps a trip to Gotham Pride? Whatever happens, I'm fully here for it.
Read More in Entertainment
in Your Inbox

Subscribe to get a twice-weekly dose of queer news, updates, and insights from the INTO team.