When it comes to LGBTQ+ representation in games, a broad playerbase is everything. While it's nice to have queer stories making their way onto dedicated gaming consoles, the stories that have the best potential to reach people, change minds, and introduce new players to the magic of video games are those that anyone can access on an everyday platform. And it doesn't get much more everyday than the phone in your pocket.
For iPhone users, Apple Arcade offers hundreds of ad-free games for a $4.99 subscription price. Some games are exclusive to Apple Arcade, but the subscription also gives players instant access to old favorites and award-winners from across the App Store. And there are more than a few excellent queer games to find in the Apple Arcade library.
This Pride season, we took a look at three Apple Arcade games that allow players to experience LGBTQ+ stories in different ways—through role-playing, inclusive characters, and more. We also spoke with the creators behind each game to get insight into how these queer narratives came to life.
Alba: A Wildlife Adventure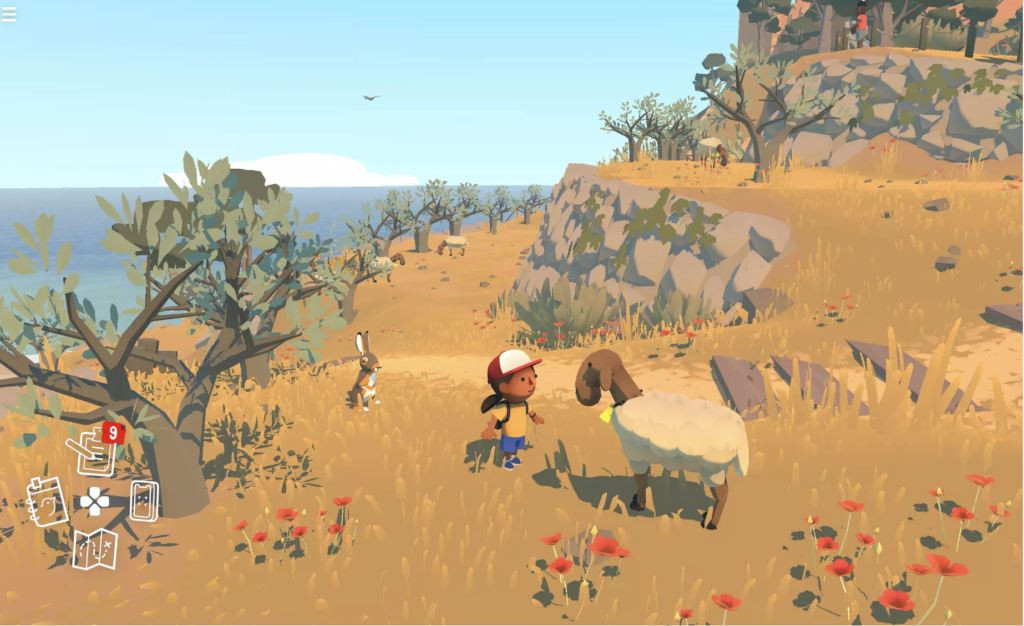 Alba: A Wildlife Adventure is all about showing love to your community. You play as Alba, a little girl spending a week vacationing with her grandparents on the fictional Spanish island of Secarral. When the island's mayor announces plans to scrap the wildlife refuge in favor of a high-rise hotel, Alba embarks on a mission to stop the construction by photographing wildlife and cleaning up litter in order to promote tourism.
While the gameplay involves discovering and documenting animals, the island's human inhabitants are just as eclectic and diverse. Even short interactions with these islanders are packed with personality. "We wanted [Secarral] to feel like a real place," David Fernández, Creator and Art Director for Alba, tells INTO. "[Since] it's set in Spain, we want to reflect the reality of the population of Spain. And historically, there's been lots of people coming from all over."
For queer players, one particular islander stands out. Felix is a surfer dude who you can always count on to find at a beach enjoying a cone of ice cream. He is also always shirtless, nonchalantly showing off his top surgery scars (including drain scars.)
Beyond being trans, there are many ways you can describe Felix—he's chill, he's upbeat, and he's completely comfortable in his own skin. "We didn't want one to make his character about his gender identity," says Fernández. Instead, Felix gets to simply exist as himself on this island, along with everyone else.
Fernández credits his team with turning Secarral from a fictional setting into a community, especially LGBTQ+ employees who brought their experiences to the game. In fact, you can tell from the very moment you start Alba that this game is inspired by real people and real places—which is what makes it such a joy to play.
"There's a lot of personal elements from myself in the game," says Fernández. "Alba's grandparents are my grandparents—like physically my grandparents. I wanted this game about how cool grandparents are, and every time one of the designers made a quest or something in the game and they wrote some placeholder text, it was always about, 'Oh, my poor eyes. I don't see that well anymore.' And I was like, 'No. There's no ageism in this game.'"
"I wanted to present a positive image of all the people as independent active human beings," he adds. "And that translated to all aspects of representing people from different points of view. You know, the grandparent's personality is not 'grandparent.' So the personality of the trans character is not 'trans.'"
Wylde Flowers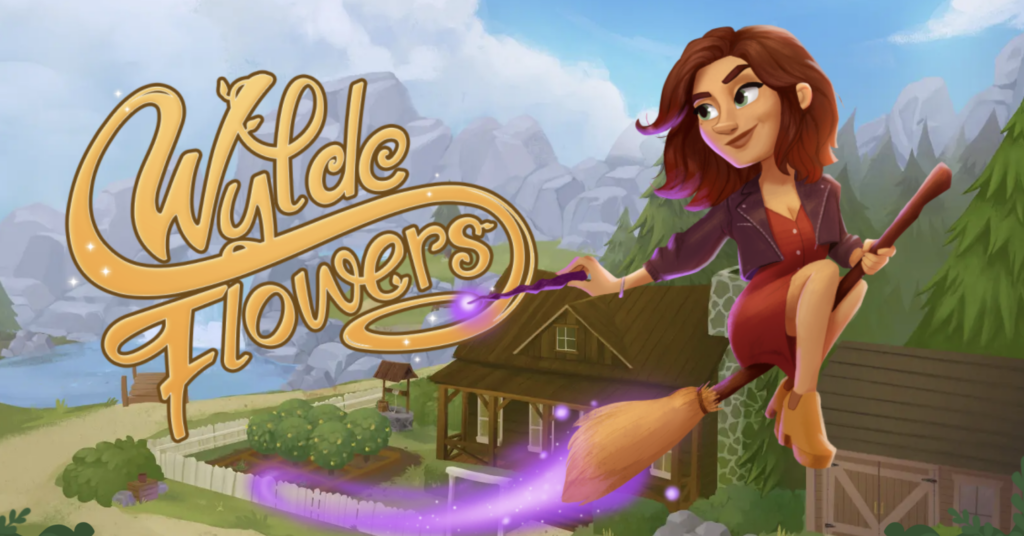 Wylde Flowers is a farming sim where you play as Tara Wylde, a young woman who has moved to a small island community after a bad breakup. The plan is to help take care of her grandmother's farm, but along the way, she uncovers family secrets—that is, she's a witch. As Tara learns the ropes of spell crafting, she grows crops for her farming business by day, and she communes with her coven by night.
The island of Fairhaven, where players find themselves, is a bustling community, where each of the 30, fully voice-acted locals have their own storylines you can follow through the seasons. You can also make friends or lovers as you see fit, and there's no shortage of queer characters in Fairhaven—nonbinary butcher Kim, lesbian doctor Amira, queer meteorologist Giva, and gay fiancés Angus and Francis.
Throughout the game, Fairhaven consistently lives up to its name. "[Fairhaven] is incredibly safe," explains Schofield. "When you come into the town … everybody gets your pronouns right. You know you're never going to have that horrific kind of confrontation." Instead, themes of prejudice are explored through the metaphor of witchcraft (and occasionally in a character's backstory,) while the town itself remains a positive escape.
Wylde Flowers is an overall pleasant, cozy experience, one that's easy to lose yourself in. But that doesn't mean the game completely shies away from difficult topics like grief. The more you get to know inhabitants like Kim, the more they will open up about painful episodes from their past—just like any friend.
Related:

Need to queer up you gaming in June? Humble Bundle has you covered with games on a budget so you can support charity while you play.
"A comment came up [about Kim's story] this week, just saying how it meant the absolute world to them to see a casual conversation about casual misgendering that Kim experienced and how that made them feel," says Marketing Lead Victoria Kershaw. "We get a lot of messages about Kim's story. And that's the thing, right? Like, misgendering is deeply uncomfortable. People have a lot of feelings about it, and a lot of different kinds of feelings. But just because stuff is hard, I don't think it means we shouldn't talk about them."
In the end, it's that sense of community that carries players through tougher moments. "It's still a town of people who are really deeply connected to each other, and so there's a lot of support there," says Schofield. "And all of the mechanisms that people use in real life to overcome difficult situations are built into the game—to help the player have those real experiences, which make the game feel so much more relatable, but still feel like they have an escape."
Wylde Flowers is ultimately about a small town—one where queer people can comfortably get along with their cishet neighbors. "Fairhaven is special despite [the magic]," says Schofield. "It's the best of humanity. And so what we said to ourselves is, as entertainers and as people who create entertainment, it's our job to show the world that we want to live in. This is what it could look like. This is what your small town could look like if people were more open-minded and if people were more supportive."
Episode XOXO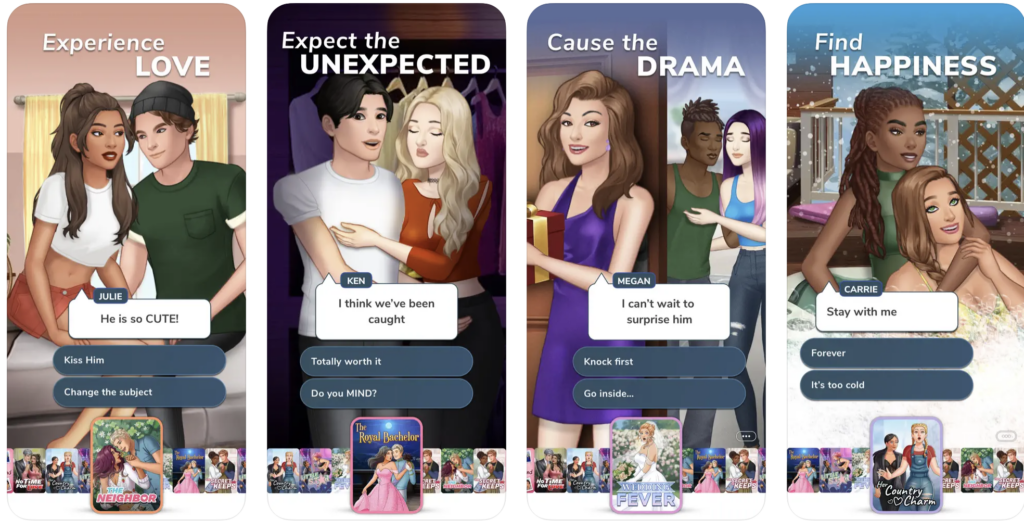 Make love or drama in Episode XOXO's series of choose-your-own-adventure romances. In each of the game's interactive episodes, you'll play as a different female lead, customize your look and body type, and make choices that affect the course of the story, including the gender of your love interest.
With an ever-growing collection of stories, there's plenty of variety to be found in Episode XOXO. But even while each protagonist is designed to be customized, the Episode Interactive team balances player choices with stories that have personality. "You're trying to do both two things at once," says Episode XOXO's Head of Content Angela Nostrand. "You're trying to create a main character that anyone can relate to and has these options where anyone can see themselves and has these paths where it can be yours—to truly make that storyline your own. But also by doing that, if it's not a well-crafted story, it'll become beige.
"We don't want beige characters. We want dynamic characters, we want interesting storylines. We want characters and stories to have a point of view."
Episode XOXO, and its companion app Episode, are not just games—they are a thriving community where players can bond over a shared love of interactive storytelling. In addition to providing a hub for book clubs and conversation, the Episode app gives players the tools to write their own stories, contributing to the series's expansive array of queer narratives.
"We are one of the few [interactive narrative games] with actual communities of writers," says Nostrand. "And that has been a big part in what's kept Episode, and Episode XOXO now, relevant because we react to our community."Looking forward to Pride, the team is working on Episode XOXO's first male lead, in addition to community contests where stories by queer writers are voted on to be featured.
Read More in Entertainment