Before Christine Hallquist decided to run for governor, she sat her wife and children down for a family meeting. No political campaign is easy, but she explained hers would come with added risks.
There's a well-worn saying about Hollywood that everyone wants to be the second person to do something the first time, and politics is no different. Winning the Vermont Democratic primary would make her the only trans gubernatorial nominee in U.S. history. Shattering the glass ceiling for trans political leaders at the statewide level would open every aspect of her life to intense scrutiny.
It would also likely mean threats to her life.
"My family knew that this would happen," Hallquist told INTO in a Tuesday phone conversation. "But we all realized how important it is to not let fear and intimidation stop us from doing what is right, rather than giving up our democracy."
That prediction came true. Since winning the nomination on Aug. 14, Hallquist has received a dozen death threats.
Since the threats began pouring in on social media, her campaign has made a number of adjustments to ensure Hallquist's safety. They stopped publishing the candidate's schedule ahead of planned public appearances. Staffers were trained in de-escalation techniques should an attack materialize.
Although the campaign team has met with state police about a security team, Hallquist has not begun traveling with Secret Service protection just yet. At the moment she doesn't plan to — saying she's "not sure how much you can protect yourself."
"If people are going to get assassinated, they're going to get assassinated," Hallquist claimed.
The 62-year-old, who ran an electric company before entering politics, stressed that she plans to run a "positive campaign" in the face of backlash. Within hours of Hallquist making history earlier this month, Fox & Friends host Ainsley Earhardt referred to the candidate as "that transgender." Just hours later, a guest on Tucker Carlson Tonight, gay conservative Chadwick Moore, claimed her win was the result of "transgender privilege."
Elsewhere, an op-ed published in Wyoming's Casper Star-Tribune referred to Hallquist as "born male but now [preferring] to dress as a woman."
Mona Charen, whose column was also syndicated in National Review and the Chicago Sun-Times, further alleged Hallquist's victory was proof that liberals "insist upon lionizing people who choose to behave and dress like the other sex as if they're all Rosa Parks."
None of those publications removed Charen's op-ed following criticism from GLAAD.
Echoing Michelle Obama's "when they go low, we go high" motto from the 2016 election, Hallquist stressed to her campaign they shouldn't respond to negativity. She said it's something she's been telling her children their entire lives: Everything you do that's a loving act is good. Everything you do that is not a loving act is bad.
"My whole life I've never been disappointed in what people will do in the name of good," Hallquist claimed.
"I believe most people get up every day and want to do a good job," she continued. "Seven percent of people are narcissists and totally wack. But we focus on the 93 percent that really want to do good."
When INTO asked what a campaign based on goodness looks like, Hallquist said the answer is spelled out in her platform: offering Medicare for all, eliminating homelessness, and ensuring every Vermonter has the opportunity to earn a living wage. If elected in November, her other goals include tackling climate change and expanding access to high-speed, fiber-optic cable statewide.
These proposals aren't political issues, according to Hallquist. "They're part of a civilized society," she said.
But while she spends the next three months spreading this message to voters, Hallquist recognized she still has a lot to learn. The biggest lesson, thus far, has been an instruction in the importance of word choice. When asked about her opinion of socialism during an Aug. 15 interview on CNN, Hallquist claimed she wasn't qualified to respond to the question.
"I'm not sure I even know what socialism is," she shrugged.
Hallquist stood by an earlier assertion made to CNN that she rejects terms like "socialist" because "labels are used to divide people." She added, though, that one of her biggest regrets was an incident early in the campaign when she suggested that she supports "trickle-down economics," which earned her the scorn of progressive groups. Critics labeled her a "fake Democrat."
James Ehlers, one of her opponents in the Democratic primary, accused Hallquist of "selling an economic fairy tale."
"I'm sorry I ever said that because I don't believe in trickle down at all," Hallquist responded. "I believe I am 'fiscally responsible.' That's the language I use now. Fiscally responsible means we manage our dollars in the best way possible."
Hallquist reiterated that it's the significance of November's election which has put such a "magnifying glass on the campaign."
"I recognize that I need to be perfect in everything I do and say, and I think I can be perfect because I've got such a great campaign team," Hallquist said. "There's a lot of pressure. I'm going to say wrong things. I've already said wrong things and they tear them apart."
But as she weathers early bumps in the gubernatorial race, Hallquist remains confident that she can continue to learn and grow as a candidate.
Early signs show Vermonters are responding to that mission, she claimed.
Although insiders predicted that once-popular incumbent Gov. Phil Scott would sail to victory in a "sleepy" campaign, his poll numbers have dramatically eroded while turnout in the Democratic primaries far exceeded projections. As Hallquist crushed opponents by a 25-point margin in a four-way race, she told INTO three times as many voters came out to the polls as expected.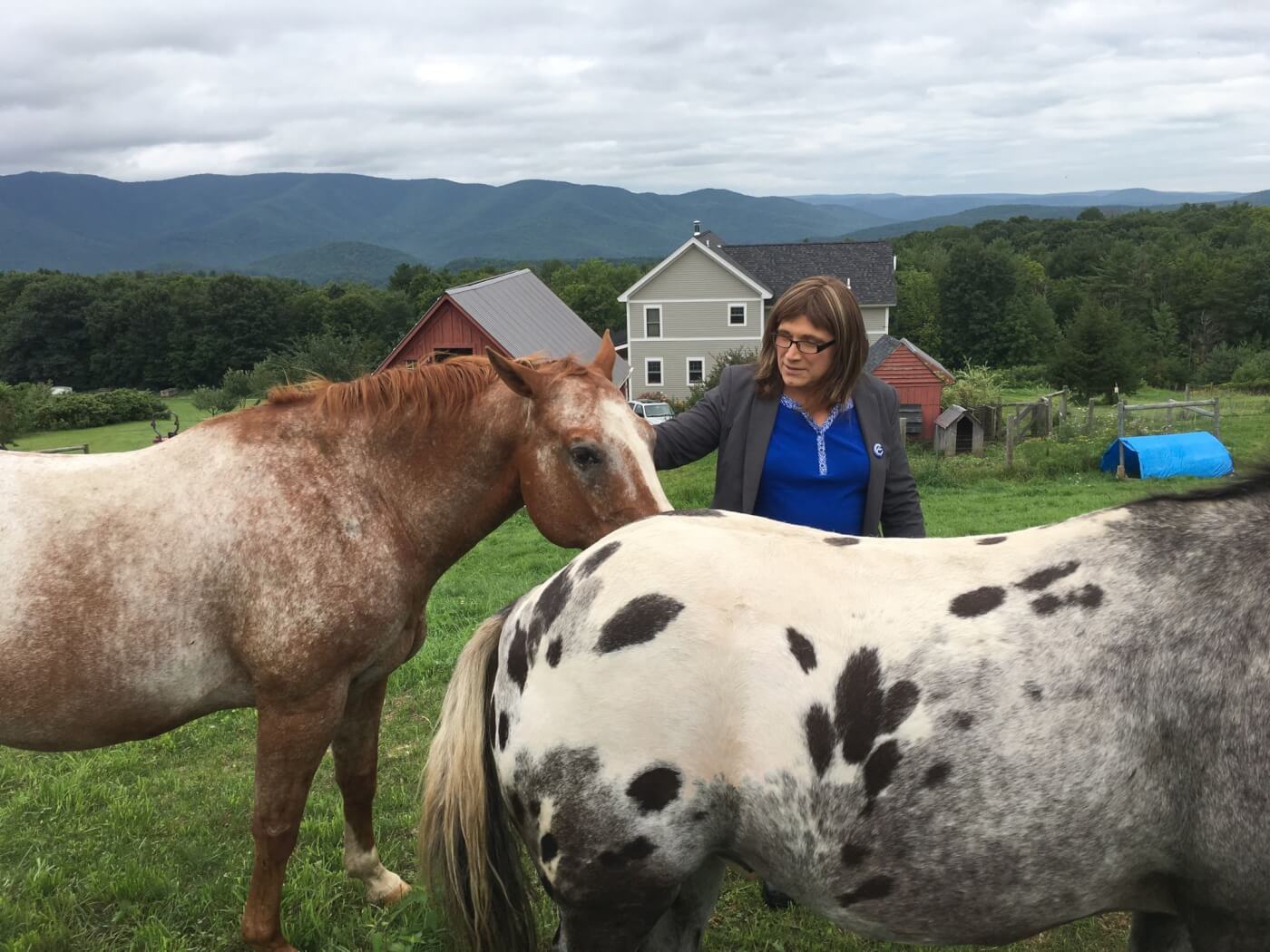 Hallquist said the wide support she's experienced is not just about who she is — but what she stands for. While the fact of her gender identity has been a big deal outside of Vermont, Hallquist claimed it hasn't played a huge factor in the race locally.
"Vermonters didn't make it an issue," she said. "I've talked to thousands of Vermonters and only one spoke about my transgender status. People in Vermont are interested in issues like growing our rural economy and quality public education. That's what Vermonters are concerned about."
As she gears up for more challenges in the general election, Hallquist said she isn't focused on making history. Defeating the incumbent would make her just the second openly trans person to win statewide office, following Virginia's Danica Roem last year.
Instead, she just wants to do a good job.
"For the rest of the nation, this is a historic event," Hallquist claimed. "But I will say that the most important thing that I can do for the LGBTQ community is to win the governorship and be successful as a leader."