Six members of the advocacy group Gays Against Guns were arrested in Washington, D.C. just hours before 17 students were gunned down at a Florida high school.
Activists delivered a "Bloody Valentine" to Sen. John Cornyn on Wednesday to protest a concealed carry bill sponsored by the Texas Republican. Senate Bill 446, also known as the Constitutional Concealed Carry Reciprocity Act, would allow gun owners to carry concealed firearms across state linesirrespective of jurisdictional gun laws. Critics say the bill, which passed the House in December,would amount to the legalization of concealed carry nationwide.
GAG staged a "tragical theatrical" at Cornyn's office in the Hart Senate Office Building in Washington D.C. to picket against SB 446, chanting "Stop concealed carry reciprocity!" and "How many more have to die?"
Their words would prove eerily prescient.
On Feb. 14, more than a dozen students at Stoneman Douglas High School were killed after a lone shooter opened fire on the Parkland, Fla. campus. The gunman, identified as 19-year-old Nikolas Cruz, triggered the fire alarmsluring students and teachers into the hallways. Cruz, a former student who was expelled over disciplinary issues, took an Uber to the school the day of the attack.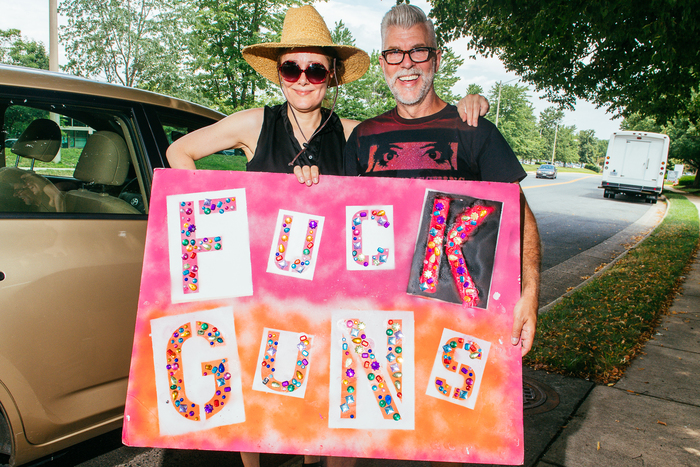 The victims included the Stoneman Douglas' athletic director and assistant football coach. One faculty member, geography teacher Scott Beigel, was killed while helping students take shelter from the gunfire.
The tragic attack was the deadliest school shooting since 2012 and the 8th in 2018less than two months into the new year.
Members of GAG lamented the attack as an example of the "grotesque absurdity of gun violence" in a series of comments shared with INTO.
"One student survivor at Parkland begged the government to take action. Meanwhile, President Trump and Governor Rick Scott can only spout rhetoric about preventive measures like increasing school security and treating mental illness before disaster strikes," says Communications Director Terry Roethlein, who claims students are "now the most popular target" of mass shooters.
He calls these explanations "false canards" intended to distract Americans from a national conversation on gun violence.
"Blaming mass shootings on mental illness is a shameless lie," Roethlein claims. "Very few mass shooters have a serious mental illness like schizophrenia or bipolarity, but what they do have is unfettered access to weapons of mass destruction, namely semi-automatic rifles."
Adam Eli Werner, GAG's social media manager, calls upon the federal government to help prevent future attacksnot just through legislation but research.
"The NRA has ensured that the Centers for Disease Control (CDC) is forbidden to study gun violence, so we have very little data to work with," Werner tells INTO in an email. "The 1996 Dickey Amendment states 'none of the funds made available for injury prevention and control at the Centers for Disease Control and Prevention (CDC) may be used to advocate or promote gun control.'"
"Until gun violence is treated as a public health issue, this will continue to happen," he continues.
As news continues to roll in about the Florida shooting, GAG says it has another action planned for Thursday evening. More than 100 activists are expected to demonstrate at LaGuardia High School for the Performing Arts in New York City in solidarity with the victims, survivors, and their families.
"We will not tolerate mere 'thoughts and prayers' around the issue of gun violence," the group says in a statement confirming the protest.
During the demonstration, GAG says it will call for "substantive action in Congress, including a ban on assault weapons, universal background checks on gun sales," as well as a "ban on bump stocks that turn semiautomatic weapons into automatics."
At the time of writing, President Trump has addressed the shooting as "terrible violence, hatred, and evil" and promised to visit Florida.
Images via Gays Against Guns
in Your Inbox

Subscribe to get a twice-weekly dose of queer news, updates, and insights from the INTO team.