I've always had a love/hate relationship with the state of Arizona as whole as evidenced by my various moves to and from the desert, but at the end of the day, I can't punish an entire state solely based on ideologies and politics. It's true that I mostly don't agree with the conservative politics that take place in Arizona, but that being said, I can't help but fall in love with the beauty that makes up the Arizona landscapes, especially in Scottsdale, where the only thing that's missing (for me) that would make it perfect, would be a coastline. But I'll settle for the lakes, rivers and unlimited amount of incredible resort pools, like the one at the Andaz Scottsdale Resort & Spa, which opened up about a year ago.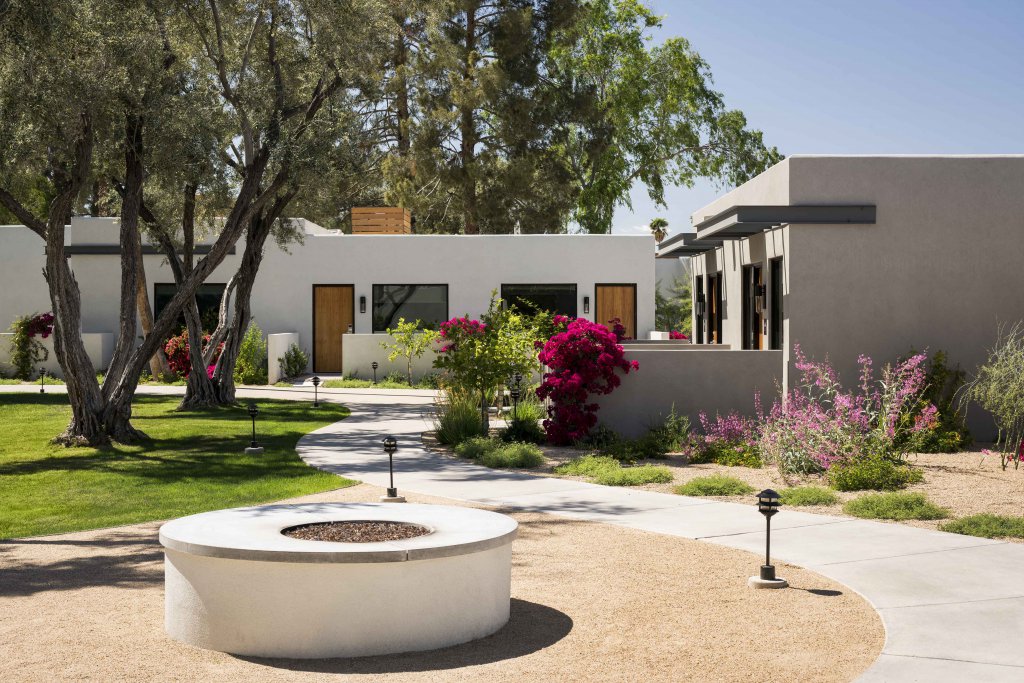 When first admiring the pool, I spotted something red in a sea of white and tan. It was a red cabana, the nicest of all the cabanas. The Andaz brand recently announced its latest collaboration with (RED) – the AIDS organization founded by Bono and Bobby Shriver. The (ANDAZ)RED Cabanas are available to book at five of their resorts with 30% of each booking going directly to support RED's fight to end AIDS. The Andaz brand is the only hotel brand to offer a collaboration of this kind. Packages are also available at each of the participating resorts to help bundle costs and encourage a larger donation to the worthy organization. For me, since I'm familiar with the Andaz brand, this wasn't unexpected, but it was a really welcomed surprise to see in Arizona, because at the end of the day, it's about awareness and visibility, and there's no hiding a bright red cabana next to the most popular communal spot on the resort property.
More on The Property
The Andaz Scottsdale Resort & Spa combines mid-century modern design with local art in a unique Sonoran Desert experience. The compound is made up of various bungalows, which provide a more private feel, unlike a typical hotel where you walk through hallways to find your room. Here, guests can stroll around the gardens and enjoy the glorious views of Camelback Mountain as they make their way to their bungalows. Each bungalow has indoor and outdoor space to encourage guests to not stay locked away inside their room, although they are rather comfortable inside. The bathrooms though are the clear selling point as they are huge, including some showers large enough to question why anyone would ever need so much space in a shower.
Weft & Warp Art Bar + Kitchen is the resort's full service restaurant, open all day, and styled as a massive living room environment where guests can find different seating options to work, hang, have a drink or enjoy a meal. The Kitchen Table (chef's table) is in a glass box, and offers up to 10 guests the chance for a one-of-a-kind viewing point into the preparation of their meal. The restaurant is truly the centerpiece of the resort and overlooks the main Turquoise Pool, one of three pools on property. The hotel also homes Palo Verde Spa & Apothecary, with a menu that includes treatments using ingredients by a local Sedona botanist – providing the ideal blend for wellness goals, in a space inspired by artistic culture of the desert.
Cattle Track Arts Compound
The resort's identity is woven together with that of Cattle Tracks Art Compound, located only minutes from the property. Founded in 1936, Cattle Tracks Art Compound is a haven for artists, jewelers, potters, blacksmiths, printers and performers to craft their works in an environment that prizes collaboration and creativity. I made my way to the compound in the resort's vintage Cadillac, where I was able to meet with a handful of the artists who were there that day, and it was rather incredible to be surrounded by so much creative energy, including a space that was literally built from reclaimed materials.  Back at Andaz, the works of local artists are displayed in the guest rooms and throughout the property. Guests can venture to the compound for exclusive studio tours or create their own work of art at a workshop with the hotel's artists-in-residency program.
Scottsdale
The Beverly Hills of the desert is home to both luxurious experiences, including some of the best shopping in the country, as well as outdoor adventures. I partnered up with Arizona Outback Adventures for a half day of kayaking on the Salt River, located just outside of Scottsdale. I have an affinity for kayaking, so I was really excited to get back on the Salt River, to enjoy a peaceful float through nature. It's common to see wild horses during the kayak, and I was not disappointed when I was able to float just a few feet away from a few of them who were immersed in the water, drinking from the river. It's unique experiences like this one that make Scottsdale such a unique destination. Old Town Scottsdale is a fun place to explore both day and night. Here you will find boutique shopping, jewelry and art with a Southwest flair, a density of bars (including gay bar, BS West) and restaurants in addition to the Scottsdale Museum of Contemporary Art and Western Spirit: Scottsdale's Museum of the West.
The culinary scene in Scottsdale is pretty epic. Phoenix Sky Harbor Airport is known for its incredible dining options, many of which are secondary outposts of popular Scottsdale restaurants. One of, if not the best restaurant in Scottsdale is FnB. Chef and co-owner Charleen Badman is one of Arizona's most celebrated chefs. A four-time James Beard nominee for Best Chef of the Southwest, Charleen is known as the "veggie whisperer" for her ability to coax the very best flavors out of locally grown veggies, which are featured prominently, although not exclusively, on the FnB menu. I was fortunate enough to dine here for a second time during my stay and the service and quality of the food as well as presentation and atmosphere were just as incredible as my first visit.
As with any city, state, region, or country, there are pros and cons. Having personally lived and spent time in Scottsdale though, I can say that the pros definitely outweigh any concerns one may have about the partially conservative state that houses it. Scottsdale is a progressive and welcoming city, and with resorts like Andaz, really putting themselves out there and reaching out to ALL types of travelers, rest assured that a visit to the desert will be one filled with beauty and acceptance.