Last month I hastily booked a weekend in Sarasota because I was in need of a change of scene and it was a place I hadn't seen before. I didn't know much about the city outside of what I had seen on MTV's Siesta Key. Obviously that was the only representation I had of Sarasota so I naturally was taken aback when I got there and realized there was much more to it than just the famous beach (although the beach is amazing and part of my list of what to see and do, so really, MTV didn't do me wrong). It's a small community, but one that prides itself on its art and culture mentality as well as open-mindedness, althoughit is still Florida. The vibe though is pretty relaxed, so although a sea of red hats in neighboring areas might have surrounded me, Sarasota felt like a safe space. I only had a long weekend to see it all. Below is my can't miss list filled with the necessities as well as some total randomness that somehow piqued my interest enough for me to stop by (spoiler alert: random always wins).
1. Lila
First off, it's pronounced lee-lah, because seriously, locals have opposing opinions, but I asked and also, I was right. Lilas is a vegetable-centric, healthy spot that also dabbles in sustainable meats. It's located in the heart of downtown Sarasota, on Main Street, and every single person in the world needs to experience their vegan chocolate chip cookies.
Photo Credit: Robin Draper, Courtesy of Visit Sarasota County
Based on Florida's beautiful Gulf Coast, Sarasota Opera recently completed its internationally acclaimed Verdi Cycle making it the only company in the world to have performed every work of Giuseppe Verdi. The theater has just undergone a $20 million renovation and rehabilitation enhancing audience amenities while updating the technical facilities. It's a stunning venue inside and out and if you happen to be there during the season, definitely indulge in some world-class opera.
Photo Credit: Courtesy of Visit Sarasota County
3. The Ringling
I had no idea of the history of "The Greatest Show on Earth" or the family behind it, so this compound made up of many different buildings, including the Ca' d'Zan mansion (the Ringling's winter home), the Circus Museum (which should be the real reason for going), and the Museum of Art, were an easy way to spend an afternoon learning about them and their love for art. The Ringling is home to one of the preeminent art and cultural collections in the United States and the Museum of Art, which is housed in a grand Mediterranean-style palazzo, covers 21 galleries.
Photo Credit: Courtesy of Visit Sarasota County
A tidy Amish and Mennonite community inside the town limits welcomes its fair share of snowbirds from sister communities in the north, and when I heard about it, it moved to the top of my list because I knew my stomach wouldn't repent that decision. Most locals know the neighborhood for its home-cooking and fresh produce stands. Legendary for its pies, Yoder's Restaurant is a family-owned gathering spot for locals and visitors seeking comfort food and nearby Der Dutchman has a full menu and buffet, with a shopping boutique upstairs from the restaurant.
Photo Credit: Courtesy of Visit Sarasota County
5. Siesta Key
This eight-mile island is accessible by two bridges from the mainland. Comprised of three beaches, the key attracts sunbathers by day and partiers by night. The three beaches, from north to south, are Siesta Beach, Crescent Beach, and Turtle Beach. The bars and restaurants all line the streets and are very much beach casual.
Photo Credit: Courtesy of Visit Sarasota County
6. Marie Selby Botanical Gardens
This world-renowned botanical garden offers 15 acres of rare and exotic plants and flowers to explore while overlooking the Sarasota Bayfront in downtown. The gardens will continue to integrate the arts throughout the grounds and gardens with the "Warhol: Flowers in the Factory" exhibit, exploring Andy Warhol's botanical, conservationist leanings, which is what initially drew me to the gardens, but there's also just something really beautiful about taking a stroll through a garden.
7. Purple Rhino
The one and only gay anything in Sarasota, the Purple Rhino is a non-profit organization that provides a place for everyone who is over 18, as it's all-inclusive. It's a membership type of place, but you can just pick one of those up on your way in. Weekly drag shows and events take place there so if you're craving some queer-friendly liveliness, this is your place. Plus, they do a lot of good for the LGBTQ community so that membership fee is put to good use.
It's a speakeasy, and you enter through a back alley, so that was all I needed to hear to peak my excitement levels. They utilize the freshest ingredients and modern techniques, and their "liquid chefs" are constantly creating new and imaginative drinks. Most definitely the hippest place for a drink.
Owned by one of Sarasota's local families, the Caragiulos, the menu focuses on freshly caught fish, much of it served southern style. Come early and be prepared to wait, but the oyster honor bar and live music in the back make waiting pleasurable. It's an experience, and although it's crowded, once you eat, your tummy will thank you.
10. Munchies 420
Open from 4:20 p.m. to 4:20 a.m., this grub joint in the Gulf Gate neighborhood serves wild gluttonous concoctions of food such as a Fat Hippy (two cheddar garden burgers, grilled mushrooms, onions, green peppers, broccoli cheese bites, spuds, and cheddar cheese sauce) and what they claim to be the best Philly Cheesesteaks in town. And with a name like that, wellI couldn't resist.
11. The Gator Club
Since 1913 this nightlife spot in downtown Sarasota has offered live music, spirits, and billiard halls. If your night ends at The Gator Club, you know it was one for the record books. Inside, you'll find traditional surroundings such as leaded glass mirrors, exposed brick walls, and antique brass lighting fixtures. It's iconic, simple as that.
Where To Stay:
Located on 11 acres near the city center of Sarasota, this 266-guest room (all with balconies) hotel comes with all the perks one would come to expect from staying at a Ritz-Carlton. But this one comes with a private Beach Club on Lido Key, with exclusive beachfront services located just three miles from the property. Additionally, the Golf Club features an 18-hole Tom Fazio-designed championship golf course located approximately 16 miles from the hotel. Splurge for the club level and gain access to the impressive club lounge that has various food presentations throughout the day.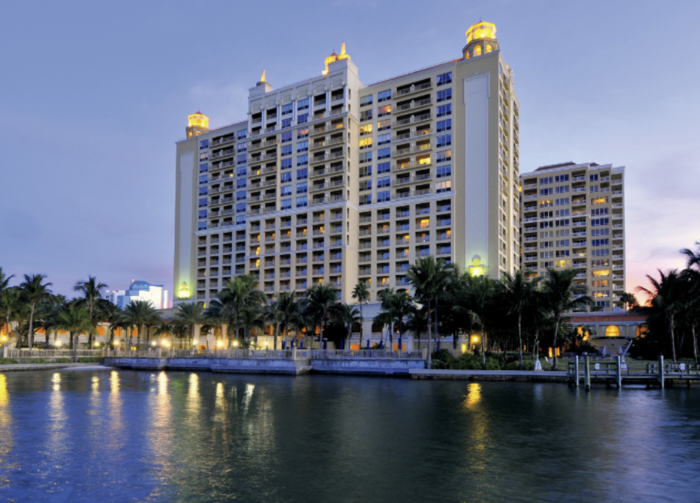 Located in Sarasota's Rosemary District, walking distance to downtown and minutes from the beach, the Hotel Indigo Sarasota also has bikes for rent for those who are more cycling inclined. The hotel is also very pet-friendly and has rooms dedicated for guests traveling with their four-legged companions. In each room, guests find a water carafe that can be filled at their hydration station, in an effort to reduce plastic waste. The H2O Bistro in the lobby provides a warm atmosphere for drinks and socializing, while serving specials highlighting the freshest local ingredients.
Photo Credit: Courtesy of Visit Sarasota County