"The only thing more Burning Man than Burning Man, is AfrikaBurn," a proud and impressively pectoral-ed burner once said to me a few years ago as he yanked at a steampunk g-string that had flossed itself between his cheeks.
We were standing on the playa in the wondrous golden hours of a South African afternoon during the beginnings of a southern hemisphere autumn that cast itself on the semi-desert landscape affectionately called the Karoo; an expanse of land bordering Tankwa Karoo National Park on the northwest shoulder of South Africa not far from where the country nuzzles Namibia.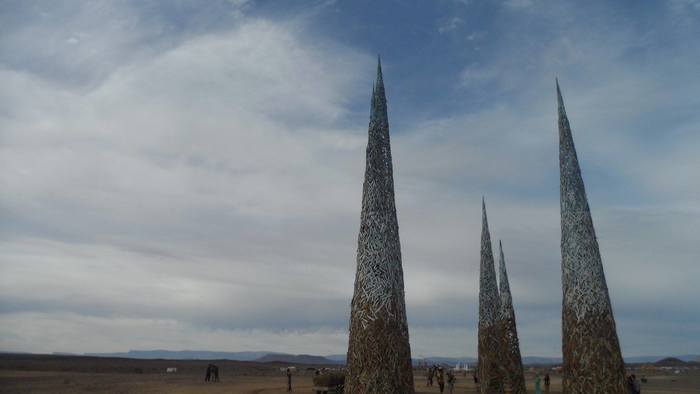 In the Great and Little Karoo, brush, bush, and grass freckle the flat-rocked landscape and gentle but alluring peaks rise to the African sun. On some of the peaks of the Karoo, there are elusive leopards and cape mountain zebras, and on the flatlands below you might see springbok, red hartebeest, eland, klipspringer, and meerkats, though most disperse during the raucousness of the revelrous burn.
It was the ninth annual AfrikaBurn, a regional event recognized by Burning Man, as well as the second most attended burn in the world with nearly ~13,000 attendees who had driven in 11 hours from Johannesburg, five hours from Cape Town, 12 from Windhoek, Namibia, and the rest from the world over, by plane, before kicking up the dust on one of these precarious routes.
G-String and I watched a DJ set before usgolden bodies, house music as light and sweet as the warm bottles of champagne being passed around, unique wooden sculptures in the background awaiting their ignition, bikes and mutant vehicles zipping aboutand as we did, we drank some tequila that he had passed me, a friendship offering, a conversation starter. That year's burn theme: "The Gift".
The festival, like many other regional burns followed the same pillars erected by Burning Man: gifting, decommodification, radical self-reliance, communal effort, civic responsibility, leave no trace, participation, immediacy, and perhaps the two most open-minded and queer-friendly pillars: radical self-expression and radical inclusion.
I cannot currently recall if G-String and I ever offered each other our names during our brief but in-depth conversation, but what I do remember were his late afternoon advancements, his desert musk, and pecs. I told myself to never forget those pecs. I promised to distill them into a poem and to let none of his cocky know-it-all bravado ruin their charm for they were rounded like the gentle, alluring, and aforementioned Great Karoo hills and glistened as nicely as them in the heat of the afternoon shimmers. A sparse sprinkling of hair covered the pair of them, thickest in the saddle where they met before migrating southward in a neat line over a gorge of abdomen before diving into the badlands.
But we can't always have untarnished memories and those pecs soon became eclipsed by the super blue blood moon of his passionate, slightly cliche rant full of truths and dissatisfactions. Over our spontaneous sundowner, I learned he had eleven Burning Mans tucked away in his pouch, and as the swigs he took from the bottle grew stronger, so did his vocal discontentment for the grand daddy of all burns.
The original festival erected in Nevada's Black Rock Desert that began nearly 100 regional burns and re/decompressions, was now, according too techy, white (some 80% of attendees are white at BM and AfrikaBurn doesn't fare much better), celebrity-ornamented, mainstream, fashion-focused, and rich. To paraphrase him, it was "a narcissistic Instagram honey pot for severe sufferers of FOMO who had never even dreamed of pitching a tent in their life."
Burning Man, he said (and I later confirmed) had nearly ~67,000 attendees, many of which he said, were morons. But he told me, that this festival, his first AfrikaBurn, felt goldilocks right. "This is what Burning Man felt like when it was just starting out, before it was ruined."
It was the third or fourth day of the festival and like most from my Cape Town study abroad program, I was playing hooky for an entire week. I thought this might be the only time I'd have time to take off for a burn. Situated at the end of April and the beginnings of May, the festival had allowed me to find an established group who had attended year after year and knew the best tricks for Karoo coexistence. Having never been to a burn, I had no size comparison but the population of AfrikaBurn's Tankwa Town felt manageable and friendly after a few days- familiar faces began to appear regularly.
Looking at the wild spectacle of a settling dusk, glowing flames, spirit trains, a harbouring lighthouse, and flickering rave lights igniting the cloudless and full-mooned Karoo before us, I tried to think of a festival seven times the size.
___
Regional burns beyond AfrikaBurn freckle the globe. Sometimes affiliated with Burning Man, sometimes their own wild spin offs, regional burns can smoulder for a full week, like AfrikaBurn, or pop off for a single night. These alternative burns can be easily split into two categories: festivals and compressions.
Festivals draw their own mini Burning Man vagabonds, like Israel's Midburn, the second largest regional burn at ~10k, or British Columbia's Otherworld, which doesn't take place in an otherworldly desert, but the lush Pacific Northwest where burners can look out to the sea and watch whales breach.
Regional recompressions on the other hand, are typically rooted in cities nearby major burns and whisk spirits weeks before the main festivals while decompressions clean up and soothe the nostalgic back into their own "default world". Naturally, some regional burns even have their own de/recompression parties.
Maybe these compressions are even more Burning Man than a Burning Man regional event? Is this possible? The post party event to the alternative of the alternative? Attempts to stretch, extend, and hold on dearly to the alternative default world?
Whether you 1) criticize Burning Man, like G-String, for evolving and catering to wealth, privilege, and leaving a large carbon footprint despite its leave no trace principles, 2) roll your eyes when your friend tells you about their "life changing burn experience", or 3) are currently stoning your tights for next upcoming recompression party, the existence of burns and their ability to spread the principles of self-expression and inclusivity to far away places is nevertheless undeniable.
There is still a need for self expression in the outer and inner reaches- celebrating inclusion in places like South Africa, which although has safeguarded sexual orientation as human right since 1994 (marriage was legalized years later in 2006) the country still comes with terribly high rates of homophobia shown most brutally in the practices of corrective rape.
Still, other regional burns take place in far away and conservative places like Burn on the Bay on the shores of the Northwest Territory's Great Slave Lake, Kentucky's Reclamation, and China's Dragon Burn. And with their annual pop-up installments, self expression is kindled, and temporarily stokes the dark and desolate deserts and tundras of the world with a seasonal brushfire of queerness. While their time is brief, their brightness is remembered, especially after it disperses.
While Burning Man and many of its spawnings offer these self-celebratory, hedonistic, free-spirited, g-string positive, pec-flaunting paradises, it is important they continue to truly implement the pillars of inclusion with resolute solutions to transform them into spaces open armed to all because that would be more Burning Man, than Burning Man itself 😉