First off, I never recommend flying to Asia for less than a week because the jet lag alone will kill you. But for some reason, I thought a four night trip over a weekend would be fine, which I survived, but only because I avoided the back of the plane and opted for a bed upfront – worth it.
My main objective of the trip was to visit Korea's first and brand new Le Meridien Hotel. The previous Ritz-Carlton had been completely gutted and David Collins Studio, who are known for their incredible design work, completely took over the project and I was excited to get a first look.
Upon landing, after almost 20 hours of flying (due to flying via a connection, to save on cost), I was half asleep and definitely looked like I had been hit by a train. During the hour drive from the airport to the city center, I took the opportunity to pass out in the backseat, not knowing what or who would be waiting for me upon my arrival.
The hotel is located in Gangnam, yes, just like the song. Gangnam (south of the river) is the most affluent area of Seoul, and it's where all the rich and famous reside and hang out. So the incredibly annoying (and catchy) Gangnam Style is referring to the incredible opulence and way of life in the district. But back to my arrival.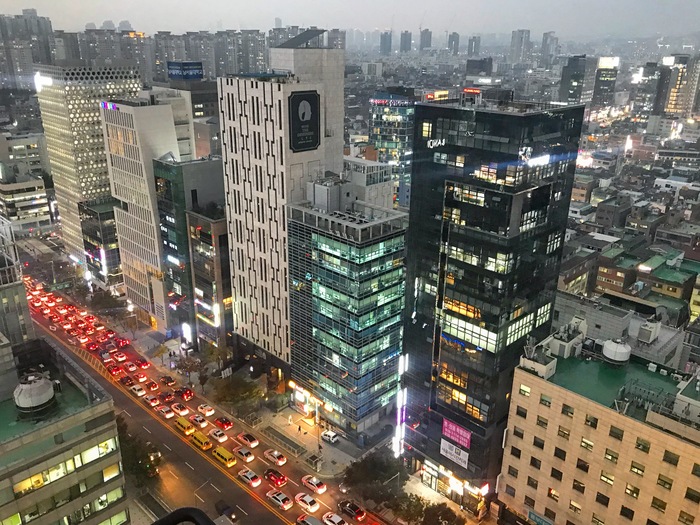 When the car pulled up to the hotel, there was a welcoming committee from the hotel corporate team, as well as hotel staff and random paparazzi, which the hotel hired for the opening weekend, to capture different moments. Of course, my moment was me looking like a crazy person in practically pajamas, as I slithered myself out of the car and walked through the lobby.
I have yet to see the images and hope nobody ever will.
The next morning, after sleeping 12 hours, because that's what your body needs after a trip like that I woke up to explore.
Get in My Belly
The hotel is filled with options, including renowned Chef Edward Kwon's diverse Asian cuisine, Elements, as well as Latitude 37, illy coffee by master baristas, signature éclairs, small plates and sparkling cocktails, which are accompanied by a 24-hour soundtrack by French band Nouvelle Vague.
But, as someone who is obsessed with the Korean fried chicken place, Bonchon, found in NYC, and around the world, I had to get my hands on some chicken and pair it with some of Seoul's craft beers. Thankfully, fried chicken and beer isn't hard to find in Seoul, and just around the corner from the hotel is a street (literally named restaurant street), and it's a haven for fried chicken lovers, like myself.
But beyond the fried chicken, I was very much looking forward to some Korean BBQ, and the best place in Seoul for BBQ is SamWon Garden, an upscale restaurant with the BBQ pit built into the table.
The cuts of beef served here are expensive but if you like meat, the price is nothing to scoff at. They also sold premium beef jerky, which I managed to stock up on as it was considerably less expensive than the jerky back at home, and the quality is way more elevated than the stuff normally found in the grocery store.
I was also coerced into visiting the Museum Kimchikin, where you guessed it, there is a dedicated space to anything and everything kimchi, including a hands on cooking class where one could learn to make kimchi. Now in my experience, you either love it or hate it, and I definitely identify with the latter.
Many years ago, a favorite roommate of mine would store kimchi in the refrigerator (most Korean families have a dedicated kimchi refrigerator, fyi), and when it came time to eat it, she would fry on the stove, permeating the apartment with a thick cloud of kimchi that would linger for days, weeks, ever.
Anyways, I overcame my fears and attended the cooking session, which was actually quite fun, and although I did not sample my creation, I was pretty proud of myself for making it.
Put It On My Face
Seoul is the beauty capital of the world and Korean beauty products are on every street corner in lavishly designed stores. The packaging is so alluring and the prices are so cheap, it's hard not to buy out the entire place. I'm shocked my suitcases made it through US Customs as I bought enough to open my own store back home.
But it's all about the masks, you know, the ones with the holes cut in them, where you just put them directly on your face. There are thousands of different mask brands and types and they work. From snail slime to caviar to bird's nest (I have no idea what that even means, but I bought 20 of them). The masks are everywhere and about a buck each.
Late Night
I'm not one for staying out until the sun comes up, but when the opportunity to party in one of Asia's largest nightclubs arose, I felt as if I was left without an option.
Octagon was indeed massive, and since the hotel was able to score up VIP seating up top, I was able to enjoy the experience more as I wasn't forced to deal with the crowds and people below. I knew the crowd was diverse after I entered the restroom and witnessed a gaggle of gays (confirmed, as I spoke to them and asked) applying makeup in front of the mirror while other dudes stood at the urinals.
It was rather difficult to determine sexuality in the club as everyone had great style and was mostly friendly, but after a few hours of Octagon, it was time to check out "homo hill," Seoul's intimate gay scene. The bars here are all close to one another and located on an incline, hence the name.
We ended up at Le Queen, naturally, and danced the night away in the small space that makes up the famous gay bar. Everyone tells me I had a great time.